Bontrager NCS Fenders / Mudguards review – easy to fit and effective protection
Elegant mudguards made from tough polycarbonate with built-in mudflaps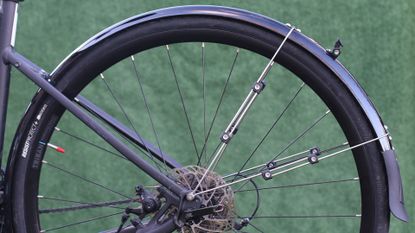 (Image credit: John Stevenson)
Stays with built in adjustability are the key feature of these mudguards - but they're also tough, well-made and among the longest (and therefore most protective) you can get.
Reasons to buy
+

Easy to fit to most bikes

+

Plenty of length to keep your feet and your riding companions dry

+

Sensible price
Reasons to avoid
-

Mounting can be tricky on disc-brake bikes

-

No breakaway brackets
You can trust Cycling Weekly. Our team of experts put in hard miles testing cycling tech and will always share honest, unbiased advice to help you choose. Find out more about how we test.
Bontrager NCS fenders/mudguards have a clever trick up their stays: instead of trimming them to make them fit your bike properly, you adjust the length of the stays by sliding the two parts up or down as necessary, using the built-in clamps to then lock them in place.
The clue's in the TLA: NCS stands for No-Cut Strut. It's so much less hassle than hacksawing or dremelling that it's amazing to me that so many of even the best fenders/mudguards don't work like this.
Bontrager NCS Mudguards: construction
The main body of the guards is made of polycarbonate, the stays and other metalware are stainless steel. Flared rubber mudflaps at the rear ends help to reduce spray over your feet and anyone behind you. The rear guard has a Blendr light mount for one of Bontrager's Flare lights, though user reviews on Trek's site suggest it's been a bit fragile for some folks.
Bontrager offers four versions of the NCS fenders / mudguards: 26 x 1.75-2.25in for mountain bikes; 700c x 18-25mm; 700c x 28-35mm; and 700c x 35-45mm. The width indicates the tyre size that'll best fit under them; our samples are 28-35mm and fit over 30mm tyres with plenty of space.
American readers can choose black, white or a screaming bright yellow; in the UK, it's any colour you like as long as it's black.
Bontrager NCS Mudguards: fitting & ride
While they swerve the stay-trimming step of most mudguard-fitting jobs, they're still mudguards, which means you have to find points on your bike to bolt them into place near the bottom bracket, at the seatstay bridge and the fork crown.
And you also need sufficient space for them above your tyres. Bontrager's claim that they "install in seconds" is, well, optimistic. Get yourself a beverage and give yourself an hour so you can feel smug if you do manage to do it quicker.
For rim-brake bikes with appropriate eyelets, they're straightforward to just bolt into place, then tweak the stays so they're central over the tyre. If you have disc brakes, Bontrager offers a disc brake adapter kit for the fork that comprises two long bolts and two tubular spacers. I improvised with some bolts and spacers I had kicking around.
Some users report needing additional hardware to get the NCS Mudguards to fit, in particular the Trek Road Disc Fork Fender Hardware kit that's necessary to fit them to certain models of Trek road bikes.
Once they're fitted, they get on with unobtrusively doing the job of keeping you dry. I have a set on one bike in my fleet that's been in regular use for about five years and still Just Works.
The key feature, those adjustable-length stays, undoubtedly brilliant. Nobody likes putting on face protection and power-tooling the hell out of something more than me, but it's surely over the top to just fit mudguards.
Bontrager NCS Mudguards: value and conclusion
If you want maximum protection, and don't mind a bit more work to fit them, then SKS Longboard guards ($56.99/£43.00) reach nearer the ground at the front and rear to better control spray on your feet and riding companions. Other rivals include the Portland Design Works Full Metal Fenders which are absolutely brilliant — but $129.00/£100.00 per pair.
At 625g the Bontrager NCS Mudguards are quite heavy, so if you're trying to build up the world's lightest winter bike then you'll want to look elsewhere. And you're also a bit mad, but who am I to judge?
The Bontrager NCS guards provide excellent coverage at a sensible price and being able to fit them without cutting anything makes life easier, and also means you can transfer them to your next bike. It's a thumbs-up from me; just make sure you pick up any extra fittings you might need when you buy them.
Bontrager NCS Mudguards: specs
Weight: 625g as installed
Warranty: 30-Day Unconditional Guarantee
Material: Polycarbonate with stainless steel fittings
Sizes: 26 x 1.75-2.25in; 700c x 18-25mm; 700c x 28-35mm; 700c x 35-45mm
Thank you for reading 20 articles this month* Join now for unlimited access
Enjoy your first month for just £1 / $1 / €1
*Read 5 free articles per month without a subscription
Join now for unlimited access
Try first month for just £1 / $1 / €1