Your guide to the best children's bike trailers 2023
Our top picks for the best children's bike trailers whether you just want to tow, go for a run too, have lots of kit or children to transport, or prefer shredding the trails.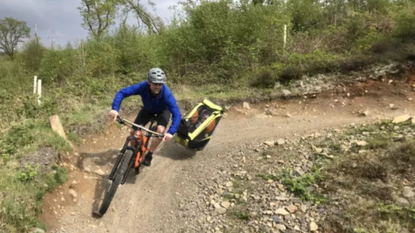 (Image credit: Rachel Sokal)
A bike trailer is a great way to ride with your kids and normalise life on two wheels. Not only is are the best bike trailers a great way to carry a single child, they're a great option if you have more than one small person or the supermarket shopping / picnic / camping kit to transport too.
Of course, trailers aren't your only option to transport your child by bike. You can choose from the best bicycle child seats, best electric cargo bikes or even their own best balance bike or the best kids' bike. Whichever you go for, don't forget to check out our best kids' bike helmets guide too.
We've tested four of the most popular kids' bike trailers that are available.
And if you're still debating which is the best trailer for you after reading our reviews, or the pros and cons of a trailer over a seat or cargo bike then we have lots of info after the reviews that will help you decide.
Our pick of the best children's bike trailers
You can trust Cycling Weekly. Our team of experts put in hard miles testing cycling tech and will always share honest, unbiased advice to help you choose. Find out more about how we test.
Thule Chariot Cross
Best multi-function trailer for build quality and longevity
Specifications
Weight: 14kg (as tested)
Capacity: Single child 22kg; total weight 34kg
Seats: One (tested) or two child models available
Hitch system: Thule ezHitch cup and skewer
Multi-activity: Yes – buggy / stroller included. Jogger wheel and skis available separately
Reasons to buy
+
Build quality and durability
+
Child comfort and space
+
Accessory options
+
Stroller wheels store on board when in trailer mode
+
Lighter weight than other similar trailers
Reasons to avoid
-
Cost
-
May need several hitches / skewers for different bikes
The Thule Chariot Cross is one of the most adaptable child trailers you can buy. It easily adapts from bike trailer to buggy / stroller which means you can ride to the shops and then switch the frame-stored wheels over and push your child around in the buggy. The Chariot is really stable and sturdy with an easy to use and effective brake which makes it as easy as it gets to lift your child in and out, or hitch/unhitch whilst on your own and juggling bags, helmets, snacks, toys, clothes and tantrums.
Like all trailers it's pretty big, although it collapses down for storage / transportation. A big advantage of the trailer to stroller convertibility is that you won't need to try and fit a separate buggy in the car if you're going away. The Chariot performs well as a stroller and is easy to push and steer although it's probably a bit big to be your only stroller.
The frame of the Thule is lightweight and tough aluminium and plastic with a tough fabric cover and excellent build quality. We used ours regularly for a couple of years and it still performed as new with nothing more than a scuff and a scrape (and a lot of muck). Bar one puncture we never had an issue with any part of it, be it the trailer chassis, suspension or a zip on the cover. It's not unusual to hear of people who've had a second or third hand one which they've then used for several successive children of their own.
The Thule uses a ball and socket type hitch which mounts onto a specific rear axle. The trailer comes with a quick-release axle but you'll need to buy a separate one if you have a bolt-thru axle on your bike. Of all the different hitches on the trailers we tested, this felt the most secure and robust.
It uses a leaf-suspension system for smoothing out the ride and the seat is nicely padded with a high quality five-point safety harness. The Chariot has had no issue being bounced up and down many curbs and ridden on many off-road trails without any ill-effects. The test pilot has never been bothered by all of this either.
The Chariot Cross has loads of room for your child, but dedicated capacity to carry kit / shopping is a bit more limited. There's a large flat pocket on the rear which works well for bike spares like a puncture kit, lock and a jacket but not much else. Internally, there are a couple of mesh pockets which will hold snacks and small toys for your kid. You can stash lots around your child's feet but there's no proper way to restrain the load.
There are integrated mesh and waterproof covers and a separate sunshade depending on the weather. There is a vast array of accessories available to buy if you want even more from your Chariot. They range from jogging and ski conversion kits; to infant slings and head supports; to locks, brake extensions and covers.
---
---
Hamax Outback bike trailer
Best multi-function child trailer with on-board storage
Specifications
Weight: 20kg (as tested)
Capacity: 22kg (child), 34kg total
Seats: One (tested) or two child models available.
Hitch system: Rear axle mounted arm
Multi-activity: Yes – buggy / stroller included. Jogger wheel and skis available separately
Reasons to buy
+
Universal hitch fits to majority of bikes
+
Storage space
+
Inclusion of reflectors, light and flag for visibility
Reasons to avoid
-
Spring lag in towing arm
-
No dedicated on board storage for stroller wheels or towing arm when not in use
Similar in design and function to the Thule Chariot Cross, the Hamax Outback Child Bike Trailer is multipurpose trailer which easily converts into a stroller / buggy and has jogging and ski attachments available too. With its simple design and easy use, it's clear to see why it's a favourite with many families.
The Outback is pleasingly straightforward to hook up to your bike via a hitch that attaches to your bike's rear axle. Unlike the Thule you don't need any specific axle which makes things much more straightforward if you want to use more than one bike.
The leaf suspension system is adjustable to suit the terrain you ride and the weight of your child. The trickiest part of adjusting the suspension is knowing what you're aiming for when you're not the one sat in the seat.
Articulation between the bike and trailer occurs through a flexible coiled section of the hitch. This does result in quite a significant lag between the movement of the bike and trailer which is particularly noticeable on starting and stopping and going up and down dips and ramps like dropped curbs.
Inside the trailer there's a comfortable padded seat, a five-point harness and plenty of space for your child and associated toys. Our child tester was at the upper end of the weight bracket for the trailer but still had plenty of room to fidget about and stash toys.
Directly behind the seat in the Hamax is a rear storage area which is accessible via zips on the back of the trailer. There's a decent amount of storage here, definitely enough for snacks, picnics, jackets and locks and possibly a bit of shopping too. If your child likes to sleep then you will lose a bit of the storage when you tilt the seat back into recline mode.
Mesh and waterproof covers are integrated and there are sun screens that can be moved around to where they're needed.
The Hamax collapses down and the wheels are easily removed which makes quite a difference for transportation and storage. We did find it pretty difficult to release the fold catch which made collapsing tougher than it should have been. A few practise dry runs were worth the effort to learn the knack.
The Outback works well as a stroller and is easy to push and steer with the handle adjusting to suit your height. The main downside of converting between trailer and stroller modes is that you need to remove the hitch arm to attach the single stroller wheel. This means the front of the trailer is unsupported whilst you switch so you need to hold in one hand whilst changing attachments with the other. This is easy enough unloaded but awkward with your child inside and so makes conversion outside the supermarket more tricky. There's also no designated point to fix the different attachments to the trailer so you need to accommodate them elsewhere if you want to double-up use on a single trip.
---
---
Burley Honey Bee child trailer
Best trailer for sibling transport
Specifications
Weight: 21.5kg (as tested)
Capacity: 45kg
Seats: Two
Hitch system: Rear axle mounted arm
Multi-activity: Bike trailer and stroller, stroller wheel included
:
Reasons to buy
+
Price
+
Lots of cargo space
+
Easy conversion between trailer and stroller modes
Reasons to avoid
-
Cargo space limits leg room
-
Stroller difficult to manoeuvre compared to multiactivity trailers
-
Tightness of fabric cover made it hard to open trailer for storage
It's all very well having a trailer with many a fancy feature, but what if there're two children and a second load coats, bags, shoes, games, food and drinks to transport? For that, there's the Burley Honey Bee. It also comes in a good chunk cheaper than the other trailers in this guide, handy when you need the cash for two lots of ice cream.
The overall style and construction of the Burley is more utilitarian than the Hamax and Thule, with nuts and bolts and a metal lever to operate the brake rather than oversized plastic clasps and pedals. But these differences are much more about form than function; given the relative price difference between these trailers (with the Burley less than half the cost of the Thule) they're perfectly acceptable.
Another main difference between the Burley and its more expensive competitors is the absence of frame suspension. This isn't something that we missed in our testing, the 20" wheels and slung seats providing what our child needed on speed bumps, kerbs and loose track riding.
The Burley's two seats are equally sized, each with a five-point buckle which is simple to operate. Naturally there is less elbow room for two passengers in this double trailer than there is for an individual child in a single trailer; such is the life of siblings.
There are integrated mesh and rain covers, the latter having UV proofing too. There isn't any additional sun shade though which could be a problem although we found the fabric sides provided enough shade in a British summer.
The trailer hitches to your bike via the rear axle, a simple and effective design and one that's going to work pretty much whatever bike you ride. Additional hitches are available if you want the convenience of swapping the trailer between bikes without needing to remove your rear axle.
The trailer is not as well weighted and doesn't perform as well as a buggy / stroller as the Hamax and Thule do. It does a perfectly good job if you want to push your cargo around when you reach your destination, but it's a bit too unwieldy for use on a day-to-day basis. For instance, we'd be less inclined to have this as our only stroller if we were away on holiday.
The mechanism that the Honey Bee uses to switch from trailer to stroller plays into this too. The bike stroller wheel is attached to the end of the hitch clips up out the way when you're riding, ready to be swung down when you unhitch. This gives it a ready-available convenience but feels a little intrusive and unnecessary to be there when you're out on a significant ride. Depending whether you favour day-to-day use or long rides, you'll likely either love or hate this feature.
There's a good chunk of storage space behind the seats, you can get a good few bags of shopping in there and it easily swallows a family's day out paraphernalia. The downside of the volumes storage is the relative lack of leg room for the passengers. Not a problem for those at the smaller / younger ones, but our average height three year-old was less chuffed about the lack of wiggle space.
The Honey Bee is designed to easily collapse down for storage. At a bit more than a foot high once folded it easily goes small enough to fit in the boot of your car. However, the particular model we had on test was really hard to open back up; it seemed to be limited by the tightness of the fabric cover across the back and base. Whilst we imagine this isn't a routine issue with the Honey Bee it would be worth double checking this feature on purchase so you were sure your trailer didn't have this issue too.
---
---
Tout Terrain Singletrailer II Sport
Best child trailer for mountain bike trails and singletrack riding
Specifications
Weight: 10kg
Capacity: 25kg
Seats: One
Hitch system: Seatpost clamp
Multiactivity: No
Reasons to buy
+
Lightweight
+
Single-wheeled for manoeuvrability on narrow, twisty trails
+
Air shock suspension for a smooth ride
Reasons to avoid
-
Not practical for day-to-day use
-
Difficult to take off the stand and set off without help
-
Can be tricky to get tow arm and trailer centred and not twist
-
Mounting towing arm with a dropper post and rear suspension on bike can be limited
-
Doesn't collapse for storage
The Tout Terrain Singletrailer is designed specifically for off-road manoeuvrability and control to allow you to ride your favourite MTB trails. It uses a single wheel which makes the trailer nimble and narrower rather than relying on two wheels in parallel which make a trailer wider and easier to tip in corners. Once you have everything set up right and on the right trail its great fun and really opens up the type of riding you can do with your child in a trailer.
A 160mm air-shock and 24" tyre provide suspension for your child. On testing, we didn't use that much of the travel of the air shock because the underside of the trailer would hit the ground or the hitch arm contact the back wheel before we reached anything near full travel.
Generally we had to rein back on our ambitions of taking our child with us across all kinds of natural trails and found sticking to more predictable trail centre flow trails was a better option for the trailer (and probably the child too).
The Tout Terrain hitches to your bike by an arm that clamps round your seat post which you need to buy separately. If you have a dropper post you might not have enough space for the hitch as you need to clamp below the collar of the post. Depending on the size of your bike it can be tricky to get the arm to mount to a full-suspension bike without it hitting the rear wheel when the suspension compresses. Whilst these hitching issues are obvious limitations it's actually unlikely that you'll be riding with your child on anything that you need a lot of suspension or drop on your post for. Locking out the suspension and exchanging your dropper for a standard post is an easy way round things.
It could be quite difficult to get the tow arm not to twist and the trailer run straight behind the bike. The best way we found to do this was to really tighten the hitch cam and have a second person line the trailer up to the bike with the rider and passenger both in position. It also helps to have a second person to use the kick stand as the trailer doesn't have the inherent stability that a two-wheeled model would. This is fine for family rides but didn't really suit going out on your own.
Interiorly there is still plenty of space for your child although there is no two-child option available. There are plenty of comfort options for your child too with a five-point seat belt and foam seat. There are also side head and frame cushions available if you want the option of more protection than the integrated roll cage of the chassis.
---
---
What to look for when choosing a child bike trailer
The best bike trailers for kids are extremely versatile, with some having the capacity for two children along with storage room at the back.
Coming in various sizes, the best bike trailers for kids will attach near your rear wheel dropout, via a pivot bracket threaded on to your skewer. This bracket allows the trailer to snake behind the bike, much like a lorry or car trailer, so corners can be easily navigated with a little extra swinging room.
Most, if not all bikes, will accommodate towing a trailer, although with the extra weight and drag it's worth investing in some slightly larger sprockets to ensure your legs can cope.
Depending on what model you opt for many trailers easily convert in to a push buggy. These can also make ideal running buggies too and some brands have ski options too.
As with bike seats, it's recommended that a child is able to sit unaided before using a trailer, but the upper age limit variable, up to around 45/50kg making it a really versatile and usable piece of kit. Many trailers have baby slings to accommodate younger children but these are for when you're pushing on foot rather than towing behind a bike.
Which multi-functional child's trailer is best?
The Hamax Outback and Thule Chariot Cross have very similar multi-activity functions. They both have bike trailer and stroller kits included as standard, with jogger and skiing kits available separately. There are one or two child models for both and if you want to use as a stroller / jogger before your child is old enough to be towed in a bike trailer, then there's an infant sling available for each. So how do you choose between them?
If you're weight conscious or want to swap regularly between modes, the Thule probably has the edge as it's a good few kilos lighter than the Hamax. It also has on-board storage for unused wheels / hitches and is easier to switch between modes.
If you're more concerned with price and want extra general storage then the Hamax is likely to be your best choice. It's a good chunk less expensive than the Thule and there's much more practical storage for shopping / picnics etc than the Thule offers.
What are the advantages and disadvantages of a trailer compared to a bike seat or cargo bike?
Whether you opt for a trailer, seat or cargo bike to transport your child/ren will depend on lots of factors. There's no right or wrong, just what suits you and your small passenger, your bike and the type of riding you want to do.
Here are a few things you might want to think about:
Rachel has been writing about and reviewing bike tech for the last 10 years. Cynical by nature, Rachel never really trusts the marketing hype and prefers to give products a mighty good testing before deciding whether they're worth buying or not.
Rachel's first riding love is mountain biking where she's been European and UK 24hr Champion on more than one occasion. She's not just confined to the trails though and regularly rides - and occasionally races - on gravel and road too.