Best e-bike insurance 2023 and everything you need to know
We answer all your questions on electric bike insurance and help you find the best protection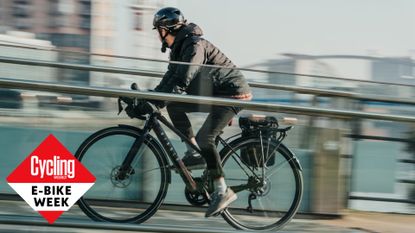 (Image credit: Ribble)
Get The Leadout Newsletter
The latest race content, interviews, features, reviews and expert buying guides, direct to your inbox!
Thank you for signing up to The Pick. You will receive a verification email shortly.
There was a problem. Please refresh the page and try again.
In terms of bike revolutions, the invention of pedal-assisted power is probably one of the biggest in recent years. If you are thinking of investing, or perhaps already have, in one of the best electric bikes you'll know that they bring immense joy, but that does come at a premium price, meaning that you will want to ensure that it's protected with the best e-bike insurance should it be damaged or stolen.
We look at the different types of cover available, where to go to find the best deals and answer all the questions you might have around insurance, the law and your electric two wheels.
Best e-bike insurance
In this guide we aim to provide you with lots of advice on how to narrow down your options and find the best e-bike insurance for you.
Once you know what you're looking for, it's time to make some price and cover comparison searches.
To make life easier, we've partnered with Protect Your Family insurance comparison website, so you can see what policies are out there that match your own unique needs.
Like the best bicycle insurance, in the main you have two insurance options. Either a e-bike specific policy, or tacking it on to your home insurance. There are pros and cons to both options.
E-bike specific policies
The best specific e-bike insurance policy will cover you for theft, accidental damage, third party and personal liability.
Many bike specific option will offer like-for-like replacements, or cover the cost of repairing your e-bike if it's damaged in some way.
Some will even provide breakdown cover and protect your cycling accessories, such GPS units, your helmet and kit should they be lost, stolen or damaged in an accident.
If you travel abroad with your bike, then overseas cover will be a priority for you. I've personally found that tacking this on to an existing insurance policy is a more affordable option, rather than paying out blanket cover year round, when in reality I only need it for a week or two.
The best thing about standalone e-bike insurance policies is that the claim can be tailor-made for you and your bike. This means you have exactly the cover you need based on the type of riding you'll be doing on a specific bike.
Some home and contents insurance companies will limit the amount they will insure a bike for, or a max payout if you are wanting cover for more than one bike. This means you could be heavily out of pocket should you unfortunately need to make a claim.
The other really important cover that an e-bike specific insurance would provide is liability insurance, both personal and third party. This is more like a car insurance, whereby if you were to injure yourself or someone else, or their property - you would be protected from expensive pay-outs.
You will need to check the small print of any protection plan, but the best e-bike insurance plans will make what is and isn't included very obvious.
Price comparison websites are great for checking what is and isn't included for your monthly or annual premium, including the all-important excess fee should you need to make a claim.
Home insurance policies
Adding your e-bike to your home insurance policy is a great idea for people who like to use one provider for all their cover.
Most policies will offer basic cover for bikes, but will need notifying that you own an e-bike, and it's likely that the standard cover will barely scratch the surface in terms of paying for a replacement or repairing an e-bike.
The excess is likely to be higher than other household items too, and it's important to weigh up the risk of needing to claim, as this will wipe out any no-claims discounts.
As with even the best e-bike insurance policies, your home insurance will want to ensure that you have made adequate and likely additional measures to secure your bike at home.
It's also vital to check what is and isn't covered for your e-bike, and to make sure you can meet the requirements both home and away. That's assuming of course that it covers you away from home.
If you can tick the boxes for matching your needs at a price you can afford, the final thing to check for is that all-important liability protection.
If it doesn't come as standard, or it isn't an option, then you can look at getting this separately.
Some cycling club memberships, as well as British Cycling and Cycling UK membership in the UK will cover e-bikes. USA Cycling membership in the States will automatically provide liability insurance for riders, but it's not as yet clear if this includes e-bikes.
If you're not a member of any club, you need to ensure you have adequate protection.
What is an electric bike?
What does and doesn't count as an e-bike?
Before diving off and purchasing the best e-bike insurance, it's vital to have a full understanding of what an electric bicycle actually is.
You can find all you need to know about electric bikes in our specific page on how to buy an e-bike, which explains terminology, and what to look out for when making a purchase.
For ease of reference, electric bikes are defined in the UK as 'electrically assisted pedal cycles' or EAPCs for short.
It must have pedals to propel it, have a maximum power output of 250 watts, which should not be able to propel the bike when it's travelling more than 15.5mph.
In the US, federal law defines an electric bike as a "low-speed electric bicycle' means a two- or three-wheeled vehicle with fully operable pedals and an electric motor of less than 750 watts (1 horsepower), whose maximum speed on a paved level surface, when powered solely by such a motor while ridden by an operator who weighs 170 pounds, is less than 20 mph.
Do you need insurance for an electric bike?
What are the laws around protecting me and other road users?
For the UK, assuming that your electric bike matches the definition above, there is no legal requirement to purchase insurance, either in terms of protection for the actual e-bike, or liability.
In the US, this is slightly less clear. Federal law distinguishes what is and isn't an electric bike (as noted above), but this only applies to an e-bike's safety and product standards.
Operation of the actual e-bike once it has been purchased is determined on a state by state basis, which means that some states still classify e-bikes with mopeds and other forms of motorised vehicles, restricting where and how they can be used, and with the requirement of licences and registration, and therefore insurance.
There is on-going work to harmonise the use of electric bikes across all states, but best to check in with State Electric Bicycle Laws to see what the laws are where you intend to ride your electric bike.
The most important thing when weighing up investing in the best e-bike insurance is to remember that electric bikes are significantly more expensive than a regular road bike, so the cost of replacing or repairing will hit hard without an insurance payout.
It's also worth remembering that without liability insurance, you are, quite literally liable for any claims made by third parties, or taking forward a claim against one.
How much does e-bike insurance cost?
What's the monthly or yearly premium likely to be?
The biggest question for anyone considering taking out e-bike insurance is the cost. Like any insurance policy, the money involved will vary greatly depending on the cost of the e-bike, the cover provided and the insurer themselves.
But as a guide, quickly popping a £5,000/ $6,200 cargo e-bike into an insurance price comparison website, ticking all the boxes for maximum coverage, came back with quotes around £250/ £314 for the year, or £25/ $30 a month.
There are lots of T's and C's to read through and of course it very much depends on where you live, where the bike will be kept etc. However I was surprised as I had thought it would be a lot more each month.
David George, CEO of specialist cycling insurer Bikmo, says: "Given the average value of an e-bike is significantly higher than that of a regular bike and there is more complexity in the motor, gearbox, battery and electrics, we do recommend insuring e-bikes to protect against financial loss, should the bike be damaged or stolen. After all, you want to keep riding, and we want you to too."
If you are tacking it on to your house insurance, then you would need to speak to your provider directly for any price changes, and ensure you know exactly what is and isn't included in the insurance policy.
Get The Leadout Newsletter
The latest race content, interviews, features, reviews and expert buying guides, direct to your inbox!
Hannah is Cycling Weekly's longest-serving tech writer, having started with the magazine back in 2011. She has covered all things technical for both print and digital over multiple seasons representing CW at spring Classics, and Grand Tours and all races in between.
Hannah was a successful road and track racer herself, competing in UCI races all over Europe as well as in China, Pakistan and New Zealand.
For fun, she's ridden LEJOG unaided, a lap of Majorca in a day, won a 24-hour mountain bike race and tackled famous mountain passes in the French Alps, Pyrenees, Dolomites and Himalayas.
She lives just outside the Peak District National Park near Manchester UK with her partner, daughter and a small but beautifully formed bike collection.