Bryton Gardia R300L Rear Light & Radar review
A very neat little unit that combines a rear light and radar to keep you better informed about traffic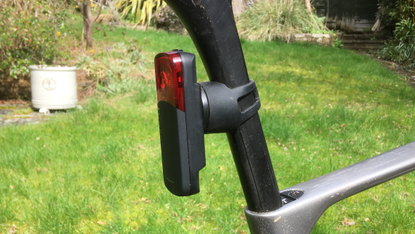 (Image credit: Paul Grele)
A good offering from Bryton which comes very close to the Garmin Varia in terms of performance, and is priced very competitively. Its battery life is a little better than its rival too. You may find that, like me, once you start riding using a radar system you won't want to go back to riding without it.
Reasons to buy
+

Radar functionality provides good additional information to a rider

+

USB-C plugs

+

Solid attachment to the bracket, which is in turn easily fitted to a seat post

+

69 grams or 95g with bracket (for 27.2mm option)

+

Good battery life

+

Competitively priced
Reasons to avoid
-

Not quite as good a light or radar as its main rival, the Garmin Varia, but it's close
You can trust Cycling Weekly. Our team of experts put in hard miles testing cycling tech and will always share honest, unbiased advice to help you choose. Find out more about how we test.
Get The Leadout Newsletter
The latest race content, interviews, features, reviews and expert buying guides, direct to your inbox!
Thank you for signing up to The Pick. You will receive a verification email shortly.
There was a problem. Please refresh the page and try again.
Bryton have been making some of the best cycling computers for a number of years and have decided that now is the right time to release their first rear light and radar unit.
The R300L features compatibility with ANT+ bike computers as well as Bluetooth to connect to your smartphone, along with innovative alert functions. When using a compatible front light (and computer), ANT+ will allow a network to be formed whereby all the lighting functions can be controlled from the head unit. A built-in G-sensor can detect braking and change the light mode to show this too.
However it is the addition of a radar unit that is really interesting with its ability to alert a rider to approaching traffic (from behind), how fast it is approaching, how many vehicles there are, as well as their relative closing speed. Alerts are visual on the head unit accompanied with bleeps so that you can keep your eyes on the road.
Bryton Gardia R300L: construction
The R300L is a compact unit measuring 97mm high, 40mm wide and 20.9mm deep. On my scales it weighs 69g, some three grams heavier than Bryton's claimed number, and its bracket came in at 26g using the 27.2 round seat post option.
It is nicely made from a matt finish black plastic, which feels grippy enough in gloves when fitting to the mount. It attaches with a quarter turn and feels securely locked in place on the bracket. The unit is IXP7 water proofed with a well fitting rubber flap over the USB-C charging port. There is a single button on the top of the unit to power it up, as well as to change the light modes. The light mode may also be changed on the head unit too.
It's worth noting that I found that while the Bryton interacted excellently with its own brackets, it didn't always play nicely with Garmin/aftermarket ones. The two indents on the rear of the unit appear to be a fraction shorter, and so don't lock on to the tangs of the other brackets. I had assumed that there was a standard for these fixings, but I must've been mistaken.
Bryton Gardia R300L: the ride
The R300L comes boxed with everything that you need to get riding straightaway. Included were the light/radar unit, the bracket (with additional inserts for aero and D-section seat posts) and a USB-C cable.
I downloaded the 'Bryton Gardia' app to my iPhone and also powered up a Bryton Rider S500 head unit. Both devices found and paired to each other very easily, and have been completely robust in terms of speed and linking together each time that they are powered up and in use.
As a general comment on radar, I have been very impressed, and continue to be so, with radar functionality. I have been using it for over 6 months and it has become essential kit for me, to the point where it feels a bit strange when I ride a bike and don't have it fitted.
The Gardia R300L has also been paired with the Garmin Epix 2, where it worked well, and the Wahoo Elemnt Roam. All paired easily and reliably. However I have ridden primarily with the Bryton S500 head unit linked via ANT+ to the R300L light. They have been super reliable in terms of wireless connection but also software.
Both units are water resistant with the R300L being IXP7 rated, which implies that it is waterproof and that it can be fully submerged into 1-meter deep water for up to 30 minutes and still be able to work properly after that. There has been a lot of rain recently, and having to also test a new bike that comes without mudguards means a lot of spray from the back wheel. The Gardia has been able to cope with this without problem. If you look at the photo below you can see that the port has been well protected from the road spray. A residue of grime is sat outside of that area as you'd expect.
The displaying of a car approaching is pretty similar to the Garmin. On the head unit you get a green bar on the righthand side of the display along with a double beep, then the bar turns yellow (or red if the car is particularly fast) and a car icon moves up the screen from bottom to top. When the icon is near the top it means that the car is a short distance behind and possibly about to overtake. Once it has passed you the display bar turns green and single beep is emitted to show that the 'threat' has cleared. You can have several car icons moving up the bar as the unit is able to detect several vehicles at a time. On a busy main road I noticed that a single car icon was actually three cars bunched together closely. So you still need to keep your ears and eyes open to the reality of the situation.
I believe that I initially had an early firmware version. This gave quite a lot of false positive signals. That is to say that it would bleep to say that it had sensed a car and then very quickly say that the threat had cleared. It never didn't sense an actual car, but it did sense a lot of things that weren't cars... This was in contrast to the Garmin unit, which over six months of use, has been very accurate with its detection and alerting. It was a little frustrating and meant that I couldn't trust the Gardia quite as much. A firmware upgrade to R0.2.8 has helped, and now the unit performs very similarly to the Garmin Varia unit. It's not quite as accurate but we're talking about 5% of difference.
The Bryton light emits with a viewing angle of 220 degrees and it is nicely visible from a distance. There are 6 modes available:
High - 20 Lumens and 8 hour battery life
Low - 5 Lm / 12 hours
Day Flash - 73 Lm / 17 hours
Night Flash - 12 LM / 17 hours
Group/Peleton - 12 LM / 11 hours
Off & Radar only - 24 hour battery life
Compare the Bryton's lighting functionality to the Garmin RCT715 & RTL515 and you find many similarities and a few differences. Broadly speaking the lights are really similar in visual output. This is to say that they are all good lights and that they can be seen from a distance. In absolute terms they aren't quite as good as my benchmark lights; the Exposure TraceR ReaKT and Knog Cobber Mid. However where the Gardia wins out is in terms of battery life.
Bryton Gardia R300L: value and conclusion
The Bryton Gardia R300L and S500 pairing has worked well with good information being displayed on the screen. The ANT+ link has been rock solid and pairs up reliably every time. The firmware upgrade has improved the experience massively too, to the point that it is very, very close in terms of performance to the Garmin Varia offering.
The Garmin just nudges it in terms of its rear light performance as well as radar alerts, but by a minimal amount. However the Bryton has better battery life. At $129.99 / £119.99 is priced very keenly compared to the Garmin RTL515 ($199.99 / £169.99), which means that it undercuts it by an impressive $70 / £50. Quite a saving. It even manages to undercut the Garmin RVR315 radar only unit by $20 / £10!
I have switched between the Bryton and Garmin radar units many times now trying to compare and contrast, and found very subtle differences between them.
In general I've become a big fan of the extra information that a radar gives you, and I like the safety of a rear light flashing, even on sunny days. To combine the two functions into one unit, with a good battery life as well as a keen price point makes this little unit well worth consideration.
Thank you for reading 20 articles this month* Join now for unlimited access
Enjoy your first month for just £1 / $1 / €1
*Read 5 free articles per month without a subscription
Join now for unlimited access
Try first month for just £1 / $1 / €1
Get The Leadout Newsletter
The latest race content, interviews, features, reviews and expert buying guides, direct to your inbox!
Over 40 years cycling in a variety of disciplines including road riding, commuting, a self-supported Land's End to John o' Groats trip, XC mountain biking and several Polaris Challenge two-day events. Adventure, escape and fun are the motivations for my riding. I also love bike and kit design and have fillet brazed a couple of framesets using Reynolds 853 steel tubing for myself. A very satisfying experience to ride your own bespoke bike!
Height: 180cm
Weight: 66kg