Bryton Rider S500 review
Great battery life, improved touchscreen and new Climb Challenge, but still lagging behind the best, and heavily dependent on an open app for navigation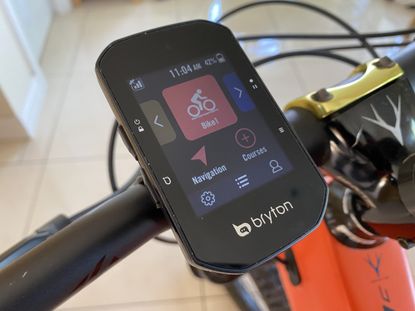 (Image credit: Emma Silversides)
The Rider S500 addresses many of the issues that I encountered with the Rider 750. An improved touchscreen, ambient light sensor and massive battery life are all welcome improvements. The Rider S500 does a great job of connecting to sensors and displaying data well, both during and after a ride. However, navigation remains heavily reliant on the app being open and some of the functions and features are still unrefined in comparison to competitors. If navigation isn't a priority for you, the Rider S500 might be considered great value for money versus competitors, but it's still far from perfect, so patience might be needed.
Reasons to buy
+

Battery life is impressive

+

OpenStreetMap with Points of Interest included

+

Climb Challenge is a great motivator

+

Affordable against the competition

+

Ambient light sensor
Reasons to avoid
-

Reliant on an open app for meaningful navigation

-

Mapping detail unrefined

-

Pause symbol can interfere with screen

-

User interface not always intuitive
Why you can trust Cycling Weekly Our expert reviewers spend hours testing and comparing products and services so you can choose the best for you. Find out more about how we test.
The Bryton Rider S500 GPS computer is designed for those hoping to track performance metrics on any kind of ride - be it indoors, road or gravel - and navigate outdoors with ease.
Having previously used the Rider 750 I was hopeful that the brand may have addressed some of the pitfalls I identified, namely, slow processing and subpar map graphics. Many of these complaints have been improved, though there are some hangovers.
Whilst not perfect, the Rider 750 did a lot of things very well. So what's new? There's actually a pretty long list. Major additions and edits include:
new "Climb Challenge" feature
automatic sync of structured workouts from the Active app
screen-off long battery life option (but still recording)
increased visibility of display outdoors, anti-glare screen coating
increased sensitivity of touch screen
ambient light sensor
increased accuracy of the barometric altimeter
increased battery life from 20hrs to 35hrs
USB-C port (from micro-USB)
ability to use a USB-C cable to your phone to update maps & firmware
exclusion of Garmin-to-Bryton adapter mount
Phew, that's a fair bit to take in. Having tested the Rider 750 last autumn, I was keen to see just how good all of this was and if anything else had improved on top of these main additions.
Unboxing the Bryton Rider S500
There are two Rider S500 package options: the basic 'E' version and the 'T' sensor bundle. I've been lucky enough to test the latter. As well as the actual unit, case and mounts that come with the E-bundle, there's a heart rate chest strap, speed sensor and cadence sensor included with the T-bundle.
The 84 x 51 x 25mm Rider S500 unit is slightly smaller than the Rider 750 (92.5 x 49.7 x 23.8mm). This could be seen as a positive if you're short of space on your bars, or a negative if your eyes aren't as good as they could be; the actual display is 2.4", versus the Rider 750's 2.8". By comparison, the Garmin Edge 830 manages a 2.6" display and the Wahoo Bolt V2 2.2". As with the Rider 750, display area is lost via a surround at the top and bottom of the unit.
Unmounted, the unit is noticeably deep. A comparison below with an Edge 830 shows this well. The mount fitting on the head unit itself adds depth because it's replaceable - a new feature on a Bryton unit. Additional bulk isn't really noticeable once the computer is mounted. Indeed the whole thing's no heavier than the Edge 830.
I'm personally unconvinced by the usefulness of the replaceable mount: if you buy the Bryton, you have Bryton mounts to use. Perhaps it's in case the dial fails on the Rider S500, allowing you to buy a replacement? Apparently not, when I asked Bryton for more information, the brand told me: "[the replacement dial is] not currently bought in to the country as a spare as they are not expected to break...If we do have cases of them failing this would be considered under warranty."
Image 1 of 2
Mounting the Bryton Rider S500
The unit comes with a couple of mounting options. The slick-looking, alloy "out-front" mount works with 31.8 and smaller bars (35mm bar users are left out). Bar/stem mounts are also included, with a variety of o-rings for attachment. The majority of other manufacturers still offer plastic out-front mounts, so credit to Bryton for this premium choice.
Image 1 of 2
The supplied USB-C cable should have enough length (45cm) to satisfy endurance riders wanting to charge from a top tube pack on the go. The port is on the underside of the unit rather than an end, as with Garmin and Wahoo. While the port cover seems sturdy and snug, there is greater risk of ingress with it under the unit.