Bryton Rider S500 review
Great battery life, improved touchscreen and new Climb Challenge, but still lagging behind the best, and heavily dependent on an open app for navigation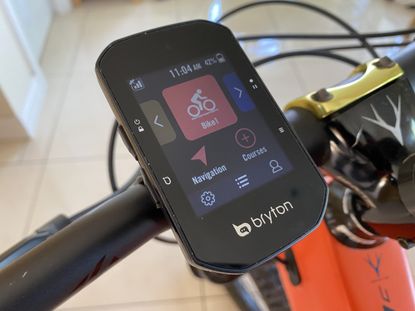 (Image credit: Emma Silversides)
The Rider S500 addresses many of the issues that I encountered with the Rider 750. An improved touchscreen, ambient light sensor and massive battery life are all welcome improvements. The Rider S500 does a great job of connecting to sensors and displaying data well, both during and after a ride. However, navigation remains heavily reliant on the app being open and some of the functions and features are still unrefined in comparison to competitors. If navigation isn't a priority for you, the Rider S500 might be considered great value for money versus competitors, but it's still far from perfect, so patience might be needed.
Reasons to buy
+

Battery life is impressive

+

OpenStreetMap with Points of Interest included

+

Climb Challenge is a great motivator

+

Affordable against the competition

+

Ambient light sensor
Reasons to avoid
-

Reliant on an open app for meaningful navigation

-

Mapping detail unrefined

-

Pause symbol can interfere with screen

-

User interface not always intuitive
Why you can trust Cycling Weekly Our expert reviewers spend hours testing and comparing products and services so you can choose the best for you. Find out more about how we test.
The Bryton Rider S500 GPS computer is designed for those hoping to track performance metrics on any kind of ride - be it indoors, road or gravel - and navigate outdoors with ease.
Having previously used the Rider 750 I was hopeful that the brand may have addressed some of the pitfalls I identified, namely, slow processing and subpar map graphics. Many of these complaints have been improved, though there are some hangovers.
Whilst not perfect, the Rider 750 did a lot of things very well. So what's new? There's actually a pretty long list. Major additions and edits include:
new "Climb Challenge" feature
automatic sync of structured workouts from the Active app
screen-off long battery life option (but still recording)
increased visibility of display outdoors, anti-glare screen coating
increased sensitivity of touch screen
ambient light sensor
increased accuracy of the barometric altimeter
increased battery life from 20hrs to 35hrs
USB-C port (from micro-USB)
ability to use a USB-C cable to your phone to update maps & firmware
exclusion of Garmin-to-Bryton adapter mount
Phew, that's a fair bit to take in. Having tested the Rider 750 last autumn, I was keen to see just how good all of this was and if anything else had improved on top of these main additions.
Unboxing the Bryton Rider S500
There are two Rider S500 package options: the basic 'E' version and the 'T' sensor bundle. I've been lucky enough to test the latter. As well as the actual unit, case and mounts that come with the E-bundle, there's a heart rate chest strap, speed sensor and cadence sensor included with the T-bundle.
The 84 x 51 x 25mm Rider S500 unit is slightly smaller than the Rider 750 (92.5 x 49.7 x 23.8mm). This could be seen as a positive if you're short of space on your bars, or a negative if your eyes aren't as good as they could be; the actual display is 2.4", versus the Rider 750's 2.8". By comparison, the Garmin Edge 830 manages a 2.6" display and the Wahoo Bolt V2 2.2". As with the Rider 750, display area is lost via a surround at the top and bottom of the unit.
Unmounted, the unit is noticeably deep. A comparison below with an Edge 830 shows this well. The mount fitting on the head unit itself adds depth because it's replaceable - a new feature on a Bryton unit. Additional bulk isn't really noticeable once the computer is mounted. Indeed the whole thing's no heavier than the Edge 830.
I'm personally unconvinced by the usefulness of the replaceable mount: if you buy the Bryton, you have Bryton mounts to use. Perhaps it's in case the dial fails on the Rider S500, allowing you to buy a replacement? Apparently not, when I asked Bryton for more information, the brand told me: "[the replacement dial is] not currently bought in to the country as a spare as they are not expected to break...If we do have cases of them failing this would be considered under warranty."
Image 1 of 2
Mounting the Bryton Rider S500
The unit comes with a couple of mounting options. The slick-looking, alloy "out-front" mount works with 31.8 and smaller bars (35mm bar users are left out). Bar/stem mounts are also included, with a variety of o-rings for attachment. The majority of other manufacturers still offer plastic out-front mounts, so credit to Bryton for this premium choice.
Image 1 of 2
The supplied USB-C cable should have enough length (45cm) to satisfy endurance riders wanting to charge from a top tube pack on the go. The port is on the underside of the unit rather than an end, as with Garmin and Wahoo. While the port cover seems sturdy and snug, there is greater risk of ingress with it under the unit.
Bryton also include a safety lanyard and silicone case in both bundles.
I can't say the case is a snug fit with slick looks, in my opinion it's quite the opposite. The photo below shows just how loose the fit is; the right edge is bowing-out after constantly being hit by my swipes. However, I'd advise using it if you want to preserve the unit's aesthetics and functionality.
I carried out my usual drop test on the Rider S500 - a drop from approximately 1m, onto hard ground. This is a perfectly feasible experiment in my book; who hasn't accidentally dropped their unit when going to mount it or, even worse, had the misfortune of it coming off during a crash? The bezel was dented significantly and the unit did not want to switch on again, flicking on and off continually. Bryton (via ZyroFisher) swiftly replaced what they deemed to be a 'faulty unit', no questions asked, assuring me that any such experience would be covered by the 2-year warranty. The second unit passed the 'drop test', when safely nestled in the case.
Image 1 of 2
Set-up and customisation
Set-up and customisation is best done via the Bryton Active App. A series of videos (opens in new tab) produced by Bryton guide you through every aspect of set-up, customisation and use. I'd say these videos really go in Bryton's favour; they are sequential, easy to understand and cover the majority of processes and operations. I've been using an iPhone for testing purposes and have had zero issues with the app.
Personal metrics can be entered in the Active App, this is worth doing to get more accurate analysis. That includes HR and power data, from which Bryton will calculate training zones (shown with arbituary data below). A notable set-up quirk is that the unit must be switched on in order to configure (any) settings. This is a bit of a faff in my opinion and doesn't make me warm to the unit. If it's not switched on, customisation menus won't even appear in the app.
Three fully customisable bike profiles are available, each offering up to 4 data pages with 14 different configurations of between 2 and 10 data fields. For me, one or two pages with 5 fields is more than enough to simulate metrics at a glance. Those tracking a multitude of metrics during any one ride will be happy with the options though. It's possible to alter data fields on the unit, as well as on the app, which is useful for mid-ride changes.
Fans of the Rider 750's Graphical User Interface will be pleased to know it features on the Rider S500, despite not being played-up as much in marketing. If you are new to Bryton, I'm referring to a metric ring that can be selected as a display in the grid customisation. The photo below shows it better than my words can describe it.
Sensors and GPS
The three sensors supplied with the T bundle - heart rate, cadence and speed - are all very easy to pair with the unit, the app isn't required for this. Hub/crank mounted cadence/speed sensors are protected with silicone mounting cases. The HR chest strap is a standard affair, with a detachable battery sensor and washable strap. It's comfy to wear and the attachment is pretty compact. A CR2032 battery is conveniently accessed with a coin, rather than tedious screws. I've found all sensors to be very responsive and reliable throughout testing, very rarely dropping out or showing blips in readings.
The Rider S500 also supports 'Bike Radar Systems', Shimano Steps and (ANT+/FE-C connectivity with) smart trainers.
GPS system settings can be configured in the app. The Rider S500 makes use of 5 different satellite systems, enabling you to chose between increasing battery life or improving accuracy. If you want a super fast, reliable and accurate connection, it's actually possible to connect with all 5 systems simultaneously, though this will use more battery life. For me, the signal has been stable and accurate throughout testing.
General riding and in-app analysis
If you roll out of the door to just ride, the Rider S500 does a very good job of tracking your ride, showing you metrics and giving you plenty of post-ride feedback (via the app)
The improvement in the touch screen is remarkable, bringing it in-line with leading units; it's very responsive.
There're also four buttons on the side - useful if you are not wearing touchscreen compatible gloves; they allow you change pages, start/stop the timer and record a lap. I've not warmed to their placement though. I've frequently recorded a lap when I wanted to stop the timer; it's a natural instinct to apply pressure to the opposite side of the unit when you press a button.
Brightness and contrast are good, always being sufficient to see everything on the screen without straining, even in bright sunlight. Is it as good as Garmin or Wahoo? That might be down to individual interpretation. I personally think Bryton's choice of colour isn't always optimal, the photos throughout this review show this. Graphics on the mapping page remain rather unrefined. The roads aren't as clear as on the Edge 830 and road names appear as stacked letters (still). When I reviewed the Rider 750, I had a grumble about the lack of a bread crumb trail (showing where you'd ridden). This has been addressed, to some degree, on the Rider S500. Unfortunately, you can hardly see it.
As shown below, it's just not as clear as the bright blue trace on the Garmin Edge 830.
Despite these grumblings, there are a few things that are quite cool with the pre-loaded OSM (OpenStreetMaps) maps.
With a massive zoom range (850km-400km-200km-64km-50km-25km-12.8km-6.4km-3.2km-1.9km-800m-400m-200m-100m-50m) and on-screen Points of Interest (POIs), it's really useful for exploring unfamiliar places. Moving the map so that a POI is under the 'radar' gives you detail. Additionally, the OSM maps included on the Rider S500 have been enhanced to show MTB trails and other off-road features.
Another of my Rider 750 grumbles appears on the Rider S500, quite literally: the pause icon that indicates the unit has stopped recording. While it isn't solid in colour, it's still annoying to have it on a data grid, climb profile or map when you've stopped and might want to look at the screen. Something like Garmin's amber frame is more user-friendly. Thankfully, if you interact with the mapping page while stationary, it does disappear.
A noteworthy improvement is the powering down of the unit. A cafe stop doesn't mean you lose your ride (like it did with the Rider 750); you can set the unit to power off after a customised time period (default is 30 minutes) and the ride will be there to resume when you switch it back on.
While we're discussing powering-off, it makes sense to mention the much talked-about battery life of the Rider S500. Bryton claim that it can run for up to 24 hours, and I've found this to be reliable. It's great to not be plugging it in that often and it's a big plus for adventure riders.
As I write, I have a unit in front of me that's still got 43% battery capacity and has done over 13.5 hours of riding since the last charge, at least 10 of which were with active navigation and use of cadence and HR sensors. Naturally, the more strain you put on the unit (with sensors) and interact with the map, the quicker the battery drains. Without navigating or using paired sensors, I found the unit can last beyond the claimed 24 hours. It takes around 3 hours to recharge.
Back to general riding. Strava Live segments are not featured on the Rider S500, a disappointment for many I'm sure. The unit does boast Live Track though, allowing you to share your real-time location with others. This is done by generating a link in the app and sharing via any messaging app or email. Recipients can follow from the web, viewing your real-time location, current speed, ride time, trip time, distance and last updated time on their phone or computer (data view below).
After finishing and opting to save a ride it syncs to the app, providing the app is open and the unit remains switched on during syncing. Data is then as comprehensive as with any other I've experienced. For me, the app is more intuitive for retrieving ride data than it is for setting up workouts or syncing routes. All recent activities are displayed on the homepage and you can access them from there. Data fields can be expanded to access a plethora of metrics and graphs (with variable axes on charts). Rides can be shared to other platforms (STRAVA, TrainingPeaks, Selfloops and Relive) indiviually, or you can customise to auto-sync. They can also be turned into routes for future outings or sharing.
Navigation
As with the Rider 750, the Rider S500 has several options for navigating.
You can routes plan within the app (a reasonable option if you don't have a larger screened device), import routes from Strava, Komoot and Ride with GPS, create routes from your own rides, or import via a cable connection.
Once you've sent a route to the device, you'll need to keep the app open to at least start it. If you close the app, navigating to the start or re-routing is not possible, you'll still get directions if you stay on course though. If you happen to drift off route with the app closed, there's no attempt to re-route, you will simply get a notification that you are off route, regardless of which page you are on.
Image 1 of 2
On-board navigation is also possible, via typing, dropping a pin or voice - again the app must be active for this to work. In my experience it's reliable but, like most devices, doesn't always use the best of routes.
When it comes down to actual physical navigation, the Rider S500 does everything you'd hope for. If you are using a data page when approaching a turn, it will flash up with a clear instruction (rather than switching to the map page). If you are on the map page, guidance is in a small square at the bottom of the screen - actually a little too discrete for my liking, though the coloured trail is clear enough in unambiguous situations.
Image 1 of 2
If, for any reason, you want to re-trace your route (to get home for something urgent, for example) the Rider S500 can navigate you via the roads you've just used.
Much of my pre-planned navigation is done when I'm riding on new roads travelling to, or visiting, unknown places. Reliance on my phone to do this (particularly if I happen to be abroad) is not so appealing and can present issues if, for example, phone reception isn't great or the battery is low.
Climb challenge
If you are following a route, Bryton's Climb Challenge feature enables you to customise climbs: changing where they start and end, or removing them completely. This is an intuitive process in the app, though I personally found the start/end pins difficult to move with any kind of precision.
As soon as you start following the customised route, it's possible to view a summary of all the climbs. This graphical overview arguably gives more detail about the climbs' varying gradient than a simple list (as with Garmin). Once you begin a categorised climb, the Climb Challenge screen pops up with the profile and coloured climb segments. Accompanying data fields are customisable. The whole feature is very similar to Garmin's ClimbPro - if something works, why not replicate it?
Workouts
Creating workouts in the app (to send to the device) is not difficult, just rather time-consuming. Pre-defined sessions are available and it's possible to create your own. Editing zones and interval duration is fiddly due to the entry fields being so small, though maybe a larger smart phone would have made this easier (I've been using a 5.8 inch screen).
Following any kind of workout made me feel like I was on an exercise bike in a gym - a marker tracks your progress through each block of pre-defined work, metrics turn red if you are not in your target zone, there are on-screen count downs to the start of a new interval and it's possible to zoom into a particular section of the workout.
Value and verdict
The T-bundle that I have been testing has an RRP of £329.99 / $379.95, foregoing the sensors will save you £80 / $70.
Market leaders Garmin and Wahoo will set you back significantly more for something boasting similar features; Garmin's Edge 830 retails at £429.99 / $499.99 (with sensors, £349.99 / $399.99 without) and Wahoo's Elemnt Roam has an RRP of £299.99 / $379.99 (no sensor bundle).
In short, Bryton is not being beaten on price. Whether you deem the Rider S500 value for money or not will be a matter of personal priorities when it comes to using the device.
I have friends who swear by their Brytons: 'I get everything I need and it's so much cheaper than a Garmin'. However, the friends in question don't want navigation, they simply want to track a ride, occasionally see a map and monitor their progress on climbs. Indeed, in this regard, the Rider S500 does all of this as well as others. It might be a bit 'clunky' and unrefined in places when lined up next to competitors, but this is a justifiable compromise given its attractive price.
However, any form of meaningful navigation on the Rider S500 relies on having your smart phone to hand, paired and with the Active App open. For me, this means it can't really be classed as a reliable and competent unit to navigate me, wherever I am. It's a massive negative for the Rider S500 and, given the amount of feedback surrounding the Rider 750 from independent reviewers, it's a shame this hasn't been addressed.
Specifications
Physical Dimension: 83.9 x 51 x 17.4 mm
Display Resolution: 240 x 320 pixels
Operating Temperature: -10°C~50°C
Log History: 300 Hours
Satellite Supported: GPS, Glonass, Galileo, Beidou, QZSS
Waterproof Rating: IPX7
Lap History: 130 Laps
Battery Life: Up to 24 hours
Thank you for reading 10 articles this month* Join now for unlimited access
Enjoy your first month for just £1 / $1 / €1
*Read 5 free articles per month without a subscription
Join now for unlimited access
Try first month for just £1 / $1 / €1
Emma's first encounters with a bike were in between swimming and running. Soon after competing for GB in the World Age Group Triathlon Championships in Edmonton in 2001 she saw the light and decided to focus on cycling.
With a couple of half decent UK road seasons under her belt, she went out to Belgium to sample the racing there, spending two years with Lotto-Belisol Ladies team, racing alongside the likes of Sara Carrigan, Grace Verbeke, Rochelle Gilmore and Lizzie Deignan. Emma moved from Lotto-Belisol to Dutch team Redsun, working primarily as a domestique for Emma Johansson. When Redsun folded, Emma was offered the opportunity to ride with a newly formed Belgian team and home to the first year senior and budding rider Anna Van Der Breggen.

After retiring, Emma returned to teaching, setting up her own tutoring business. When not coercing kids to do maths, she is invariably out on two wheels. While the road bike remains her true passion, she has also developed an addiction to touring, with destinations including Iceland, Georgia and Albania, to mention just a few. There have also been sightings of Emma off-road, on mountain and gravel bikes… As if all of this isn't enough, she's been working as a freelancer since 2005, testing and reviewing the latest kit and sharing her insight into the sport.