Association of Professional Cyclists calls for UCI to suspend disc brake testing
The Cyclistes Professionnels Associés (CPA) and Equipment Commission have called upon the UCI to suspend testing of disc brakes following the Ventoso injury at Paris-Roubaix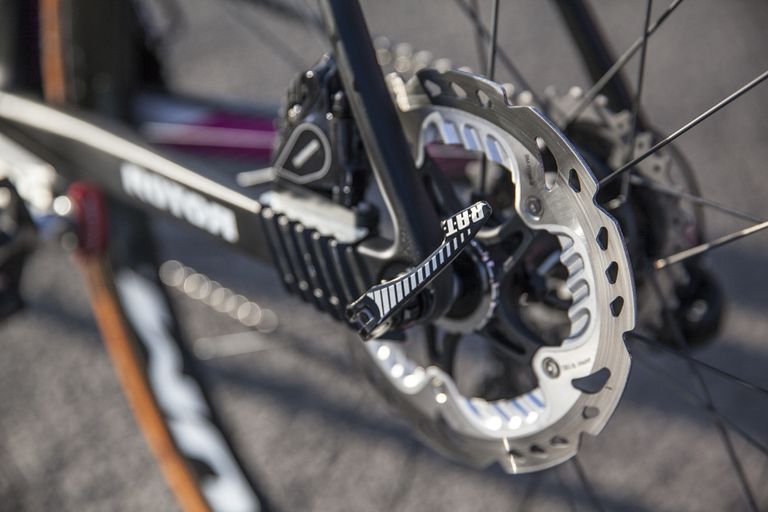 Following the incident at Paris-Roubaix in which Movistar's Fran Ventoso suffered a serious injury to his left leg, reportedly from a disc brake, the Cyclistes Professionnels Associés (CPA) or Association of Professional Cyclists has formally called for the UCI to suspend the testing of disc brakes.
Since the time of writing, a UCI spokesperson has confirmed there will be a suspension on the use of disc brakes.
>>> Ventoso writes an open letter calling for disc brakes to be banned
Cycling Weekly spoke to the CPA, who said: "we sent several letters to race organisers and the UCI and organisers before Paris-Roubaix, not to undergo disc brake tests, because we knew that many riders didn't agree about the use of discs."
The CPA also explained, that in these letters "we underlined all of the risks of using disc brakes."
Despite the warnings from the CPA and concerns from pro riders "the UCI didn't want to go back" on its decision to test the brakes. Following the the fallout and reaction from the horrific Ventoso injury, CW understands that the CPA has been in contact with both the Equipment Commission and the UCI.
>>> Lampre Merida test disc brakes at Paris-Roubaix
"Today we had a big discussion with the Equipment Commission and we all agreed that testing of disc brakes should be suspended," the CPA continued.
"We have written a letter, with the Equipment Commission, to the UCI to formally request that disc brake tests should be suspended."
Watch: What do the pros really think of disc brakes?
The CPA was firm to stress that it was not against disc brakes replacing standard callipers long-term, but that in the current form, there were safety issues.
The CPA said it also believes the UCI will suspend the use of disc brakes.
"Following this [Ventoso incident] we think the UCI will suspend the use of disc brakes. It doesn't mean they will say no to disc brakes in the future, but just for now. We don't want to stop the progress of disc brakes, but we don't want to risk rider safety."