UK National Hill-Climb Championship won on disc brakes for the first time
Andrew Feather's fourth title was disc-brake powered and deeply personal, he tells Cycling Weekly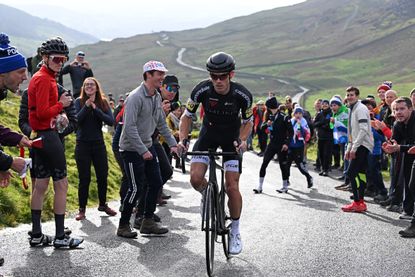 (Image credit: Andy Jones / Future)
Andrew Feather became the first rider to win the elite National Hill-Climb Championship (UK) on disc brakes at the weekend, when he took a fourth title on the Lake District's Struggle climb.
The 38-year-old Bath-based solicitor covered the 2.6-mile climb out of Ambleside in 11.48, riding a Cannondale Lab71 disc frame, Hunt wheels and Shimano Dura-Ace 12-speed with XTR discs – a change from the same company's SuperSix with rim brakes that he has ridden in previous seasons.
Beyond the bike he was riding, the Hunt Wheels rider's win had an especially personal significance for him, for it was during a recce on the Struggle in 2019 that his wife went into labour with their daughter.
"It was when the Struggle was first put on as a hill-climb," he explained. "We were doing the recce on the Friday, she felt a bit funny, and it transpired that funny feeling was her going into labour, so we had to find a hospital pretty quick."
Unsurprisingly, Feather did not ride the hill-climb that weekend, but was glad to finally return and do it justice.
"It's really nice that four years on, [daughter] Olivia was there yesterday and she now understands it. It's nice personal victory for myself and my family," he said.
There was no particular strategy behind the switch to discs, he explained, beyond wanting to make the most of the latest equipment.
"I'm supported by a few brands and I'm in the fortunate position that they want to give me their latest technology, so I was keen to try it this year," he said.
It had been a somewhat stressful experience, he said, having got hold of the bike at the start of the hill-climb season and only managing to perfect his position and the bike weight with 10 days to go before the Nationals.
That final weight, incidentally, was 5.79kg which, says Feather, puts it within around 400g of his lightest rim-brake hill-climb bike.
"There's not that much in it," he says. "I could have brought it slightly lower, but then you know, either you're not running power, or compromising braking performance – things like that."
Their ease of service and, in particular, their light weight, has seen rim brakes remain widely popular in the hill-climb community. While Feather's breakthrough victory may not see a sudden reversal on that position, it does feel like a significant step on the way to a wider acceptance of discs.
"Shimano dictates the market, and they're almost exclusively discs now – there's no way around it really," Feather points out. "If you want to buy the latest technology, the latest high-end stuff you have to buy disc brakes."
And with that – and under the friendly but firm insistence of his wife in the background – Feather's hill-climb (disc) wheels are hung up for the season.
Thank you for reading 20 articles this month* Join now for unlimited access
Enjoy your first month for just £1 / $1 / €1
*Read 5 free articles per month without a subscription
Join now for unlimited access
Try first month for just £1 / $1 / €1