Fulcrum Racing 4 C17 wheelset review - one of the few solid options left for rim-brake bikes with tight clearances
Whilst many brands opting to drop rim-brake wheels from their ranges, Fulcrum has been continuing to maintain its models - we find out how the latest iteration stacks up...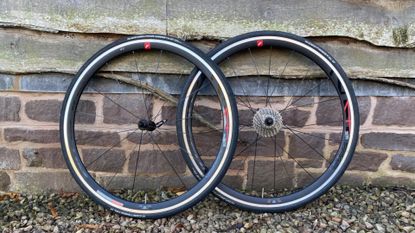 (Image credit: Andy Turner)
A decent and reasonably priced aero wheelset that's stiff, brakes well, and isn't bad weight-wise, given the 35mm depth and aluminium construction. The narrow width means that rolling resistance is increased compared to wider modern wheelsets, which is very noticeable on the flats and doesn't help the wheels on climbs either. But on the other hand, if you have an older bike with narrow clearances - and which doesn't play nicely with modern, plump 25mm tires - then this up-to-date model line is a well performing option for keeping you rolling.
Reasons to buy
+

Stiff

+

Aero benefits to 35mm

+

Decent budget race wheels
Reasons to avoid
-

Traditional narrow profile not suited to tires more than 23mm

-

Not especially lightweight
Fulcrum's Racing 4 C17 wheels have long been a stalwart of the amateur racing scene, earning a reputation for their blend of performance and price. The focus of the Racing 4s is geared a little more towards the latter than the former, but there is also the Fulcrum Racing 3 model - should you be after something fancier.
But what's particularly notable is about this product line is that - in contrast to many of the best road bike wheelsets, which have pivoted solely towards disc brakes - these rim brake wheels have continued to be maintained and updated. So, naturally, we were quite intrigued to see how they'd stack up…
Fulcrum Racing 4 C17: construction
The Fulcrum Racing 4s are a full aluminium wheelset with a 35mm rim depth, 23.2mm external width, and 17mm internal width. They are made for clincher tires only and have no tubeless options available.
To that extent, these wheels are quite traditionalist, we have seen more progressive rim brake rims in the past - such as Mavic's Open Pro UST rims, which feature a 19mm internal rim width for wider tires and are tubeless compatible. Then again, if you are sticking to rim brakes at this point, perhaps you'll be sticking to inner tubes as well.
Spokes are stainless steel, aero straight pull, with a 6-6 12-spoke arrangement at the front and a 2:1 21-spoke rear, in favour of the drive-side. An Anti-Rotation System is employed by Fulcrum to ensure that the tension of the spokes will not change nor will the position of them to maintain optimal aerodynamic positioning.
Rim Dynamic Balance is used (RDB) due counter the weight of the valve and balance the wheels, according to Fulcrum this makes them rotationally more stable.
An oversized flange is also used on the drive side of the rear hub to ensure that stiffness is maximised while limiting additional weight.
The ride
Setting up the Fulcrum Racing 4s was very easy. I set them up with a pair of 23mm Continental GP4000s tires and lifeline butyl inner tubes. The 23mm tires bulge slightly over the rim, which at 23.2mm externally is quite narrow - even for 23mm tires!
Going from some similarly deep carbon wheels to this aluminium set, there was a noticeable difference in weight - but not as much as I might have expected. One thing which was noticeable was just how well they rolled, and the stiffness was also impressive - better than the carbon clinchers I had been using! This gives the Racing 4 C17 wheels a great reactivity when surging uphill or sprinting. They also feel very planted for fast and technical descending.
However, compared to more up-to-date wider rim wheels, the rolling speed is noticeably lower. Using a set of 27mm external width rims (with tires that measure 27mm at a similar rim depth) feels noticeably quicker when rolling on the flats or descending - plus the weight penalty of that plumper setup isn't noticeable when climbing even quite steep hills.
Although for those with older rim brake framesets without clearance for wider wheels and tires, the Fulcrum Racing 4 C17 might be perfect for you. Especially useful when every standard in cycling tends to change after a few years and suddenly a nice bike becomes almost obsolete and un-upgradable.
An area that really impressed me was the braking. I mostly train with disc brakes so have gotten used to the braking power of that system. Even so, these wheels with some inexpensive Lifeline brake blocks felt as good as discs in reasonably wide range of conditions.
The initial bite is powerful - but not unpredictable - and the more you squeeze the levers the more breaking power is applied in what feels like a very linear manner. There was not slip, or bite, or grab even over prolonged braking periods where heat build-up can make rim brakes a little unpredictable. I would say that as far as braking performance goes, these are among the best rim brake wheels that I have used.
I do find these wheels fit into a bit of a performance dead spot, though, and really only offer a good investment if you have an older rim brake frame with narrower clearances. For example, I have an older frame where 25mm tires on wider rims rub the chainstays. The Fulcrums fit perfectly and enable that frame to keep being used.
However, every other frame I have - as well as current market rim brake models - mostly offer compatibility with tires of 28mm and up. The benefit of wider tires is that rolling resistance is reduced, but to negate the aero negatives of 28mm tires on 23mm rims, the rims need to be proportionally wider. The wide rim and wide tyre mix results in the best rolling resistance, optimised aerodynamics and also greater comfort.
Essentially, if you have an older frame where modern rims and tires won't work, then these wheels are the perfect option. They perform brilliantly for what they are, but they are a bit dated. However it is nice to see options still available for upgrades on older frames rather than being forced to buy into newer trends.
Value
At £389.99 these aren't budget wheels per se, but the Fulcrum Racing 4 C17 wheels still represent a significant saving ahead of some good value carbon wheels, whilst maintaining a high level of performance.
Similarly priced wheelsets include the Borg 26 2:1 700c (£505.00), which are lighter at 1,625g - compared to 1,727g for the Fulcrum Racing 4 C17 - but also more expensive and only 24mm deep rather than 35mm.
There is also the Shimano SR500-TL (£545.00) which again are 24mm deep and weigh1,649g.
So, for a mid-aero wheelset with decent weight and stiffness, the Fulcrum Racing 4 C17 wheels do represent fairly good value, especially as they're often available for less online at most retailers.
Conclusion
In all, the Fulcrum Racing 4 C17 wheels are good for the price. They have some reasonable aero credentials with the 35mm rim and for aluminium clinchers of that depth, the weight is fair - although it is noticeable on climbs compared to lighter competitors.
The narrow rim width is one area where the wheels do fall down a bit. The external rim width works best with 23mm wide tires - but the increased rolling resistance from such narrow rubber is noticeable.
That said, for older frames with smaller clearances and rim brakes, these wheels are a solid, more up to date option than some older wheels options. The braking is also on par with disc brakes in the dry.
Thank you for reading 10 articles this month* Join now for unlimited access
Enjoy your first month for just £1 / $1 / €1
*Read 5 free articles per month without a subscription
Join now for unlimited access
Try first month for just £1 / $1 / €1
Andy is a Sport & Exercise Scientist, fully qualified and experienced cycling coach, personal trainer and gym instructor. He spent 3 years on the road riding for a UCI cycling team and 7 years as a BC Elite rider.
After graduating in 2020 with first-class honours in his Sport & Exercise Sciences BSc, he continued to pursue his interest in research in the field of sport science alongside setting up his coaching business, ATP Performance, and working for USA-based firm, Wahoo Sports Science. He balanced this with racing at international level, competing in prestigious events such as the Tour of Britain and the Volta a Portugal.