Cheap Chinese carbon imports: are they worth the risk?
Low-price carbon frames available online may seem like tantalising bargains, but can you trust their quality, asks Marc Abbott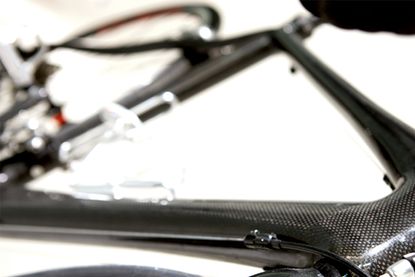 Most of us have at some point been drawn to eBay to trawl the listings for a frame in our size and at a price that won't see us cast out into the doghouse for a week.
Alongside the used bikes and official bike shop listings, there are a huge number of very cheap, unbranded carbon alternatives, often from China.
For the road cyclist looking for a unique bike and who is not concerned with brand names and logos, building up one of these frames with the finishing kit and groupset of choice is a very tempting prospect.
>>> Is it the end for the 34t chainring?
But if the price seems too good to be true, can we trust these frames? Have they gone through the same stringent testing procedures as named brands? And what comeback do you have if something goes awry while you're riding it?
Online bike business VeloBuild offers carbon frames for sale online from as little as $339 (£226).
Chris Mei, director of VeloBuild's office in Shenzhen, China, explains how these low prices are achieved: "The frames we sell are what we call 'open common tool' [a generic mould that anyone can purchase and use], so the price is much cheaper.
"Bigger brands usually have their own mould and tool, so their frame is special and only for them. They can pay for the mould cost and so their retail prices are higher."
>>> Do we need 12-speed gears?
One of the primary concerns among UK cyclists when considering buying a frame online from China is the lack of warranty offered.
While you're unlikely to find such assurances from an eBay seller, Mei is quick to point out that his company does guarantee the quality of its frames: "Our carbon frames have a two-year warranty which covers everything except 'human destruction'."
One UK bike importer we spoke to, who wished to remain nameless, raised serious concerns about the number of frame failures they had witnessed in Chinese carbon products.
Mei, however, assures us that his frames — made from high-tensile Toray 700 and aerospace grade 800 and 1000 carbon-fibre — meet the relevant EN European standards for sales in the UK.
>>> Are electronic groupsets necessary?
Neil Ball of UK carbon repair specialist Carbon Bike Technics has a theory as to why reported instances of frame failures are uncommon.
"We don't see many unbranded frames through the workshop," he says, "but this might be because of the cost implications.
"It would cost about the same amount of money to get one of these frames repaired professionally as it would to simply buy another new frame from China on the internet."
>>> Can you trust repaired carbon bike frames?
Maybe we're wrong to be wary of these frames, especially as they're often made in the same factories that manufacture brand-name bikes.
Mei confirms: "Our factory in Shenzhen also makes frames for some well-known brands. I can't say which brands — that's confidential."
If you're buying a frame, you'll need to know which groupset to put on it
The dark side
Big-name brands are quick to challenge the reliability of cheaper Chinese imports, especially in light of a number of high-profile scares over the influx of counterfeit frames coming to Europe.
Audrey Sogny, Look Cycle's media officer, says: "The safety of the [counterfeit] frame is clearly compromised. Imagine what would happen if you were descending and the frame broke."
>>> The disc brakes debate: are they necessary on road bikes?
Which leads us back to the 'too cheap to be true' maxim. Sogny won't be drawn on how to spot a fake, explaining: "We don't want to tell people how to know when they have a counterfeit frame because that gives clues to the counterfeiters on how to make them.
"If a customer has any doubt about whether their frame is genuine, they should contact our aftersales service."
>>> Winter bikes: do you really need one?
On the broader subject, Sogny continues: "A lot of big firms in the Far East, like Giant in Taiwan, for instance, have the correct quality controls. But if you buy a cheap frame — not necessarily a counterfeit — you should be aware of the possible consequences."
Our take
It seems there might be a middle ground here: buying through a specialist firm rather than eBay.
For us, though, there's no substitute for visiting a dealer, sitting on a bike and getting the right one for you in terms of quality and safety, not just the cheapest.
Even UK online retailers are good at dealing with issues arising from bike sales, and are also in the same time zone.
For: Chris Mei - VeloBuild
"We have customers from the UK, and all our carbon frames are made to the same procedure as well-known brand name frames, and in the same factory.
"They come with a warranty and conform to the relevant EN standard for safety. As well as testing, we build bikes for our test riders to review on our website, and customers can share experiences on our forum."
Against: Audrey Sogny - Look Cycle media officer
"I think you should be aware when you buy a frame that it has traceability; this is the case for all products, not just bikes. This is the customer's responsibility when they purchase a frame.
"The main reason you should avoid cheap carbon frames is the safety implications. If you're riding and something goes wrong, your life could be endangered."
The first version of this article originally appeared in the May 21, 2015 print issue of Cycling Weekly
Thank you for reading 10 articles this month* Join now for unlimited access
Enjoy your first month for just £1 / $1 / €1
*Read 5 free articles per month without a subscription
Join now for unlimited access
Try first month for just £1 / $1 / €1
Founded in 1891, Cycling Weekly and its team of expert journalists brings cyclists in-depth reviews, extensive coverage of both professional and domestic racing, as well as fitness advice and 'brew a cuppa and put your feet up' features. Cycling Weekly serves its audience across a range of platforms, from good old-fashioned print to online journalism, and video.