Best road bikes under £2000, or $2500, for 2022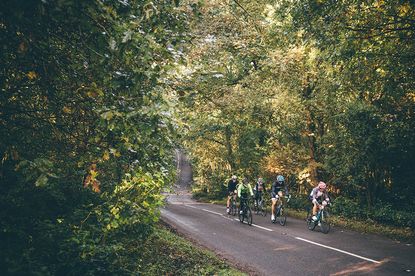 While you might not be able to get your dream road bike for £2000 / $2500, with a few compromises you'll still be able to ride away on something that still quickens the heartbeat. After all, 2K is not an insignificant amount of money.
At this price point, like any, you need to approach your search for a new bike with a view to the kind of riding you're going to be doing. This will help inform choices with regards to frame material, geometry, groupsets and more.
Do you want to spend long days in the saddle, tackling tough and varied terrain? Do you have an eye on racing at the weekend? Or maybe the idea of 'credit card' touring appeals? You could probably do all of these on the same bike, but there will certainly be specific models that are best suited to each of these different usages.
As for those compromises, it's likely that you'll need to make a few key decisions along the way. If you're dead set on a carbon frame with disc brakes from one of the big brands then its unlikely that this will come with a high-end groupset. However, if you opt for a bike from a direct-to-consumer operation you're probably going to get more for your money. Equally, a switch to an aluminium frame means that you can expect to find it better equipped that a carbon frameset in the same price bracket.
It's worth remembering of course that components can be upgraded and therefore a compromise on, say a wheelset, can be remedied. If you love the frameset you can always swap out the wheels at a later date, with the added bonus of retaining the original set as your new winter training hoops.
Let the search begin.
Here's our pick of the best road bikes under £2000 / $2500
You can trust Cycling Weekly. Our team of experts put in hard miles testing cycling tech and will always share honest, unbiased advice to help you choose. Find out more about how we test.
With each product is a 'Buy Now' or 'Best Deal' link. If you click on this then we may receive a small amount of money from the retailer when you purchase the item. This doesn't affect the amount you pay.
The best road bike for carbon looks in an aluminium package
Specifications
Frame: 3000 Series Alpha Aluminium
Groupset: Shimano Tiagra 10-speed
Wheels: Bontrager Affinity Disc
Reasons to buy
+
Looks like a carbon frame thanks to invisible welds
+
Comfortable ride quality
+
Tubeless-ready wheelset
Reasons to avoid
-
Handling not as sharp as rivals
-
10-speed groupset might need upgrading at some point
Model Up: Trek Émonda ALR 5 2022
As a slightly more expensive alternative you could always consider the next model up - the ALR 5.
This use to feature in our under 2K list but a subsequent price hike now sees it with a price tag of £2,200 / $2,179.
The biggest difference between the two specs comes in the shape of the 11-speed Shimano 105 groupset - it's a step up from the Tiagra used on the ALR 4 and one that justifies the extra expenditure if your budget has a little bit of wiggle room.
The disc brake-ready frameset is made using Ultralight 300 Series Alpha aluminum to create a great ride quality, as well as a strong structure, and a aesthetic finish that isn't that dissimilar to carbon, thanks to Trek's Invisible Weld Technology.
The alloy frame, that features flat mount disc and thru axles, is paired with an Emonda carbon fork, which when combined with the Bontrager Alloy wheels and 25c Bontrager H1 Hard-Case Lite tyres does a fantastic job at road buzz reduction. The Affinity Disc wheels are also tubeless-ready - an upgrade you might want to consider.
The groupset here is Shinamo Tiagra 10-speed. Trek have matched a 50/34t chainset with a 12-28t cassette, though it's worth nothing that the rear derailleur can take up to a 34t cassette- another smart upgrade if you're planning on heading to the Alps or tackling long, hilly rides at home.
Elsewhere the bike is equipped with components that make sense, whether you're planning on dipping your toes into the racing scene or just want a capable road bike for exploring the lanes at the weekend. This means a Bontrager alloy cockpit with drop bars that feature a sensible drop and reach for most riders as well as a Bontrager Montrose Comp saddle.
We reviewed the ALR 5 but with the same frame and many similar components, it's fair to say that the ALR 4 should deliver a similar performance.
Best race-ready road bike
Specifications
Frame: SmartForm C1 premium alloy w/ carbon fork
Groupset: Shimano 105 11-speed
Wheels: DT Swiss R470 db w/ Formula hubs
Reasons to buy
+
Lightweight frameset that's stiff and responsive
+
Reliable groupset with hydro disc brakes
+
Frame worthy of upgrades over time
Model Down: Cannondale CAAD Optimo 1
With the CAAD13 Disc no longer available in the UK for under £2K, the CAAD Optimo 1 might be the solution for those on a strict budget. At £1,250 it's well under this guide's limit, meaning that you'd have plenty of cash to spare to use on upgrades or additional clothing and kit.
The biggest difference here is the Optimo's rim brakes. You still get an 11-speed 105 groupset and an ultralight alloy frame with dropped stays. If the brakes aren't a deal breaker then it could be smart choice...and remember Tadej Pogačar has won many races riding rim brakes!
The SmartForm C1 Premium aluminum alloy frameset has plenty of upside. The tubing has been reconfigured to help reduce drag while at the same time offering a great low weight to high stiffness balance. Combined with the BallisTec Carbon SAVE fork, the dropped stays and the additional clearance that allows for 28mm tyres and you get a road racer that also delivers plenty of comfort too. The quality of the frameset is reflected in the number of build options that Cannondale offers.
At this price point, you get a Shimano 105 hydraulic groupset with a chainset featuring 52/36 chainrings, perfect for crit racers (as is the aluminium frame). The DT Swiss rims with Formula hubs wheel build and 28mm Vittoria Rubino Pro Bright tires might be grounds for an upgrade at some point though.
Elsewhere you get sensible components that match the bike's racing DNA, such as a Hollogram 27 KNOT seatpost and a set of compact Cannondale alloy bars.
We rode the higher spec'ed SRAM Force AXS version, but the slightly more wallet friendly CAAD13 Disc 105 is just as fun to ride. While the 2022 edition is priced at US$2,300, in the UK it's risen to £2,300. If your budget is a strict one then you might want to consider the CAAD Optimo featured here.
Best bike for climbers
Reasons to buy
+
Lightweight - under 8kg
+
Stiff, compact frame
+
Good value with full Shimano 105
Reasons to avoid
-
Rim brakes might not be to everyone's liking
Model Up: Giant TCR Advanced Disc 2
If you've got your heart set on a Giant TCR Advanced but want the all-conditions reliability of disc brakes then you're going to need to up your budget.
The Disc 2 model has all the features that we love in the rim brake model but comes fitted with Shimano 105 hydraulic disc brakes. The additional cost? Around £300 more - which takes it over the £2K price bracket of this guide.
Nestled within the 'performance' category of Giant's range, the Advanced 2 is at the lower end of the scale but shares the same lightweight carbon frame as the more expensive Advanced Pro models.
It doesn't sacrifice on performance, either: we found the bike's balance of handling, compliance and punchy ride quality to be in perfect harmony - awarding the machine a near-perfect 9/10.
At just 7.8kg / 17.64lbs, it's a lightweight machine, and the frame is strong, performance grade composite. Coupled with Giant's OverDrive steerer, this creates a stiffer ride quality and better handling.
Equipped with Shimano 105 rim brakes, it is however possible to upgrade to disc brakes (see box out). Whatever braking system you go for, you get Giant's own PR-2 wheelset and Giant Gavia AC 1 tubeless tyres.
Certainly the TCR Advanced frameset is well worthy of upgrades, making it a great choice at this price point. Like the Cannondale CAAD13, Giant's belief in the ride quality of the frame is echoed in the sheer number of build options.
Best bike that's crit-race ready
Specifications
Frame: Specialized E5 Premium Aluminium Disc
Groupset: Shimano 105 11-speed w/ Praxis Alba chainset
Wheels: DTR470
Reasons to buy
+
Geometry makes it race-ready
+
Stiff but still comfortable for longer rides
Reasons to avoid
-
Narrow tyres might not all
-
Not the lightest at over 8Kg for a 52cm
The longstanding Specialized Allez is a hugely popular entry-level road bike, but the Allez Sprint is a very different beast. With a significantly more aggressive geometry, it is an aluminum crit racer's dream.
Its party trick is the D'Aluisio Smartweld Sprint Technology, which reinforces the welds and thus the stiffness, without adding much heft. The Tarmac SL6 full carbon fork further reduces the weight, and adds a bit of front end compliance — our size 52 came in at 8.28kg / 18.25lbs. However it's worth noting that our review bike was the rim brake version so expect the disc brake model to weigh more.
For 2022, the Allez Sprint retails at £1,999 / US$2,300. At this price point, you get a mostly Shimano 105 drivetrain, with hydraulic disc brakes and a Praxis Zayante crankset. The wheels are DT R470 Disc, shod with 26c Turbo Pro tires which should be grippy in the bends.
Best bike blending aero properties with comfort
Specifications
Frame: C7 Carbon disc - aero optimised
Groupset: Shimano 105 11-speed
Wheels: Boardman SLR Alloy disc
Reasons to buy
+
Aero features in an all-day riding bike
+
Quality ride: comfortable while still engaging
+
Tried-and -tested 105 groupset
Reasons to avoid
-
Budget wheelset
-
Not the lightest at over 9kg
The Boardman SLR 8.9 Disc comes in £400 under our £2K limit. It's great value for money, delivering a Shimano 105 Hydro groupset and a full carbon frameset.
We've not reviewed this model yet but we did test the older SLR 9.2 with rim brakes. It's a bike that shares some of the same properties. We found that it married aggression and comfort well. The British company has its very own wind tunnel, so it's no surprise that both bikes pack in several aero goodies including aerofoil tube profiles and dropped seatstays. The SLR 8.9 C7 carbon frame adds to the racey, all-day bike feel.
The Boardman's SLR alloy wheels are a somewhat low budget option - but they make for a good all-rounder and are tubeless compatible. If you want to really enjoy the benefits of the frame's aero features, you'd want to upgrade the wheels to something deeper.
The bike's pretty heavy, weighing in at 9.4kg. However this could be greatly improved through the wheel upgrade mentioned above. It's likely that a pair of carbon hoops would shave several hundred grams off the bike's weight while at the same time improving the ride quality.
Image 1 of 2
Best bike with build options
Specifications
Frame: Toray T1000/T800 Carbon Monocoque
Groupset: SRAM Rival 2x11
Wheels: Mavic Aksium 19 DCL Disc
Reasons to buy
+
Aerodynamic frameset
+
Comfortable and compliant
+
Stable handling but still agile
+
Mudguard mounts
Reasons to avoid
-
Not the lightest in its class - over 8.5kg
These days it's rare not to find aero features in an endurance bike, and the comfortable Ribble Endurance SL Disc is no exception, with Kamm-tail tubes, dropped seatstays and an aero seatpost.
The frame is built from Toray T800 and T1000 high-grade carbon, and at 1.15kg / 2.25 it's pretty light for a disc brake model. Using Ribble's Bikebuilder to create a bike to meet the price point, we opted for a SRAM Rival 22 groupset, Level-1 branded standard stem and aero tops, plus 28mm Conti 4 Seasons tyres.
The Mavic Aksium Disc wheels fitted aren't the fastest but crucially are reliable, while a size large at 8.6kg is not the lightest. The comfortable frame smoothed out bumps in the road while the handling was nimble and predictable. Interestingly the frame has mudguard (fender) mounts, which mean it it's ideal for those who live in rainy locales or need it to do double duty as a winter trainer or commute bike.
This specification brings the complete bike in at a penny under the £2K limit. If you have a little more leeway then there's a number of component choices that would help bring down the bike's overall weight.
Best Road Bike Under £2000 / $2500 Buyers Guide
What frame material should I expect in road bikes under £2000/$2500?
Many £2000 / $2500 road bikes will come with a carbon frame. Carbon is light, compliant, and it's perfectly achievable to opt for one at this price point.
However, if you're after resilience — for example, you expect to be racing the bike in criterium races and want to know it can take a battering — you might want to look towards the high-specced aluminum market.
You might find some titanium and steel at this point - and both are good options if you're seeking springy comfort and a 'bike for life'.
At this magical £2000 / $2500 price point, many of the bikes you'll be looking at will share replica frames with those at a higher price point, albeit made with a lower grade material and equipped with lower-end wheels and groupsets. This means that, in theory at least, you could be buying a ride experience not a million miles away from a bike of double the cost.
However, this doesn't mean that all bikes of this price point are built to be racy. If you're after a bike that will be great to ride all day over rough road surfaces then it'll be worth checking out the geometry chart and looking for a bike with a taller head tube and shorter top tube for a more relaxed and comfortable fit.
What groupsets should I expect on road bikes under £2000 / $2500?
Trickle-down technology means you can easily get a Shimano Ultegra rim-equipped bike for under £2000 / $2500.
However, if you are looking for disc braking, it will more than likely be Shimano 105. This should by no means be overlooked, as it's a highly rated option, and in many cases worth taking a slight weight penalty in order to gain superb modulation and stopping power.
With the apparently unstoppable march towards electronic components,it would also be worthwhile checking that the bike you buy has internal cable routing, in order to gracefully accommodate electronic upgrades at a later stage.
While the shifters, derailleurs and chainset are probably the most important parts of any groupset, it's worth looking at the full spec to see if you're getting full bang for your buck. While a lower end chain or cassette shouldn't have too much of a negative effect, many manufacturers will hit a price point by skimping on the brakes with off-brand or lower spec calipers, which won't match up when it comes to braking modulation. That's less likely with disc brakes, but if you go for rim brakes see if you can find a bike with brakes that match the rest of the groupset.
What wheels should expect on road bikes under £2000 / $2500?
The wheels are often the weakest part of a lot of new bikes, wherever they sit in the market, and the story's no different for plenty of bikes in this price range. While the frame might be at a WorldTour level, the supplied wheels are most likely to be better suited to duties as sturdy training wheels.
Don't expect too much too much more than a solid pair of training hoops on a £2000 / $2500 road bike.
This could well be one of the first places to look when it comes to upgrading your bike further down the line. The best road bike wheels are likely to be lighter or more aerodynamic and will really help you make the most of a great frame.