Best titanium bikes reviewed and rated 2023
Titanium has famous longevity and a legendary ride quality - we take you through our pick of the best titanium bikes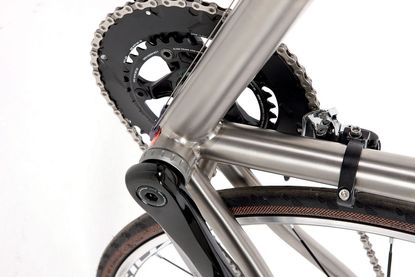 Titanium is half the weight of steel for a tube of the same tensile strength and twice as strong as aluminium alloy. That's why it's the best metal for many aerospace applications. Titanium is also more resistant to fatigue and impact than aluminium alloys, so it copes better with bumps and bashes. Titanium bikes are highly prized, if a slightly niche item, compared with aluminium and carbon framesets.
Another advantage of a titanium frame is that it is highly resistant to corrosion, unlike steel. For this reason titanium frames often come in an unpainted, brushed finish or with mirrored highlights, showing off the metal's distinctive lustre, although painted titanium is becoming more popular.
Here's our pick of the best titanium bikes and frames, though of course there are a wide range of other options out there too.
Best titanium bikes
Why you can trust Cycling Weekly Our expert reviewers spend hours testing and comparing products and services so you can choose the best for you. Find out more about how we test.
Enigma Etape Ultegra Hydraulic
Winner of a Cycling Weekly Editor's Choice award in 2018, the Enigma Etape endurance road bike will fit tyres up to 35mm or 32mm with mudguards. All the cables are fully enclosed and run externally, making for easier maintenance while still protecting them from the elements. There's routing for a dynamo cable through the right fork leg and rack mounts, so you can set the Etape up for long distance rides.
UK brand Kinesis has long had titanium framesets in its line-up. We reviewed its previous GFTI Disc frameset, which has now been replace by the latest GTD V2. It's got the classic long ride features of fully enclosed cable routing, an easily serviceable bottom bracket, disc brakes and loads of mounts. The carbon fork has internal dynamo cable routing and there are seven sizes from 48cm up to 60cm, to suit a range of riders.
One of two titanium bikes in Ribble's range, along with the CGR Ti gravel bike, the Endurance Ti Disc starts at £2299 and gives you Ribble's long distance geometry along with a Shimano 105 hydraulic disc brake groupset, for a fast, compliant ride. As with all Ribble's bikes, there are upgrade and custom options too.
When we reviewed the Ventus, Van Nicholas's entry level bike, we loved its smooth ride and appreciated its reasonable price for titanium. Van Nicholas has now updated the Ventus in line with modern bike design, with disc brakes, thru-axles, internal cable routing and other trickle-down tech from its pricier models.
Titanium bikes: everything you need to know
How are titanium bikes made?
Road bike frames are made of an alloy of titanium with other metals, typically aluminium and vanadium in varying proportions depending on the desired physical properties, which improve durability and physical properties over the pure metal. Frame makers often cite "aerospace-grade" tubing.
>>> Aluminium road bikes: five of the best
Titanium tubesets can be cold drawn as well as being hydroformed, like aluminium alloy. So although some titanium frames may come with round main tubes with external cable routing, tubesets can have other shapes and allow internal cabling too. An extreme example of this is Lynskey's Helix framesets, which use helically twisted tubing that Lynskey says helps to resist torsional forces.
As with any metal frameset, the frame tubes are cut to length and mitred before welding. Welding titanium tubesets is more complex than making alloy frames, as titanium reacts with oxygen. So completing the welds can take as much as five hours of labour. The tubing then has to be tapped to fit the components bolted and screwed to the frame and the final finish and logos added.
Although most titanium framesets are welded, there are other options. French bespoke frame builder Caminade has several options, including its AllRoad frameset, which uses titanium tubes glued into carbon lugs, for a more economical option than its all-titanium welded frames.
How do titanium bikes ride?
Titanium has a higher ability to deform in response to road imperfections than other metals used for bike frames. This means that a well-designed titanium frameset will deal with bumpy surfaces better, leading to a more comfortable ride. A titanium frame is typically paired with a carbon fork to amplify that road comfort.
>>> Should your next road bike be carbon, aluminium, steel or titanium?
There are a few framemakers like Moots (opens in new tab), Van Nicholas, Lynskey (opens in new tab) and Pilot that specialise in titanium frames. Others like Ribble, Kinesis and Enigma sell titanium framesets alongside their alloy and steel options.
Titanium bikes: the bike designer's take
One marque that has two titanium framesets in its otherwise aluminium and steel line-up is Mason Progressive Cycles. Its Bokeh all-terrain machine is available in both titanium and aluminium, while the Aspect ultra-endurance bike is titanium only. There's a waiting list for both titanium bikes, with each frameset built to order.
But, says Dom Mason, owner and designer at Mason: "For an endurance, AdventureSport, multi-terrain bike like the BokehTi, titanium is almost ideal. It's light, tough, comfortable and if designed right it gives you incredible response and propulsion."
>>> Steel bikes: best of British metal
The increased sophistication of the tubesets now available means that the ride can be tuned to offer the qualities required for the type of terrain to be tackled.
"Titanium frames from 10-15 years or so ago used to have a rather 'noodly' feel to them," continues Mason. "The limited tubesets available meant that the frames were designed with comfort as the prime factor, but they tended to feel rather 'soft' and flexy when stomping out of the saddle and didn't really track or put the power down well.
"We engineer our way to the ride qualities we want by working closely and directly with the tube maker, Dedacciai, and with Reynolds UK, who 3D print our thru-axle/flat-mount titanium dropouts," says Mason.
>>> Carbon road bikes: what makes good quality carbon and five bikes to consider
As with any material, getting the right ride requires careful design: we've tested overly harsh titanium bikes as well as 'noodly' ones.
Thank you for reading 10 articles this month* Join now for unlimited access
Enjoy your first month for just £1 / $1 / €1
*Read 5 free articles per month without a subscription
Join now for unlimited access
Try first month for just £1 / $1 / €1
Simon Smythe is Cycling Weekly's senior tech writer and has been in various roles at CW since 2003. His first job was as a sub editor following an MA in online journalism. In his cycling career Simon has mostly focused on time trialling with a national medal, a few open wins and his club's 30-mile record in his palmares. These days he spends most of his time testing road bikes, or on a tandem doing the school run with his younger son.