Enigma Etape Ultegra Hydraulic review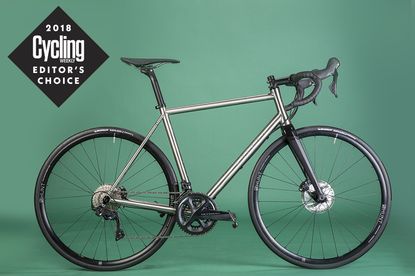 Although a bit more pricey than a carbon, steel or alloy bike, the Enigma Etape is an attractive option if you're after an endurance machine with the adaptability to take on more specialised duties. It comes with a quality spec and ride and is well adapted for UK conditions.
Reasons to buy
+

Quality frameset with the durability of titanium

+

Adaptability to ultra-endurance riding, bikepacking and softroading

+

Easy maintenance

+

Comfortable ride

+
Reasons to avoid
-

Conti tyres are wide but can't be run tubeless

-

12cm stem and wide bars lead to a slightly elongated ride position for an endurance machine

-
You can trust Cycling Weekly. Our team of experts put in hard miles testing cycling tech and will always share honest, unbiased advice to help you choose. Find out more about how we test.
Titanium retains its allure for the committed cyclist, and the Enigma Etape is one of the nicest fast ultra-endurance machines we've tested. It's got all you'd want for epic adventures, including wide clearances, predictable all-day handling and enough mounts to bolt on all you need to set off into the unknown. We've selected it for our Editor's Choice awards for 2018, highlighting the top products we've used in the last 365 days.
The Enigma Etape had a refresh at the start of 2018 and the newest model falls into that new category of endurance bikes which can take on a bit of anything.
Driven by the shift to disc brake wheels, manufacturers are increasing tyre clearance. Forgo mudguards and the Enigma Etape will accept 35mm tyres, while you can keep the wet off you and still run 32mm.
It's a genre espoused by that other Sussex brand, Mason Cycles, with its Definition and Resolution machines. Enigma's speciality is titanium frames and the Enigma Etape is a fine example of the silver-grey metal, hand brushed with contrasting satin logos.
Frame
For many people, titanium is the material for the ultimate n+1 bike. It's light, doesn't rust or fatigue and has a lasting allure. The Enigma Etape frame is made of 3Al/2.5V titanium alloy butted tubing, with neatly finished welds. Tubesets are frame size specific, for a similar ride between sizes.
>>> Titanium bikes: how they are made and why you might want one
Whereas the trend is for internal cable routing, the Enigma Etape's cables run externally under the down tube. But they're fully enclosed with neat cable guides, so they're still kept out of harm's way.
The external routing makes maintenance or replacement that bit easier and the bottom two guides are spaced so that you can fit a third bottle cage under the down tube. If you want electronic shifting, its wiring can be routed internally.
The spec also includes 12mm thru-axles front and rear, flat mount brakes and there's a BSA threaded external bottom bracket – another easy to service option.
The front brake hose is routed internally through the left leg of the all-carbon tapered fork. The right fork leg also has an internal channel, in this case allowing you to run a dynamo light set. It's another nod to the Enigma Etape's adaptability.
Along with the rear rack and mudguard mounts, it's a machine that would serve well for ultra-endurance events and bikepacking as well as audax. You can spec a second set of rack mounts if you expect to use the Etape for heavier touring.
Enigma's top end Excel, Echelon and Esprit are made in the UK, whereas its other frames, including the Etape, are welded in Asia.
>>> Enigma Elite HSS ST review
Enigma offers the Etape frame in 1cm increments between 50cm and 60cm. That's 11 sizes in total, although the odd-number sizes are special order, with an eight-week lead time and a £150 frame price surcharge. A fully custom frame also takes eight weeks from order, with a £300 surcharge.
Choose a stock (even number) frame size and order to delivery is around two weeks. When ordering, you can also swap the finish of the logos and the frame, go for anodised coloured logos or custom painting.
Specification
Enigma sells the Etape in two different builds, along with a frameset with fork, priced at £2,055.98 and a frame only option without the fork for £1,699. The Shimano 105 build costs £3,599, while we've tested the top spec Ultegra build, which comes in at £3,999. Enigma will build to order if you have a specific component spec in mind.
Our test bike came with Shimano Ultegra R8000 hydraulic, with its flat mount brake calipers and salami slicer rotors. The drivetrain features a 50/34 compact chainset and 11-34 cassette, giving you a huge gear range down to 1:1 so that you can load-lug up the steepest gradients.
Wheels are the excellent Hunt 4Seasons Disc alloys. They're super-robust, without being weighty. They ride fast too. They have wide rims and are tubeless ready, although the 28mm Continental GP4000 SII tyres fitted have to be run with tubes. On the Hunt rims, the tyres come out at around 30mm wide.
The test bike didn't come with mudguards, although these are noted in the spec. Riding through the summer of 2018, they weren't missed.
Finishing kit comes from Enigma or its C-Six component brand. The bar is an Enigma 6061 compact alloy model. On the test bike, it's 44cm wide, although you can choose your preferred bar width, stem length and saddle when ordering.
Although wider than bars fitted to the majority of bikes of this size, the 44cm width matches the Enigma Etape's handing characteristics and helps with steering accuracy on trickier back roads and unsurfaced trails.
There's a C-Six carbon seatpost with a tapered head, which is topped off with an Enigma Ellipse saddle. This has a shallow central channel and is comfortable, despite being minimally padded.
Riding the Enigma Etape
The Enigma Etape has the feel of a very competent long distance cruiser. The titanium frameset just seems to soak up the imperfections of UK road surfaces with ease, but still feels fast and engaging to ride. That's helped by the quality wheelset and the wide tyres, with a broad contact patch and the ability to ride at lower tyre pressures.
The bike feels faster than its 8.4kg weight would suggest and I made good use of the top-end gear ratios on the flat. It was no slouch on uphills either, both long drags and steeper climbs over the Chiltern ridge. It's nice to have the 1:1 get-out gear to let you spin up arrowed hills like The Crong.
Get out of the saddle and there's just the slightest hint of rotor rub when climbing or accelerating hard, but otherwise there's little flex in the Enigma Etape frameset. The Shimano disc brakes provide effective stopping too and handle longer descents without fade, even if you drag the brakes.
With its 12cm alloy stem and wide bar, the ride position on our Enigma Etape was a bit more stretched out than the frame geometry would imply. Not uncomfortably so, but I found it noticeable when compared to the majority of bikes of this size, which typically come with a 10cm stem and 42cm bar width. However, with Enigma building to order, speccing a shorter stem would not be an issue.
Enigma's finishing kit worked well for me too. Despite its narrow profile, quite thin padding and racy looks, I found the Enigma Ellipse saddle comfortable, no doubt aided by the tapered carbon seatpost and the Enigma Etape frame's sloping geometry. Enigma wraps the bars in squishy, grippy own-brand tape.
The stable endurance geometry and wide tyres invite softroading too. I took the Enigma Etape onto some gravel tracks adding some more challenging terrain to my rides and negotiating loose surfaces and obstacles, without any issues with handling or grip in the dry summer conditions.
Value
Titanium framesets don't come cheap. But their durability and the Etape's attractive finish make the Enigma an alluring proposition if you are after a versatile endurance/adventure bike.
Its features are bang up to date, so the Enigma Etape is a machine that's likely to stand the test of time spec-wise too, allowing you to replace components easily as they wear out. The external cabling and threaded bottom bracket shell mean that serviceability is also good.
So although you're paying a bit more than for an equivalent alloy or carbon machine, the Enigma Etape still looks like a good-value option with attractive longevity.
Thank you for reading 20 articles this month* Join now for unlimited access
Enjoy your first month for just £1 / $1 / €1
*Read 5 free articles per month without a subscription
Join now for unlimited access
Try first month for just £1 / $1 / €1