A road bike thru-axle standard: are we there yet?
Has the bike industry settled on a disc brake thru-axle standard or will it change again?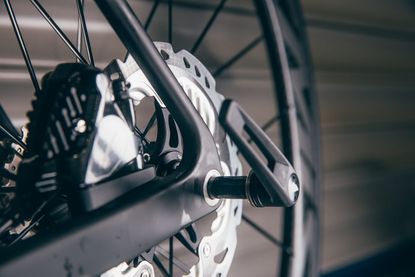 Disc brakes on drop-bar bikes are quite a new phenomenon. It was only in 2010 that the UCI sanctioned disc brakes on cyclo-cross bikes, with road bikes experimentally following along a few years later. Despite ongoing trials of their suitability in the peloton, now almost all manufacturers will offer a disc-brake road bike in their range.
The first crop of disc bikes used quick- release with 100mm axle length at the front and either 130mm or 135mm at the rear. Then along came thru-axles, borrowed from mountain bikes, where they have become pretty much the norm.
>>> Focus Izalco Max Disc review
Thru-axles increase the rigidity of the wheel-frame interface and allow more accurate wheel placement. This is particularly important for brake discs, where small pad clearances mean that a slight misalignment will cause rubbing. They also eliminate the risk of the wheel coming loose from the quick-release dropouts. The downside is slower wheel changes.
"Current thru- axles are slow to operate and require 'three hands' since the axle needs to be completely removed from the bike and the wheel," says Maxime Brunard, Mavic's road concept manager. But faster-release mechanisms like Mavic's Speed Release and Focus's RAT system are designed to mitigate this.
The first crop of road bikes with thru- axles used the 15mm diameter front axles common on mountain bikes but usually retained the rear quick-release.
Then in the last couple of years, rear thru-axles started to appear on road bikes; usually 12x135mm, although 12x142mm is now more common. At the same time Shimano started to promote its 12x100mm front sizing.
>>> Mavic Cosmic Pro Carbon SLC wheelset review
And Specialized promoted its own SCS rear thru-axle standard last year, which used a 135mm thru-axle but a different rear hub geometry that meant that there were few available wheelsets. Now it's dropped this in favour of 12x142mm.
Mavic's disc-brake wheelsets come with adaptors to fit its wheels into most frames, while other brands sell adaptors separately. It's a headache to work out if a wheelset will fit your frame and there are increased costs in designing and manufacturing multi-standard hubs.
A standard, but for how long?
Thankfully the bike industry is settling on a standard, with most manufacturers following Shimano's lead — 12x100mm front thru-axles are becoming the norm and most rear ends now use 12x142mm axles. This allows an 11-speed cassette and the brake rotor to fit without too asymmetric a rear wheel built on a narrow spoke placement.
Mavic is keen to see this spacing stick. "We firmly believe that the last thing that cyclists need is yet another standard. 12x100 and 12x142 makes great bikes and wheels. So we would love to stick with it," says Brunard.
Watch: Eight things to know about disc brakes
Kinesis UK is one brand replacing quick releases with 12x100mm front and 12x142mm rear thru-axles on its newest framesets, with Bruce Dalton, its marketing manager, citing the increased security of the wheel-frame connection as a key advantage.
The 142mm standard has its downsides though. The extra width can cause sub-optimal chainlines, particularly for bikes with shorter chainstays. Shimano and SRAM mandate a minimum 420mm chainstay length with disc brakes. Heel clearance is also a potential problem.
Expert view: Tom Marchment, Hunt Bike Wheels
"Clearly 12x100mm front and 12x142mm rear is quickly becoming the standard for road/gravel disc as it is definitely necessary for the industry to settle for some time to help riders know where they stand and not have to constantly check specs for compatibility. Plus, fewer variations will help reduce costs for riders.
>>> The best gravel and adventure road bikes
"I wouldn't be surprised to see the wider 148 Boost tried on the rear of road/gravel disc brake bikes at some point. After all, the 148 Boost standard was introduced by Trek and SRAM to increase spoke bracing angles and make racing 29er mtb rear wheels stiffer for hard cornering and sprinting/acceleration. It would come as no surprise if road pro sprinters wanted to see that benefit too.
>>> Hunt Bike Wheels releases three sub-1500g carbon clincher disc wheelsets
"Quick-releases will be around for quite a while still, especially for entry-level bikes where available components and the expense of proprietary fork and frame designs will limit thru-axle reach.
"Also, e-bikes could start to affect standards in the future, maybe moving chain lines to allow more powerful motors or even gear boxes, but we're probably staring a bit too deeply into the crystal ball there!"
Our take
It looks as if the pace of change in disc-bike axle standards will slow now, with 12x100mm front and 12x142mm rear thru-axles dominating. But this does build in constraints at both extremes of the road bike market.
For performance machines, a 420mm chainstay may be too long, so expect to see work-arounds which displace the chainset to the right. At the other extreme, mixed terrain and gravel bikes are getting ever-wider tyres – 40mm or more.
Some come with 650b wheelsets with two-inch plus mtb tyres. On mountain bikes there's a trend to even wider Boost axles to deal with their extra tyre width, so don't discount wider axles appearing on drop-bar bikes too.
Thank you for reading 20 articles this month* Join now for unlimited access
Enjoy your first month for just £1 / $1 / €1
*Read 5 free articles per month without a subscription
Join now for unlimited access
Try first month for just £1 / $1 / €1