How much damage can a tubeless tyre take? (video)
We decided to do an experiment to see how much damage tubeless tyres can sustain. Watch the video to find out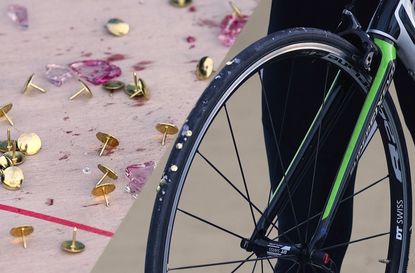 Get The Leadout Newsletter
The latest race content, interviews, features, reviews and expert buying guides, direct to your inbox!
Thank you for signing up to The Pick. You will receive a verification email shortly.
There was a problem. Please refresh the page and try again.
Tubeless tyres are effective at sealing punctures as you ride, but how much damage can tubeless tyres take? I had previously hammered three inch nails into a tubeless tyre, which you can watch here.
Although this repeatedly sealed, many viewers argued that the sealing may not work as well, if you were riding and had weight on the wheel and tyre.
>>> How to set up road tubeless tyres (video)
In a bid to see if riding makes a difference and also to see what it takes to defeat a tubeless set up, I created a 'tyre gauntlet of death.'
Far less impressive than it sounds, it was actually a piece of plywood covered in nails. I also added drawing pins and broken glass into the mix too, all in a bid to cause the tyres to fail.
The intention was to try and create so many holes in the tyres that they failed to seal. Regarding equipment used in the experiment, the wheels were tubeless ready DT-Swiss RR24 Spline, tyres were 25mm Panaracer Race A Evo 3 and the Sealant was Orange Seal.
The tubeless set up was fairly easy to set up. The Panaracer tyres were tough to get on the first time, but seating of the tyres was achieved with a track pump and no special inflator was required in this case.
I should also point out that that the Orange Seal sealant used contains solid particles in the liquid. These are designed to make the sealant more effective at sealing by acting in a similar way to platelets in blood.
Watch the video to see the results, they may surprise – they certainly surprised us. I should stress that this experiment has been in no way influenced or paid for by tubeless tyre, wheel or sealant companies. It is an independent, impartial experiment.
We also recently published a video where we measured the rolling resistance of tubeless tyres against tubulars and clinchers in a bid to determine which system exhibits the lowest friction and is therefore the fastest.
In that experiment, tubeless tyres were a clear winner, exhibiting the lowest rolling resistance of the three tyre systems tested.
Considering this, it looks like the future may well be tubeless.
Thank you for reading 20 articles this month* Join now for unlimited access
Enjoy your first month for just £1 / $1 / €1
*Read 5 free articles per month without a subscription
Join now for unlimited access
Try first month for just £1 / $1 / €1
Get The Leadout Newsletter
The latest race content, interviews, features, reviews and expert buying guides, direct to your inbox!
Oliver Bridgewood - no, Doctor Oliver Bridgewood - is a PhD Chemist who discovered a love of cycling. He enjoys racing time trials, hill climbs, road races and criteriums. During his time at Cycling Weekly, he worked predominantly within the tech team, also utilising his science background to produce insightful fitness articles, before moving to an entirely video-focused role heading up the Cycling Weekly YouTube channel, where his feature-length documentary 'Project 49' was his crowning glory.