Can a tubeless tyre survive a nail? (video)
Can a tubeless tyre survive pins and a nail being driven through the carcass? We put it to the test...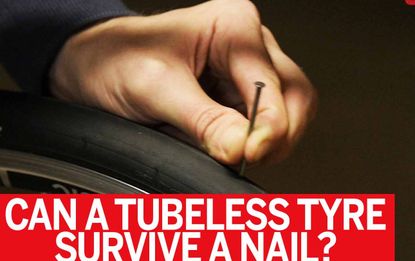 Many wheel and tyre companies are pushing tubeless tyres and wheels at the moment. For those who don't know, tubeless tyres are similar to a clincher, but form an air tight seal against the rim and contain sealant, instead of an inner tube.
>>> Buyer's guide to road bike wheels
But what happens when you puncture a tubeless road tyre? Do they actually work? To test this I took an American Classic road tubeless wheel, fitted with a Bontrager 25mm tubless tyre and sealant and pumped them to 80 psi.
>>> American Classic Road Tubeless Wheel review
Having put several hundred kilometres on these wheels and tyres without incident, I decided to force the issue to see how effective the puncture protection is. The first test I did was to roll the tyre over a line of drawing pins, or thumb tacks if you are American.
Pulling them out resulted in the holes sealing almost immediately. I should also note that puncturing the side walls with the tacks (not shown in the video) appeared to seal just as easily too.
Having seen off multiple pins with ease, I next opted for a hammer and nail. To my surprise, the large hole was sealed in around 20 seconds and would have probably been quicker if I had been riding and the wheel spinning. Although there was some loss of pressure, the tyre was still perfectly rideable and you could always top it up. I repeated this experiment several times, with the same result.
>>> Buyer's guide to road bike tyres
So there you have it, the tyre seals very effectively. I was so impressed with these tyres that after making this video I went on to use these exact tyres in the epic 254km Rapha Manchester to London Ride, despite the fact I had previously driven nails into them! They performed flawlessly, with no punctures and being tubeless meant I could run them at lower pressure (65-70 psi) for substantially more comfort.
>>> Click here for our buyer's guide to road bike wheels
If you are unfortunate enough to get a larger puncture, you can place a piece of rubber in the tyre and insert a standard inner tube. The only real downside is that fitting a tubeless tyre can be harder than a standard clincher, especially with certain rim/tyre combinations. I really like these Bontrager R3 tyres, but it was a struggle getting them onto these particular rims.
For more information, on American Classics and Bontrager, click on the links.
Thank you for reading 20 articles this month* Join now for unlimited access
Enjoy your first month for just £1 / $1 / €1
*Read 5 free articles per month without a subscription
Join now for unlimited access
Try first month for just £1 / $1 / €1