10 of the best audax rides you should challenge yourself with in 2017
If you've been inspired by rides like London Edinburgh London or the Transcontinental then we have just the list for you - Words: Liam FitzPatrick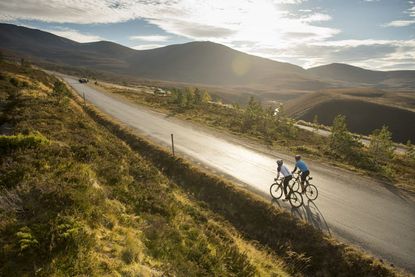 (Image credit: Andrew McCandlish)
If reading about the exploits of the London-Edinburgh-London or the Transcontinental have made you a little distance curious, maybe you should check out an audax. We've picked out 10 of the best audaxes coming up in the next few months.
But be warned; despite their no frills approach, audax rides are addictive. A simple 102km ride and a slice of Victoria sponge seem innocent enough but they could be the gateway to the start line of the 1,200 km Paris-Brest-Paris in 2019.
The tiny entrance fee includes a paper route sheet and usually a GPX file and some strictly non sports-specific nutrition at the start or finish.
Details of all these rides can be found on the Audax UK website.
The Chiltern Dash 100km
19 August – Starts Aylesbury 0830
A new event that takes a circular route on country lanes around the Vale of Aylesbury and manages to squeeze in three official café stops. If you're in the mood for something bigger, there's a 200km ride on offer the same day which will take you almost to Cirencester and back.
Entry fee: £8 (includes refreshment at the finish) Enter here.
The Greenwich Mean Climb 301 km
23 September – Starts Greenwich 0600
It could be your last chance to head to the seaside this year – and this ride takes you to the South Coast Twice.
But, with 4,500 feet of climbing it's no gentle excursion going through mid Kent and up and down the South Downs a few times.
Organised by the rapidly growing Audax Club Hackney it is sure to mix challenge with a great atmosphere that's welcoming and supportive. And Hackney are getting a reputation for the feeds they lay on and the welcome at the end.
An early start will add to the St Crispins Day feeling.
Entry Fee: £14 (includes quite a lot of food but buy your own seaside ice creams) Enter Here.
Charnwood Forest 124km
20 August – starts Lichfield at 0900
It's an out-and-back route to Loughborough with a bit of a climb once it gets into Leicestershire. There's a 200km version as well but make your mind up in advance – audax organisers like to keep things simple so there's no on the day entry.
Entry fee: £5. Enter here.
Old Roads and Drove Roads 200km
26 August – starts Sparsholt, near Wantage at 0730
This ride will certainly give you something to talk about after the Bank Holiday weekend.
It takes you over military roads that are normally closed (look out for burnt-out tanks on the artillery ranges on Salisbury Plain) and through the village of Imber (that the army requisitioned in 1943 was and never gave back). All this, plus a saunter along the Ridgeway (which may contain hills).
Entry fee: £5. Enter here.
Dave's Dales Tour 160km
9 September – starts 0830 Richmond, N Yorkshire
Organised by VC167 (possibly the only cycling club to be named after a road), this (nearly) 100-miler offers visits to Grassington and Ripon.
Loading in 2,500m of climbing it's not entirely flat but then how would you get those spectacular views? Interestingly, past reviews on the audax cognoscenti's website, Yet Another Cycling Forum (YACF), focus on the fruit cake at the finish.
Also comes in sizes of 100km and 200km – check Audax UK website for full details
Entry fee: £5.50. Enter here.
North Cheshire Clarion 'The Wizard, Llamas and Fire Station' 150km
10 September – Starts near Warrington at 0800
A decent bash around the Cheshire lanes before an assault on the edge of the Peak District and a run back through Delamere Forest. The event gets its name from a tea room and some of the attractions en route.
Riders get to experience the randoneuring fun of gathering information rather getting their card stamped along the way. The audax website also offers a longer version for anyone trying to escape the DIY aspect.
Entry Fee: £8 – includes refreshment at the end. Enter here.
Henley Hilly Hundred 102km
30 September – Starts Sonning Common near Reading at 0900
Back after a year off, this ride does what it says on the tin – 1,660 meters of climbing including quite a few smack in the face hills just when you don't expect them. The first half hardly has a flat bit in it, and later on you sample some of the classic climbs on the Southern end of the Chilterns.
Such a tough ride has caused riders in the past to label the organisers 'sadists', perfect if you're looking to give yourself a short but testing ride before winter sets in.
All proceeds are donated to Thames Valley and Chiltern Air Ambulance, and Cancer Research UK
Entry fee: £6.00 - includes hills. Enter here.
The Dartmoor Devil 103km
29 October – Starts Bovey Tracey at 0800 or 0900
This massively popular event celebrates its 25th edition this year. As autumn starts to arrive you get to cover some of the best bits of the moor (which all seem to be at the top of hills). The route includes a visit to Princetown where the nick is. Although it's a tough ride, the atmosphere is very relaxed – fancy dress is encouraged.
A firm favourite among riders, so book early and keep to the path!
Entry fee: £10 (includes random sheep wandering into your path on most hills). Enter here.
The Long Dark Teatime of The Soul, 200km
4 November – Starts Galashiels at 0800
A firm favourite among audax aficionados. Bring your camera, or at least your poetic nature as people rave about the autumn colours that this ride offers. Advertised as a lovely route through the Western Borders and Dumfries and Galloway via the beautiful Castle O'er road.
Bucking the usual audax trend, there's even a finisher's medal to add you your shelf of cycling glory at home
Entry fee: £10 – includes cake and medal. Enter here.
The South of Bucks Winter Warmer 207km
9 December – Starts at Beaconsfield at 0800
Looking to burn a few calories before the onslaught of Christmas?
This ride will at least remove some of the guilt of the annual face stuff. Drawing on the experience and local knowledge of the organiser, the route manages to follow mostly quiet lanes and be reasonably OK for the time of year.
Starts and finishes in a Weatherspoons… at the M40 services (who knew cheap beer and motorway driving were a good combination?).
Entry fee: £5 (doubles for on the day entrants) Includes the right to be really smug at your club's Christmas drinks. Enter here.
If you're willing to push yourselves to the limit and have fun then any one of these audax rides will satiate those needs in no time.
Thank you for reading 20 articles this month* Join now for unlimited access
Enjoy your first month for just £1 / $1 / €1
*Read 5 free articles per month without a subscription
Join now for unlimited access
Try first month for just £1 / $1 / €1