French bespoke framebuilder Caminade specialises in titanium and steel
Road, gravel and MTB frames have a distinctive curved design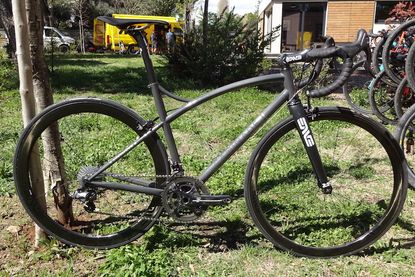 When Cycling Weekly visited the Pyrenees for the launch of Mavic's new Allroad wheel and clothing range recently, we stopped off to visit the workshop of French framebuilder Caminade.
Based in the small town of Ille-sur-Têt, around 25km from Perpignan, the brand operates out of a single-room workshop, producing made-to-measure bikes to order.
Caminade's speciality is its gravel bikes, but it also makes road and MTB frames. All feature the brand's distinctive curved top tube with an up-curved cross-brace between this and the seat tube. Caminade works in titanium and steel. Its titanium frames use tubing from Dedacciai, while the main tubes of its steel frames are made by Columbus. The curved steel top tube comes from a French foundry.
The area around Perpignan can be windy, so gravel offers the opportunity to get off the open road into the forest, where there's a bit more shelter and an extensive network of fire roads, canalside paths and singletrack to ride.
With frames made to order, Caminade has a six month waiting list. To help address this and offer gravel framesets and complete builds at a lower price point, Caminade has recently introduced the AllRoad Titanium frameset.
Rather than being welded, this uses titanium tubing bonded into carbon fibre lugs, using aerospace grade adhesives. The seat tube and seatpost are a single titanium tube, with a separate seatmast cap providing some adjustability. There's a fully enclosed cable and hose run through the enlarged bottom bracket shell. The frame will accept 40mm 700C tyres or 47mm 650B.
Caminade offers the AllRoad Titanium in four single ring builds with 10-42 cassettes, from SRAM Apex 1 at €2790 up to SRAM Force 1 at €3990. All come equipped with the new Mavic Allroad wheelsets.
Here's Caminade's video of the AllRoad Titanium in action
https://www.youtube.com/watch?v=JOYgUXmqyi4
Delivery time is between six to eight weeks from order.
Thank you for reading 5 articles this month* Join now for unlimited access
Enjoy your first month for just £1 / $1 / €1
*Read 5 free articles per month without a subscription
Join now for unlimited access
Try first month for just £1 / $1 / €1