Icons of cycling: Columbus tubing
We celebrate a triumph of Italian artistry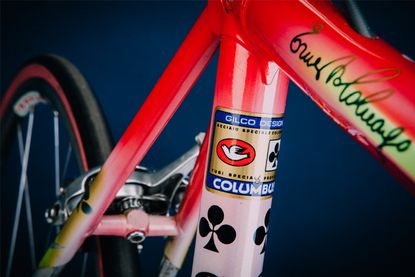 Get The Leadout Newsletter
The latest race content, interviews, features, reviews and expert buying guides, direct to your inbox!
Thank you for signing up to The Pick. You will receive a verification email shortly.
There was a problem. Please refresh the page and try again.
Classic Italian racing cycles all have one thing in common: a small gold and red sticker with a white dove at its centre. That's because there's only one type of tubing that a classic Italian bike can be made from: Columbus.
Just like the most famous Italian marques - Colnago, Pinarello, De Rosa, Tommasini - Columbus is still a family business. The current president, Antonio Colombo, is the youngest son of Angelo Luigi Colombo, who founded the company in 1919.
>>> Icons of cycling: Miguel Indurain's Pinarello Espada
Columbus is different to its British counterpart, Reynolds, in that the Italian company has aligned itself with art rather than engineering.
Perhaps the most obvious illustration of this is in the designation of the respective companies' tubing. Reynolds has always used numbers: 531, for example is a precise description of the ratios of manganese, molybdenum and chromium that make up the alloying composition.
>>> Icons of cycling: Reynolds 531 tubing
In contrast, Columbus EL simply stands for the more subjective and definitely more emotive 'extra leggeri' (extra light). Columbus uses a dove in its logo (columba is Latin for dove) — a bird freighted with mythological significance. Reynolds has no such emblem.
When Angelo set up his factory in the Via Stradella, Milan, Bianchi and Atala were among his first customers, but he was equally happy to supply tubing for motorcycles, aircraft and seaplanes throughout the 1920s.
Keep your bike clean and well maintained

Tradition and innovation
In the 1930s Colombo's tubes were drawn into the elegant, modernist shapes of Mobili Razionali — so-called rationalist furniture. Among the best known were chairs designed by Giuseppe Terragni for his Casa del Fascio in Como and the iconic rationalist designs of Marcel Breuer.
The company's furniture designs were an enormous commercial success for two decades, but that side of the business would fall away as taste in decor changed and Columbus focused exclusively on bicycles.
>>> Icons of cycling: Campagnolo Shamal wheels
At Columbus's modern factory/HQ in Settala, just outside Milan, there's a large room full of its mid-century furniture gathering dust while the most famous bike projects, chiefly with Cinelli, which is part of the Columbus group, take centre stage in a brightly lit atrium.
Under Antonio Colombo's leadership, from 1977 the firm developed the first oval-profiled aerodynamic tubeset — Columbus Air (1980) — and perhaps its most iconic tubing of all, Columbus Max, which was the first tubeset to break with traditional tube diameters and had radical elliptical cross-sections.
>>> Icons of cycling: Mafac Racer brakes
Columbus's patented Nivacrom steel was drawn into a star shape for the Colnago Master's tubing, a special project with Gilco, the company of Antonio's brother, Gilberto Colombo, that usually made race car chassis.
From the 1970s through to the 1990s, every top rider from Eddy Merckx through to Lance Armstrong rode Columbus.
As steel began to lose ground to aluminium and then carbon, Antonio Colombo immersed himself in bicycle culture, commissioning artworks and leaving behind the family's industrial beginnings.
"Art has always been a leitmotiv of my existence," he said.
However, with the resurgence of steel as the material of the new generation of artisan frame-builder, the Columbus factory is doing more than hosting doodling artists. Its most hi-tech tubeset yet, Columbus XCr, is high-performance stainless steel that proves that the famous dove still soars.
Thank you for reading 20 articles this month* Join now for unlimited access
Enjoy your first month for just £1 / $1 / €1
*Read 5 free articles per month without a subscription
Join now for unlimited access
Try first month for just £1 / $1 / €1
Get The Leadout Newsletter
The latest race content, interviews, features, reviews and expert buying guides, direct to your inbox!
Simon Smythe is a hugely experienced cycling tech writer, who has been writing for Cycling Weekly since 2003. Until recently he was our senior tech writer. In his cycling career Simon has mostly focused on time trialling with a national medal, a few open wins and his club's 30-mile record in his palmares. These days he spends most of his time testing road bikes, or on a tandem doing the school run with his younger son.