Icons of cycling: Reynolds 531 tubing
Not only has this legendary British tubing won more Tours de France than any other type, it helped win World War Two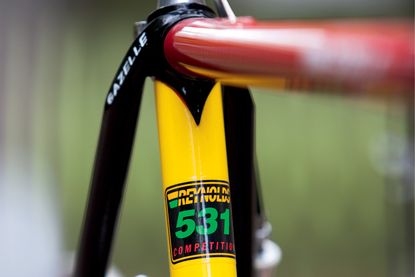 When it was launched in 1935, Reynolds 531 revolutionised bicycle frame building. The magic numbers, which adorn virtually every classic racing bike with a little sticker on the seat tube, derive from the ratio of the three main elements that are used in the make up of 531's steel alloy tubes: manganese, carbon and molybdenum.
Reynolds 531 built a frame that had a super-light weight and high strength that had never before been achieved.
>>> Genesis Equilibrium Disc Ltd bike review
To put it into perspective, a 531 tubeset was advertised in Reynolds's 1947 catalogue as weighing 3lb compared to the 4.5lb of the company's original butted tubes at the turn of the century — which were themselves revolutionary.
The 531 was so good that it remained the state of the art for four decades until the arrival of the even lighter yet fragile and highly impractical 753 in 1975.
>>> Too much force Harrison! Ford sent replacement Genesis frame after 'mishap'
The Reynolds company, which had existed as a thriving nail manufacturer in Birmingham since 1841, moved into seamless steel tubing in response to the cycling boom of the 1890s when
the Starley safety bicycle replaced the high bicycle or 'penny-farthing'.
>>> Icons of cycling: Campagnolo Super Record derailleur
Alfred Reynolds's patenting of the butting process, which meant tubes could be made thicker and stronger at their ends without increasing their outside diameter, launched Reynolds into its position as the country's — perhaps even the world's — foremost manufacturer of lightweight steel tubing.
Born out of the war effort
This inevitably meant Reynolds would be called upon to equip the armed forces. Its first government contracts of World War One were for tubes for military bicycles and motorcycles but in 1916 its precision tubing began to be used for aircraft.
>>> Icons of cycling: Sean Kelly's cobble-busting Vitus 979
That year was one of the most important in the company's history as Reynolds put the development of 531 down to its experience in aviation.
During World War Two Reynolds was called up again, this time to build wing spars for Spitfires, sub frames for Lancaster bombers and Merlin engine mountings.
Handmade steel bikes
Post-war, 531 tubing took up where it had left off in cycling, and by the 1970s Reynolds claimed 531 frames and forks had been used in 24 out of 25 successive Tour de France victories.
During the golden era of lightweight steel tubing, Reynolds 531 dominated not only professional racing but all disciplines of cycling with variants such as 531ST (Super Tourist) and 531ATB (All Terrain).
>>> Blog: Riding L'Eroica 2015 – Italian cycling's celebration of steel
Although 531 does not enjoy the same level of popularity in the 21st century — mainly due to its unsuitability for TIG welding — it still has its diehard fans. In 2008 Reynolds relaunched a limited edition set of 531 tubes for lugged framesets especially for them.
For legions of cyclists past and present, a bike 'guaranteed built with Reynolds 531', as the wording on the sticker runs, is everything.
Thank you for reading 10 articles this month* Join now for unlimited access
Enjoy your first month for just £1 / $1 / €1
*Read 5 free articles per month without a subscription
Join now for unlimited access
Try first month for just £1 / $1 / €1
Simon Smythe is a hugely experienced cycling tech writer, who has been writing for Cycling Weekly since 2003. Until recently he was our senior tech writer. In his cycling career Simon has mostly focused on time trialling with a national medal, a few open wins and his club's 30-mile record in his palmares. These days he spends most of his time testing road bikes, or on a tandem doing the school run with his younger son.