Too much force Harrison! Ford sent replacement Genesis frame after 'mishap'
Hollywood actor and cycling fan Harrison Ford chooses UK brand Genesis as his bike of choice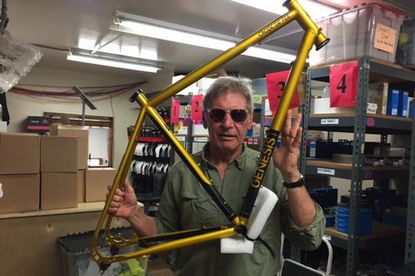 There are many celebrities that like cycling. Harrison Ford, of Star Wars and Indiana Jones fame, must be one of the most famous.
When in the UK last year to film the latest instalment in the Star Wars saga, Episode VII, Ford was photographed riding around London on what looked like a 2014 model of the Genesis Croix de Fer.
>>> Genesis launches new Carbon frame
Based on a recent Twitter post by Genesis UK it looks like Ford had a mishap necessitating a replacement frame. It begs the questions whether he put too much "force" through the frame?
>>> Go behind the scenes of the Tour of Britain with Madison Genesis (video)
As a result of his 'mishap' Ford requested a replacement frame from Helen's Bikes in Santa Monica. The man himself was on hand to pick up the delivery and Genesis got hold of the picture of its successful arrival.
With an entire galaxy of bikes out there to choose from, it is good to see that Ford is be a big fan of steel frames and the classic stylings of the Genesis Croix de Fer.
Thank you for reading 10 articles this month* Join now for unlimited access
Enjoy your first month for just £1 / $1 / €1
*Read 5 free articles per month without a subscription
Join now for unlimited access
Try first month for just £1 / $1 / €1