Icons of cycling: Miguel Indurain's Pinarello Espada
The Italian answer to Chris Boardman's Lotus superbike was Pinarello's finest hour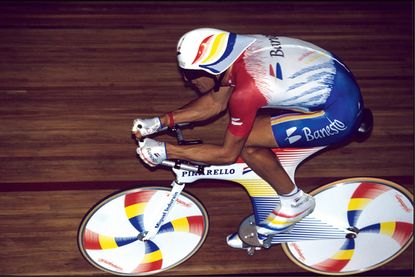 The 1990s was the golden era of the aerodynamic carbon monocoque. After the adoption of the material by cycling in the late 1980s, bicycle designers quickly realised they had carte blanche to create whatever shape they found to be most aerodynamic, no matter how outlandish.
At least that was until the Union Cycliste Internationale (UCI) in 2000 enforced its 1996 Lugano Charter, banning any bike without the traditional diamond-shaped frame.
Buoyed by the reaction to Chris Boardman's Lotus when he won the Olympic pursuit in 1992, Pinarello set about making its own futuristic carbon monocoque for Miguel Indurain, who was eyeing the Hour Record with a view to reclaiming it for Grand Tour winners from the time trial specialists like Boardman.
Fausto Pinarello told Cycling Weekly when we visited Treviso in 2013: "The Espada was the first time [frame builder and designer] Elvio Borghetto and I had worked with carbon-fibre.
"We did a good job with some people from Lamborghini to make a special design. We had the possibility to go to the wind tunnel and from that time we started to develop technologically more than ever before."
Before the Pinarello Espada, the challenge for Pinarello was to streamline the hulking Spaniard. "For him the problem was, never change the saddle [position]," said Fausto.
"He was never aerodynamic. We tried to do things with him, but no way. But it was OK because he was strong."
Ready for the record
Finally bike and rider were ready, and on September 2 1994, four weeks after he won his fourth Tour de France, Indurain took the start line at the Velodrome du Lac, Bordeaux.
In his sights, ironically, was an Hour Record that was set on a homemade bike with bearings salvaged from a washing machine.
The machine Indurain had to beat
Indurain easily beat Graeme Obree's distance, becoming the first man to break 53 kilometres. He liked the Espada so much that Pinarello built him a roadgoing version that he used to similarly devastating effect in time trials.
But the reign of Indurain and Espada as Hour Record holders was short lived. Tony Rominger bettered him the very next month, and the month after that Rominger rode an unbelievable 55.291km.
Indurain tried to recapture the record in Colombia at altitude in 1995 but was off the pace from the start.
For Fausto Pinarello, that didn't matter. Although it didn't last long at the top, the Espada is still his favourite bike ever.
"You can characterise me as the Espada," he said. "And Miguel is Pinarello."
Thank you for reading 20 articles this month* Join now for unlimited access
Enjoy your first month for just £1 / $1 / €1
*Read 5 free articles per month without a subscription
Join now for unlimited access
Try first month for just £1 / $1 / €1