Icons of cycling: Mafac Racer brakes
We take a look at the brakes that changed cycling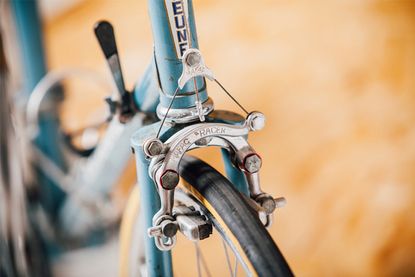 The French made some frightful faux pas in their days of making cycle components: the AVA 'death' stem was prone to suddenly snapping; the plastic Simplex derailleurs were awful; but the Mafac Racer brakes were simply magnifique.
Un doigt suffit! (one finger's enough) was the slogan that accompanied Mafac's legendary brakes when they were introduced in 1952.
The company — Manufacture Arvernoise de Freins et Accessoires pour Cycles — had made one-finger braking possible for the first time in cycling's history, but that was far from the Racer's sole quality.
>>> Are direct-mount brakes the future?
Mafac Racer brakes were unusually perfect for many cycling disciplines and types of bicycle. In an extraordinarily long life that spanned four decades, with production ceasing in the early 1980s, the revolutionary centre-pull won the Tour de France multiple times.
Learn how to set-up your brakes at home
Before 1968, when Campagnolo's first Record caliper was launched, Mafac Racers were a common sight in the pro peloton and its compact, aerodynamic profile made it the caliper of choice for the mid-century equipment-fanatic British time triallist.
The Racer was not only extremely versatile but also highly adjustable. The length of the straddle cable could easily be changed for different rim widths and the pads could move up or down, in and out and side to side thanks to a complicated but effective system of bolts, washers and spacers.
>>> Everything you need to know about disc brakes
Function was exemplary, but so was form. The Mafac Racers, made from polished aluminium, had a curvy, alluring shape that was pure Gallic. The engraved Mafac logo and "Racer" in double speech marks — as if that wasn't its actual name, rather a raffish nickname — gave it a flamboyant look.
The red bushings that framed the script in the 1970s iteration enhanced the effect. The only criticism of the Racer brake was that it squealed blood-curdlingly, making the approach to a corner sound much more alarming than it actually was.
Learn how to use your brakes properly
Mafac made levers to go with its calipers, which were every bit as stylish. The best known version had a distinctive minimal rubber half hood that clipped to the lever body and was available in tan and black plus 1960s pastel shades.
>>> Fabian Cancellara will shun disc brakes in his final season
Compared with modern calipers, the Racer can still hold its own. Whereas virtually every pre-1987 component has become yesterday's technology, the engineering principles that dictated the layout and function of Mafac's centre-pull brakes are as current as ever.
In fact, Californian precision component manufacturer Paul recently revived the Racer design and now sells its own, more angular-looking version, the Paul Racer.
Le Racer est mort, vive le Racer!
Thank you for reading 10 articles this month* Join now for unlimited access
Enjoy your first month for just £1 / $1 / €1
*Read 5 free articles per month without a subscription
Join now for unlimited access
Try first month for just £1 / $1 / €1
Simon Smythe is a hugely experienced cycling tech writer, who has been writing for Cycling Weekly since 2003. Until recently he was our senior tech writer. In his cycling career Simon has mostly focused on time trialling with a national medal, a few open wins and his club's 30-mile record in his palmares. These days he spends most of his time testing road bikes, or on a tandem doing the school run with his younger son.