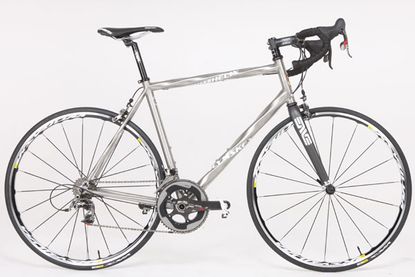 When it comes to the Helix, Lynskey is offering a bike with more stiffness, something more akin to an aluminium or a cheaper carbon frame. I do think the twisted seatstays are overkill, though. The standard round ones are stiff enough but the down and top tubes are a great design and bring real benefits to the ride of the frame. The downside is that you lose a little of that titanium magic, but if that's something you specifically want you can always go with the standard round-tubed version. But for the ultimate ti bike, I'd take the rear triangle of the standard frame and the Helix top and down tubes to get the best of both worlds.
Reasons to buy
+

Stiffer than most other titanium rivals
You can trust Cycling Weekly. Our team of experts put in hard miles testing cycling tech and will always share honest, unbiased advice to help you choose. Find out more about how we test.
While taking a whirlwind tour of some UK dealers, Mark Lynskey, the name and brains behind US titanium expert Lynskey, stopped by the CW office and showed us his new Helix frame.
Mark told us that the twisted tubes made the frame 15 per cent stiffer. We obviously looked unconvinced, because he then offered to send us two identical bikes, one with the Helix tubes and one without, for us to test back to back.
I must confess, when we first saw the Lynskey Helix frame at one of the trade shows the Tech team thought it was marketing rather than serious technical advancement; a sort of 'hey, look what we can do'. We can't have been the only ones either.
Mark was quick to point out that the tube profile was created by a manufacturing mistake, but one of the team decided to weld up a frame anyway to see how it rode. We imagine they had a joke or two about it going better around right hand corners then lefts, but jesting aside they found that they'd added stiffness, so the process was refined and the Helix was born.
About six weeks after the visit, two near-identical Lynskey bikes arrived one with 2011 SRAM Red and conventional round tubes; the second with 2012 Red, twisted tubes and Helix written across the top tube. Now it was our turn to put it to the test and ride them back to back.
Where do you start? Which bike do you try first? I decided it made sense to get right down to it and try the Helix first. After all, I've ridden quite a few standard titanium bikes over the years, so how different would the twisted-tubed bike be? I spent the next month or so riding it to get used to its behaviour and seeing how it rode, before stepping off it and on to the round-tubed bike.
Round the twist
For the first few rides I couldn't get my head around the ride of the Helix. Some elements felt just like any other titanium frame, but so much of it felt alien. It really was quite a surprising ride; much stiffer than the last titanium bike I tried and noticeably ahead of the steel Ritchey I'd just jumped off. You might reasonably say 'of course it is', but I was taking into account the added expectation of the Helix tubes.
The stiffness on the first few rides was similar to that of a stocky aluminium frame, something with large-diameter tubes and thick walls. The most noticeable change was the amount of road shock the frame transmitted to the rider. The isolation most titanium frames offer just wasn't nearly as apparent. What I thought would be a quick process took much longer than I had expected as I discovered a little more about the bike on each ride and slowly grew to like it.
That lack of isolation from the road was quite a surprise, so I set about trying to find its cause. Off came Mavic's latest Ksyrium Elite S wheels, to be replaced with some old favourites. This made no difference, except to highlight that the Mavics ride really well, so we'll review them later. Given that the Mavics use a 23mm tyre that measures 21.5mm, it'd be easy to add a true 25mm tyre and get that added comfort for your rear end.
It wasn't until I jumped on the traditional frame that I realised that Lynskey just makes a stiffer rear triangle than most titanium manufacturers to begin with. As for the front end of the Helix it's certainly taut, and stamps on the toes of every other titanium bike I've ridden in stiffness terms.
The difference is most obvious when you get out of the saddle exiting a corner. Rather than wallowing under the torque and weight change, it really gives you something to push against, much like a carbon bike does. The stiffness as a whole is certainly a conundrum, because the Helix is stiffer but the feel differs slightly depending on how fast you're hitting the bumps. When you're crawling uphill at 5mph, the frame passes on bumps to the rider in quite an obvious way. But when you're at a good speed, or descending fast, the same type of bump kicks you much less. Because of this, the Helix always feels better when it's ridden fast.
Straight up
Going back to the standard round-tubed bike, it has much more of the 'normal' titanium ride we've come to expect over the years but is still surprisingly stiff. Just like it's twisted cousin, it corners well with a confidence that will encourage you to get stuck in, and it holds no surprises for the uninitiated.
The advantages titanium frames offer over regular metal ones have been repeatedly discussed, but allow us to remind you. Alu frames can be made lighter than ti, but they are more fragile. Steel, on the other hand, is comparable to titanium for strength but it is usually heavier. This is why titanium frames are so popular with those looking for a timeless classic that will take long-term abuse.
Thank you for reading 20 articles this month* Join now for unlimited access
Enjoy your first month for just £1 / $1 / €1
*Read 5 free articles per month without a subscription
Join now for unlimited access
Try first month for just £1 / $1 / €1