Steel bikes: best of British metal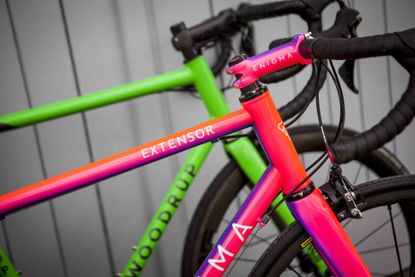 Get The Leadout Newsletter
The latest race content, interviews, features, reviews and expert buying guides, direct to your inbox!
Thank you for signing up to The Pick. You will receive a verification email shortly.
There was a problem. Please refresh the page and try again.
"A hard, strong grey or bluish grey alloy of iron with carbon and usually other elements, used as a structural material and in manufacturing."
That's the Oxford Dictionary's definition of steel. In every application it's considered to be cold and hard, but uniquely the people who build bicycles out of it are likely to define it much more warmly, emotively, even poetically until you could easily be forgiven for thinking steel was something living and breathing.
"I always think steel has a life of its own," concurs Tony Woodrup of Woodrup Cycles. "You're getting that feel from it. And you can always tell a steel bike – it looks like a proper bike."
>>> What makes a good carbon bike?
>>> Aluminium road bikes explained
More practically steel bikes are easily built with custom geometry and fittings, easily repaired, strong and reliable.
Why do people buy steel bikes?
You can trust Cycling Weekly. Our team of experts put in hard miles testing cycling tech and will always share honest, unbiased advice to help you choose. Find out more about how we test.
In a world of bog-standardisation, where even the pros are no longer allowed to ride custom frames, steel frame-building has become revitalised in the USA and in Britain.
"Go along to Bespoked," says Richard Hallett of Hallett Handbuilt Cycles. "The way the small-scale custom scene has gone is that the standards in many ways are higher than they've ever been. If you go back 30 years there were a few who had a reputation for high quality, but there were many that were workmanlike. These days the mass market is well catered for [with Far East-made carbon], so people who want a custom steel frame expect more than workmanlike – there are wonderful finishes and people are using their imagination. It's more a means of self expression, so people who want custom need very capable frame-builders."
The bike selection...
To illustrate the diversity of the steel bike scene we've brought together four very different bikes. There's no sense in comparing them to each other and attempting to make on of them the 'winner' since most of them are bespoke.
The custom brands we've included: Enigma, Woodrup and Hallett, will build you pretty much any bike you want. So instead of creating a 'shootout' and a winner, we've spoken to the people who created the bikes and given them the chance to talk about what steel means to them and to walk us through a bike that best represents what they do.
Custom isn't an option for everyone - but that doesn't render steel out of your grasp. There are plenty of off-the-peg options, for example the Genesis Equilibrium which we've included below.
Woodrup Il Primo Max £7,999 (£1,800 frame only)
Maurice Woodrup started building frames in Leeds in 1949. Since then the brazing torch has been passed to Maurice's son, Steve, who has been building since the 1960s and most recently Tony, his grandson.
Barry Hoban won Tour de France stages on Woodrups, and other famous pro-racing customers Hugh Porter and Sid Barras.
Now Tony Woodrup is building custom frames for steel-loving customers who often have a clear idea of what they want, but just in case they don't Woodrup offers what Tony calls "set models" – of which the Il Primo is one, to give them a starting point.
"We've always had an Il Primo in the range – my grandfather was making them," says Tony. It's our top-end race frame and it tends to be more racing geometry but we could build an Il Primo with mudguards. We can change the clearances and things like that.
"I built this one for myself – the ones I build for myself tend to be show bikes – to replace one with beautiful hand-cut lugs that got pringled when I got knocked off last July.
"I've always been a big Star Wars fan so that's why I've got the Jedi motif cut into the seat tube bilaminate lug. I thought a little bit of the Force might keep me on this one!"
To the Max
Tony chose Columbus Max, what he calls "a legendary tubeset. I wanted something very stiff – I'm best part of 16st – so I needed something that was going to be able to handle that. Max is very rigid but it's also very light. A lot of people think it's one of the heavier ones but it's paper thin and the bike came in at a very nice weight.
"I like lugless frames – but we do built quite a lot of lugged frames, we do some really classic bilam lugs similar to the Jedi motif I've done for that bike and we do quite a lot of those cut-ins.
"The colour is like the icing on the cake. Because there are so many colours out there you do need a bit of inspiration. I live next to a Lotus garage and I saw an Exige in that green colour and thought, that is absolutely beautiful. So the colour came from there. Obviously it's custom geometry so it should do but it's a wonderful bike and it rides fantastically."
Frame: Woodrup Il Primo Columbus Max 700c, Di2, 44 ID head tube. Jedi bilam seat lug, polished stainless head badge and stainless cable sliders on head tube.
Size shown: 60cm, Weight: 7.98kg
Set up: Enve 2.0 fork, Shimano Dura-Ace 9150 Di2 groupset, 52/36, 11-28, Enve 4.5 wheels with Chris King hubs, Enve finishing kit
Enigma Extensor XCR £4,699 (£1,999 frame only)
Enigma is best known for its UK-built titanium frames – 90 per cent of its business according to boss Jim Walker – but Walker himself has always not-so-secretly ridden a steel bike and that's why Enigma makes them at its Hailsham, East Sussex factory alongside the custom titanium. However, Walker is no traditionalist.
"We don't build lugged or fillet-brazed steel frames – there are plenty of small builders doing that type of stuff. Our emphasis is on leading-edge materials – Columbus Spirit, HSS and [stainless] XCR – and construction methods enabling us to build very modern steel frames that are viable alternatives to frames built from composites or the latest generation aluminium. We like to think we build 'modern classic' steel frames that still deliver the wonderful steel ride quality but can also compete in performance terms with the best composite frames."
"We've got three framebuilders – Joe [Walker, Jim's son] does all the stainless steel and the titanium because he's very good at it – we believe Joe is the best exponent of TIG welded bicycle frame construction in the country."
Law of averages
"Probably 75 per cent of what we do is off-the peg geometry. The geometry we offer is based on averages. Most people will fit within average parameters and as long as the bike is set up perfectly for them then there shouldn't be an issue. Custom isn't always necessary and it's not necessary in most cases.
The Extensor is made from stainless Columbus XCR tubing, which has a very high stiffness-to-weight ratio. "Each one is built to order so that does allow for a certain amount of customisation without going too off-piste," says Walker. "We can tweak them a little bit or we can do full custom.
"We can do all sorts of finishes, especially with stainless steel – polishing, blasting, anodizing – so that's one our key strengths."
Walker points out that the customisation element doesn't have to be in the frame geometry, it can be in the finish. "As well as our three frame-builders we've got two painters. This Klein-inspired paint is for a showroom. We just want people to walk in and go 'bloody hell, that's cool.' Not everyone is going to like it but it's certainly something that grabs you. I used to love those Klein colours – they really nailed it and it's nice to resurrect that sort of finish."
Frame: Enigma Extensor Columbus XCR stainless frame, four-colour custom painted
Size: 56cm, Weight: 7.98kg
Set up: C-Six RD-SL full-carbon monocoque fork, Shimano Ultegra groupset with Dura-Ace brakes, 50/34, 11-28, Mavic Ksyrium Pro Exalith SL wheels and Yksion tyres, Enigm finishing kit
Hallett Fast Road £3,500 (£1,550 frame and fork)
Richard Hallett won 'Best Touring Bicycle' at the Bespoked show in 2015 just a year after he'd learnt to build under the late Cliff Shrubb. That was for his 650B randonneur – a wheelsize he championed some years before it became mainstream again.
The standard 700C-wheeled Fast Road is, he says, "what would 15 or 20 years ago have been a racing bike – a lightweight steel road bike. If you put a carbon fork in you could race on it."
Hallett, who custom-builds everything to order from his workshop in West Wales, prides himself on being able to fine-tune the ride quality of his bikes exactly to the requirements of the customer using bilaminates – sleeves that are welded over the tube ends at their junctures, often decoratively cut. "The great thing about bilaminates is that you can braze one to the end of the tube and materially affect the way that tube bends at its end,' he explains. You can't do that with titanium. You can't affect the mechanical characteristics of the tube yourself, but you can with bilaminates."
In the Zona
Hallett used Columbus Zona tubing for the Fast Road with a bilaminate BB and main triangle. The fork blades and rear stays are brushed stainless. One of the best things about working with steel is the wide range of tubes available, Hallett says. "There are down tubes in different diameters with different butts, just from the catalogue of the manufacturer.
"I'm about to build a frame for a bloke who weighs 130kg, so you go to a much larger-diameter top tube and seat tube – an inch-and-a-quarter top tube and an inch-and-three-eighths down tube."
Hallett believes above all in the ride of a well made steel bike. "The way I've always put it is that the ride quality of steel is what other manufacturers aim to match, because up to the 1990s that was the benchmark. And it's particularly difficult to match it in aluminium or carbon. Steel has the highest modulus of metals used for bike frames: you get the same stiffness out of smaller-diameter tubes. If you look at titanium or aluminium they have large tubes, meaning the frame becomes very stiff.
"The only reason for using anything other than steel is to save weight," he concludes. Steel established a standard. Ride tuning, vibration damping – compared to steel frames the others lack it."
Read more:Hallett Fast Road review
Frame: Hallett Handbuilt Cycles Fast Road Zona
Size: 56cm, Weight: 9kg
Set up: Shimano Ultegra groupset, 50/34, 11-28, Shimano Ultegra wheels, Continental GP4000 tyres, Pro LT finishing kit
Off-the-peg: Genesis Equilibrium Disc 20
Of course, not everyone has the finances to go custom - but you can certainly enter the steel market with an off-the peg frame.
Genesis offers one such option - the Genesis Equilibrium Disc 20 coming in at £1999 for 2018 - we've tested previous models and been impressed.
Since Vin Cox broke the round-the-world record on a Genesis Croix de Fer in 2010 the British brand has been steadily building a reputation for producing steel bikes for the type of rugged, self-sufficient, fully loaded adventure cycling that is capturing a lot of people's imaginations at the moment. You just need to look at the Genesis Bicycle Blog on the website for stories of epic long-distance trips into the unknown aboard its bikes.
At the other end of the steel spectrum one of Genesis's other early adventures in steel was to supply the Madison Genesis road race team with a Volare race bike made from Reynolds 953 stainless – the first time a steel bike had been used in pro racing for some years.
Genesis bikes are built in Taiwan, which keeps the cost down below that of the other British bikes in this test. However, the brand still thinks of itself as occupying the same space as the custom builders.
"We're actually still quite a small brand, which gives us the freedom to do what we want and build bikes that we like to ride," says Mike Anderson of Madison, Genesis's distributor. "It's helped us to build quite a strong cult following, but we're still trying to do a lot of the same things as the custom guys, so there's definitely an affinity there."
Bike for all seasons
The Equilibrium is what Anderson describes as "traditional at the same time as being progressive. You get the ride quality of steel and the stopping ability of disc brakes so it's a bike for all conditions and all seasons."
The Equilibrium is built from TIG welded Reynolds 725 tubing, which Reynolds says has similar mechanical properties to its legendary 753, which was the ultimate tubeset some 40 years ago.
"And people will be still using steel to build bikes for years to come," says Anderson. "Apart from having a classic look like nothing else, steel is a material from which you can build many different bikes for many different purposes" – as Genesis has demonstrated.
Read more: Genesis Equilibrium Disc 20 review
Frame: Reynolds 725 Heat-Treated Chromoly, Carbon Road Disc w/ 1-1/8 fork
Size range: XS - XL, Weight in Medium: 10kg (model tested, 2017 Genesis Equilibrium Disc 30)
Set up:Shimano 105 groupset, Genesis SR220/28h wheels, Celement Strada tyres, Genesis finishing kit
Thank you for reading 20 articles this month* Join now for unlimited access
Enjoy your first month for just £1 / $1 / €1
*Read 5 free articles per month without a subscription
Join now for unlimited access
Try first month for just £1 / $1 / €1
Get The Leadout Newsletter
The latest race content, interviews, features, reviews and expert buying guides, direct to your inbox!
Simon Smythe is a hugely experienced cycling tech writer, who has been writing for Cycling Weekly since 2003. Until recently he was our senior tech writer. In his cycling career Simon has mostly focused on time trialling with a national medal, a few open wins and his club's 30-mile record in his palmares. These days he spends most of his time testing road bikes, or on a tandem doing the school run with his younger son.