Discover bikepacking on komoot
Plan your next backpacking Tour or follow a planned route with komoot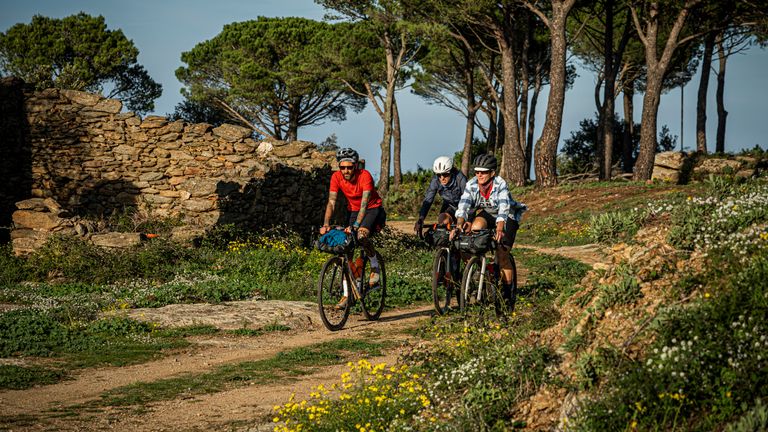 (Image credit: komoot)
Sponsored content in partnership with komoot
Komoot is full of bikepacking inspiration and it's now organised this so that it's really easy to find. 
You can browse the whole of komoot's bikepacking route Collections in one place online, or in your mobile app, by just tapping "Find your next adventure" in the Discover feed, then choosing bikepacking and your desired location. There are hundreds of different bikepacking and long-distance cycling Collections created by komoot's editorial team, contributors and ambassadors - a widespread network of adventurers who know their local trails and roads inside out. 
Over 40 are in the UK. That starts with classics like the South Downs Way, 165km from Winchester to Eastbourne split into three days' riding, and a three day tour of the Yorkshire Dales, 200km starting in Harrogate and taking in Fountains Abbey and Buttertubs Pass, which featured on the opening day of the 2014 Tour de France. 
If you're more ambitious, komoot's UK bikepacking options include The Second City Divide  - Glasgow to Manchester over 600km of mixed terrain and gravel spread over eight days-plus of riding and taking in some wild riding through the Kielder Forest and the Pennines  - and six days riding the North Coast 500 around the top end of Scotland starting and finishing in Inverness.
One of the great things about komoot is that you don't just get a line on a map to follow, the curated Collections have often been ridden and even pioneered by their contributors and include insights on what to expect, where to stay and photos. Other komoot users have added comments about their own experiences of riding them too, so you get a real picture of the bikepacking adventure to help you decide if it's for you.
Komoot lets you filter its bikepacking route Collections by country. So if you fancy somewhere further afield, you can find routes like Valencia to Toulouse through the Pyrennees or three days of gravel biking around Mount Etna. Or take a look at the Annapurna Circuit, a bikepacking tour taking in a 5,000 metre-plus pass for a real taste of adventure. 
Each bikepacking Collection is broken down into Tours, which are itineraries for each day's riding, and is accompanied by descriptions of the riders' experiences, route Highlights and photos of the ride, often with a review of the accommodation and food they found along the way. 
Spotted an interesting bikepacking Collection that might be a route you want to ride? You can easily bookmark the Collection (save it to your profile) by opening it and hitting the bookmark icon at the top.
The komoot Bikepacking page includes loads of other bikepacking content. That starts with how to get started, what to pack, what to eat and accommodation options. Take a look at our video explaining how to find bikepacking Collections with komoot and where to ride this summer.
 Tailor komoot's bikepacking routes to suit you 
You may have bookmarked a Collection for a three-day bikepacking route, but you'd prefer to start in a slightly different location. Just like any other komoot Tour, you can save and adjust any route from the Collection. You can easily change the start and end points or drag the waypoints on the map to alter the route itself.
Komoot shows you the elevation profile and breaks up the route by waytype too, so you know how much tarmac road, singletrack, or other surface type to expect each day. With komoot Premium you even get the local weather forecast for the next few days.
Komoot works on any smartphone or your computer if you want to view things on a larger screen. You can use the komoot app on your phone to follow your route or you can download it to a bike computer or smartwatch if you prefer, once you've bought access to the offline map region or regions where you'll be riding.
It's easy to share routes with your friends and fellow riders too, or you can open up access to everyone on komoot. Komoot is all about sharing your experiences, so it's easy to add a narrative to your own tour and you can take photos or video as you go and add it to your route. 
 An offer for Cycling Weekly readers 
For new users, komoot is offering one free region bundle when you register. 
To register with komoot and unlock your free region bundle, follow this link and make sure that you've got the voucher code WEEKLYBP filled in.
The offer is only valid for new komoot users, and is redeemable until 31/12/2021. Or why not unlock the world for a one-off payment of £29.99 or go premium for all komoot's added-value features?