Cambridgeshire councillors call for cyclists to be registered and insured
Tory and UKIP councillors say cyclists should also be forced to wear a helmet and pass a national cycling test, as well as carry third party insurance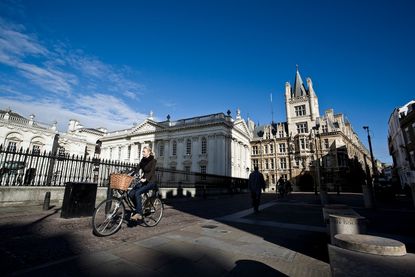 (Image credit: chris catchpole)
A pair of Cambridgeshire councillors are calling for cyclists to be registered and insured, while also suggesting they should 'help themselves' by wearing helmets.
Tory councillor William Hunt, who, according to the Cambridge News, had to ask if it was illegal to ride without a helmet, called on cyclists to contribute to their own safety.
UKIP's Gordon Hillick also told the highways and community infrastructure committee that cyclists should have to pass a national proficiency test and carry insurance.
>>> Cambridge cyclists "don't read signs", according to residents
Haddenham's Cllr Hunt said: "I think cyclists could contribute a bit to their safety and I think we should see if we can bring in some sort of local legislation to make it illegal to ride a bicycle without a helmet, and make it illegal to ride with one of those ridiculous flimsy tent things for their children.
"It seems unreasonable for us as a nanny state to make everything great and spend lots of money when the people themselves aren't regulated and aren't helping themselves with a crash helmet."
>>> Cambridge council cuts locks on commuter bikes while owners at work
Waldersey's Cllr Gillick added: "[Cyclists] are now having large amounts of money from the taxpayer poured onto them and there should be legislation for them to adhere to.
"They should be registered, they should go through a national cycling test and they should carry third-party insurance."
>>> Arnold Schwarzenegger busted by Melbourne police for not wearing helmet
Other members told the meeting that legislation making helmets mandatory would in fact have a negative impact on numbers of people cycling in the city, citing figures from cities around the world where such laws have been introduced.
Thank you for reading 20 articles this month* Join now for unlimited access
Enjoy your first month for just £1 / $1 / €1
*Read 5 free articles per month without a subscription
Join now for unlimited access
Try first month for just £1 / $1 / €1