Cambridge council cuts locks on commuter bikes while owners at work
Cyclist Tom Kelk shocked to return from work and find that the lock had been broken on his bike by Cambridge City Council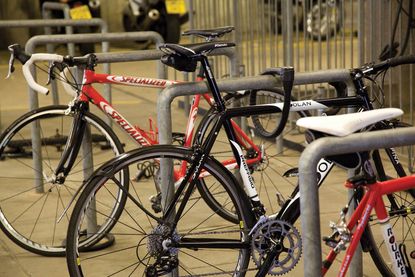 A commuter has slammed a council that he claims cut a lock attached to his so-called abandoned bike a mere 10 hours after he left it.
Cambridge cyclist Tom Kelk takes a train from the city's train station each morning to get to work to London and when he can't access the station's limited cycle storage facilities he and others use surrounding lampposts.
When he returned from work in late February, though, he was stunned to see that his and several others' locks had been snapped leaving the bikes vulnerable to being stolen.
The bike had also been issued with a notice from Cambridge City Council stating that the bike would be removed within seven days if not claimed.
>>> Plans outlined for Bath cycling improvements
The council has distanced itself from the breaking of the locks and reiterated its abandoned bikes procedure comes in three steps: a notice is placed on the cycle; if not collected then the bike is removed and stored in the council's depot for two weeks; after a fortnight of not being collected the bike is recycled.
But Mr Kelk has still launched a formal complaint to the council in which he requests that the station's cycling storage infrastructure is improved.
He told Cambridge News: "It's not the end of the world but it's quite inconvenient. I was very annoyed. It's just a bizarre thing to do, quite an aggressive move. I only left it there for 10 hours."
"They could have been stolen very easily. My bike's not the best in the world but some of the other ones there were pretty nice bikes, they could have been taken.
"There's so much confusion at the station, no one knows where to park their bikes and every week it changes."
Thank you for reading 20 articles this month* Join now for unlimited access
Enjoy your first month for just £1 / $1 / €1
*Read 5 free articles per month without a subscription
Join now for unlimited access
Try first month for just £1 / $1 / €1