Six features of the new Wahoo SYSTM Training App
Maximise every moment, maximise every movement, get results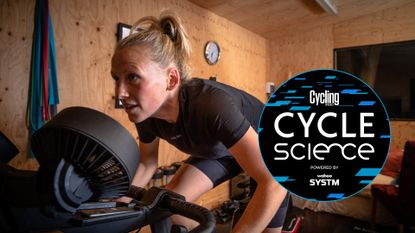 (Image credit: Future)
Get The Leadout Newsletter
The latest race content, interviews, features, reviews and expert buying guides, direct to your inbox!
Thank you for signing up to The Pick. You will receive a verification email shortly.
There was a problem. Please refresh the page and try again.
Every minute of every day matters. When time is your most precious resource, using it as efficiently as possible is crucial. The Wahoo SYSTM training app takes the guesswork out of training, using cutting edge sports-science to develop an all-encompassing plan tailored to your individual needs, ensuring that every pedal stroke, every strength session and every workout maximises results, whether you're training indoors or out.
Here's a look at the stand-out features of Wahoo SYSTM...
Introducing SYSTM 4 Dimensional Power (4DP®)
Every athlete is different. From your unique physiology to your day-to-day lifestyle, the most effective training plan is the one that takes all of these elements into account. So at the heart of SYSTM is 4DP®, created by the Wahoo Sports Science Division.
SYSTM 4DP® is like having your own personal sports science team. It gives you unparalleled insight into your unique fitness profile, and ensures that every training session you perform in SYSTM is tailored to your individual ability and needs. And since knowledge is power, it feeds this back into your ever-evolving training plan to ensure that you're always working at the exact intensity you need to get stronger and faster, without wasting a single pedal stroke.
One of the largest libraries of video based workouts
Wahoo SYSTM has a huge library of immersive video-based workouts where you can lose yourself in a virtual ride on some of the world's most iconic routes (with On Location workouts), raise your heartrate with a workout from The Sufferfest, or put yourself right in the middle of the action with a ProRide session, with official footage from the biggest pro races on the calendar.
You can train alongside Wahoo athletes as part of A Week With events, or watch inspirational cycling documentaries as you cover those base miles or complete your recovery ride. And you can guarantee that whatever you choose, you'll still be getting ever closer to your goals.
The Training Plan Builder
Say goodbye to confusing training plans and hello to a tailored plan that fits around your needs, your goals and your lifestyle. Whether you're preparing for a gravel race, looking to get faster on the road, stronger on your mountain bike, improve your eSports performance or decrease your multisport race times, the Training Plan Builder will give you an easy-to-follow workout plan that plays to your strengths and helps you achieve your goals.
It's not just about on-bike workouts either; SYSTM allows you to build in all-important cross-training like strength workouts and yoga. And as every athlete knows, your mental game needs to be as ready as your physical game, so SYSTM includes mental preparation and training so that, come race day, you're in peak condition body and mind.
Every moment counts
SYSTM ensures that you're never wasting time on ineffective workouts. SYSTM is able to optimise each workout to ensure you're pushing exactly as hard as you need to for as long as you need to and not a moment more. Recovery is also an important and often neglected part of training, and it's when the actual performance gains happen, so like any great coach, SYSTM builds it into your training program too.
Train anywhere, train everywhere
Wahoo SYSTM is compatible with iPhone, iPad, Chromebook, Android as well as Mac and Windows computers, which means you can quite literally take SYSTM with you wherever you go.
For anyone who spends a lot of time on the go, this means a break away from your bike or usual plan doesn't mean a break from training. SYSTM offers workout alternatives that mean that wherever you are and however long you've got, you can still make performance gains with yoga, strength and mental training sessions.
More knowledge, more power
The more you know about training, the better you'll perform, so Wahoo Sports Science has launched the new Knowledge podcast.
Sifting through the noise to bring you the latest cutting-edge research in sports performance science in a straight-forward and useful format, each episode will feature world-class experts including Neal Henderson, Mac Cassin, Jeff Hoobler, Suzie Snyder and Jinger Gottschall, and all available on your favourite podcast platform.
Working smart with Wahoo SYSTM means that it's easier to fit training in around the busy lifestyles we all have, and athletes are already showing results demonstrating its effectiveness.
"It's not necessary to slog extra long weeks of training, nor include a single epic long ride in order to have success in long distance events like UNBOUND," coach Neal Henderson told us. "2021 UNBOUND Champion Ian Boswell logged just one week of 20+ hours of training in the 4 weeks leading up to the race, and his single longest ride in that 28-day period was just 5.5 hours. Jeff balanced his work, family responsibilities and training with an average of 11.4 hours per week."
Wahoo SYSTM allows you to train smarter, get the most from every moment of training indoors and outdoors, and helps you achieve your goals more efficiently. Try it for free for 14 days.
Thank you for reading 20 articles this month* Join now for unlimited access
Enjoy your first month for just £1 / $1 / €1
*Read 5 free articles per month without a subscription
Join now for unlimited access
Try first month for just £1 / $1 / €1
Get The Leadout Newsletter
The latest race content, interviews, features, reviews and expert buying guides, direct to your inbox!