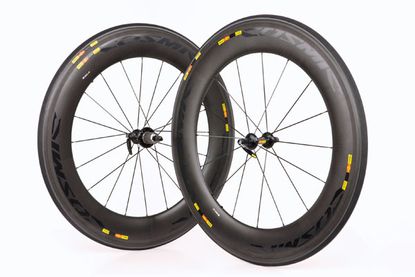 Rigidity is plenty good enough, aerodynamics class-leading and the whole package so innovative it's off the scale. There are a couple of downsides: the wheel balancing is off meaning the rear bounces at high speed and braking leaves plenty to be desired. All the same, these aren't deal breakers for these superb, expensive wheels.
Against
-

Lack of braking power

-

High speed bounce (rear wheel)
Comprising tyre, fairing blade, rim, spokes, hub and quick-release, Mavic's CXR80s are the next step in the wheel. As a rival manufacturer told us, "the tyre is good, the clip-on strip (blade) is good and the wheel is good - altogether though they are superb."
Utilising the current wide-rim thinking, Mavic has looked at the whole wheel as one, meaning each element works beautifully with the others. Since we already covered much of the technology of the CXR in the June 21 launch issue it's best if we stick to the ride characteristics here.
With a list weight of 1,630g the pick-up from stationary isn't the best and on a light bike it's quite noticeable. The flip side, of course, is that steady rolling is superb and corner stability is top notch.
A big part of the package is the tyres and while the front yields good grip the rear is a little lively in the wet - yet both roll well. In part this must be because these are the first tubeless tubulars (as far as we know).
Thank you for reading 5 articles this month* Join now for unlimited access
Enjoy your first month for just £1 / $1 / €1
*Read 5 free articles per month without a subscription
Join now for unlimited access
Try first month for just £1 / $1 / €1