Watch: London cyclist presses bus's emergency engine cut-off as 'revenge' for 'close pass'
Comments on YouTube video divided over the cyclist's actions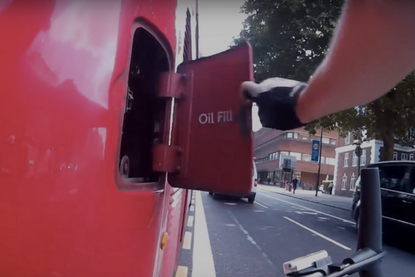 A cyclist in London found an unusual way of taking "revenge" after complaining of a "close pass" from a bus, shutting off the bus's engine when it came to a stop.
The incident, which took place on the A23 in Brixton in south London, shows the cyclist pulling off from a set of traffic lights being beeped at by a bus driver trying to overtake.
After overtaking the cyclist, the bus driver then comes to a halt at a bus stop a little up the road, giving the annoyed cyclist a chance to take, in his words, "revenge".
>>> Watch: Cyclists forced to ride into oncoming traffic as pared cars block cycle path in Dublin
The cyclist pulls up behind the bus, opens a flap, and presses the emergency engine cut-off button, turning off the bus's engine and cutting power to things such as the ramps to allow wheelchair users on and off the bus.
The comments under the video give a mixed view on the cyclist's actions, with one commenter saying that "this needs to be a thing for dangerous bus driving. A 30 second stop-go penalty imposed immediately", while another criticised the rider for "discrediting responsible cyclists and delaying bus commuters who had no part in your imagined slight."
Thank you for reading 20 articles this month* Join now for unlimited access
Enjoy your first month for just £1 / $1 / €1
*Read 5 free articles per month without a subscription
Join now for unlimited access
Try first month for just £1 / $1 / €1