Best Father's Day gifts for cyclists 2021
We outline some of the best Father's Day gifts for cyclists and there's not a pizza cutter in sight!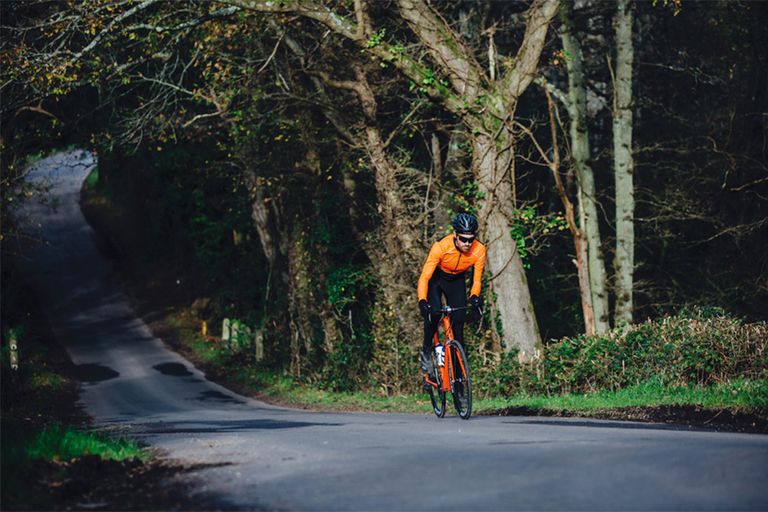 (Image credit: Dan Gould)
Looking for a Father's Day gift for someone who is utterly bike obsessed? The good news is that there's lots of cycling themed gifts out there which will make their day.
Even better, Father's Day is the same date in both the USA and the UK – Sunday, 20 June – so no confusion there.
With each product is a 'Buy Now' link. If you click on this then we may receive a small amount of money from the retailer when you purchase the item. This doesn't affect the amount you pay.
Father's day cycling gifts UK
Father's Day cycling gifts USA
Bonus Gift Idea: Gift card to an online retailer
If you're still stumped on exactly what to get the cyclist in your life, you can't go wrong with a gift card—especially if time is of the essence. These retailers allow you to choose the amount you want to spend and offer digital gift cards delivered directly to the recipient.
Gift card to Competitive Cyclist
Gifts for cyclists: Under £20 / $30
Cyclists love good funky socks, and Primal has a pretty incredible selection, with something for everyone - from pandas to unicorns, and from stripes to geometric shapes.
View item USA: Primal socks range at Wiggle from $13.00
View item UK: Primal socks range at Wiggle from £10.00


What cyclist doesn't like coffee? It is very much a part of our cycling culture, and so much so that three of GB's Olympic champions - Philip Hindes, Owain Doull and Callum Skinner - have come together to "find that perfect cup of coffee" with their own brand, 5 Rings Coffee.
The coffee is sustainably sourced and they say their Loring "smokeless" roaster produces up to 80% fewer greenhouse gases in every roast, compared to conventional roasters.Single origin Costa Rican, Brazilian and Colombian options are available, as well as subscription packages from £14.99.
View item UK: 5 Rings Coffee at Five Rings Coffee from £8.59

A compact tubeless repair kit like this one could save the day for your favorite off-road rider.
Small enough to fit in a hydration pack or jersey pocket, it all packs into its own storage tube. Check with the intended recipient to make sure their bike has tubeless tires before you buy them this—not everyone does.
Whether you're on an epic bikepacking adventure or at the other end of your commute, sometimes a shower simply isn't an option.
These Irish-made, 100% biodegradable, freshening wipes are perfect for keeping clean and smelling great—wherever you are!
View item UK: Nuasan Active Body Wipes at Amazon for £13.50
Ultra-endurance cyclist Mark Beaumont, who's perhaps most famous for circumnavigating the globe by bike in under 80 days, has published all about long distance cycling.
It's pretty exhaustive, covering the psychology, planning, bike set-up, equipment, training (and much else besides!) that's needed for anyone to progress in endurance cycling—whether you're yet to do your first century or already crossing continents.
.
View item US: Endurance, Mark Beaumont at Global Cycling Network for $23.27
View item UK: Endurance, Mark Beaumont at Global Cycling Network for £16.99
The motto every cyclist has ringing in their head when they press "stop" at the end of a ride...
View item USA: Strava Mug at Wiggle for $12.00
View item UK: Strava Mug at Wiggle for £9.99
The story of 2016 Transcontinental winner, Emily Chappell; the former courier outlines her first steps into ultra endurance racing, the way markers en route to her first win, and the come-down that can follow on from such life changing journeys.
View item USA: Where There's A Will at Amazon for $9.99
View item UK: Where There's A Will at Amazon for £14.99
Written by Michelin-starred chef and leading sports nutritionalist Alan Murchison, this recipe book contains more than 70 easy-to-make and nutritionally balanced meals, designed for cyclists of all levels.
View item USA: The Cycling Chef at Amazon from $14.28
View item UK: The Cycling Chef at Amazon for £15.60


The recipient of this insulated water bottle will be thinking of you gratefully when they take an icy sip of water on their hottest rides. The BPA-free bottle has flexible walls that make it easy to squirt water out of the wide nozzle and slips in and out of tight cages easily.
It holds 23 ounces of liquid (680ml) and has a hydrophobic lining that shields the inside of the bottle from accumulating mold, stains, or bad taste, so their first sip will be as awesome as the 500th.
.
.
.
.
Gifts for cyclists: Under £50 / $70
If something does go wrong while miles from civilization, your adventurist knows it's important to have the right tool for the job. But tiny multitools can make a fix much more frustrating than it ever needs to be.
A tool wrap, on the other hand, packs down to a similar size, but the modular construction of the tools means they can be used with much more user friendly T or L handle wrenches.
.
.
.
.
Anodized is back, baby! Loads of cyclists would love to pimp their ride with a pair of these dazzling bottle cages. The anodized aluminum is lightweight and durable, and the minimalist design is sleek and subtle.
Available in seven colors on backcountry.com, and more on Supacaz' website, so you can find the one that compliments their bike best.
View item USA: Supacaz Fly Cage Ano at Backcountry for $25
View item UK: Supacaz Fly Cage Ano at Amazon from £16.99

For the times when you stray too far from the café, the aeropress go is a more portable version of the highly popular original. Packing down to about the size of a water bottle, there'll be space for this (arguably) absolute necessity in just about any bikepacking setup or racing kitbag.
.
.
.
.
.
.
.
A delicious nutrition option is always appreciated. Whether the cyclist in your life rides for sport or for transportation, they work up a sweat doing so and need to replenish the nutrients lost through perspiration to rehydrate and avoid cramping.
Skratch Labs drink mixes are made from all-natural ingredients, featuring a ratio of sodium (salt) and glucose (sugar) among other nutrients lost in sweat designed for quick-absorption for mid-ride energy. This variety pack of 20 single-serve packets includes four each of these five flavors: Lemon & Lime, Oranges, Fruit Punch, Matcha Green Tea & Lemon, and Strawberry Lemonade.
Surrey based Target Velo creates miniature bikes which come in kit form, so that the lucky recipient can spend a day building the model up.
The figurines - both road and mountain bike - come with moving wheels, cranks and chains - even the brake levers work and squeeze the calipers closed.
Target Velo also sell cycling themed photo frames and jewellery including necklaces, bracelets and cuff links so it is worth browsing their entire collection of cycling gifts.
View item UK: Build-Your-Own-Bike at Target Velo from £24.75
For book lovers, who already have an expansive collection of books that doesn't really need adding to, this pair of bookends featuring racing cyclists can help keep their books in good order while looking great.
The bookends are made from sturdy metal and have a bronze colour painted finish.
View item USA: Cycling Bookends at Not on the High Street for $60
View item UK: Cycling Bookends at Not on the High Street for £45
This popular, now annual, account of the road season details the races that actually happened in 2020. Among a host of stunning images and essays, this coffee table book includes a contribution from Cycling Weekly's own newswriter and Tour de France correspondent, Jonny Long.
View item UK: The Road Book for £50

Gifts for cyclists: Gifts under £100/$100
Although power might be the most hyped metric right now, heart rate hasn't lost its importance. Although power might measure the work you are putting out, it isn't measuring the effect it is having on your body—heart rate does. There's a reason why you'll rarely see the pros racing without one.
This strap communicates over ANT+ and Bluetooth for fuss free connectivity and Garmin claim that the battery won't need replacing for three and a half years.
.
.
.
Ok - so it's quite expensive for a hand pump (unless you can grab that CRC deal in the US!) - but Lezyne's offering here provides peace of mind via a pressure gauge, it'll get a rider up to 160psi (should they really wish... most will be aiming for 60-90psi), and it weighs only 117g. The recipient will thank you profusely once it saves them from a miserable ride home, on 20psi!
.
.
.
.
.
.
.
Make sure the cyclist in your life is never late for the club run with a clock inspired by their hobby.
There's a choice between red, silver or black clock hands, for branding stickers on the rims or not, and whether to have a polished disc brake decoration in the centre.
View item USA: Racing Bike Wheel Clock at Not on the High Street for $100
View item UK: Racing Bike Wheel Clock at Not on the High Street for £75
The Tifosi Crit sunglasses are fantastic. Not only do they fit and feel comfortable, but they offer exceptional clarity and are one of the swiftest changing light sensitive lens on the market. They proved a hit with our tester and scored a full five stars in their review
.
.
.
.
.
.
.
Gifts for cyclists: Money no object
Give the gift of privacy (sort of) with this generous changing robe. If the cyclist in your life does a lot of parking lot quick-changes pre- or post-ride, this could be the thing that makes that whole process a lot easier (and a lot less revealing).
.
.
.
.
.
.
.
CyclistKitty Pemberton-Platt (bykkp.co.uk) has teamed up with the Camden Watch Company to create this beautiful leather strapped time keeper. Don't expect it to count miles or calories, but it does have a subtle spoke design and jersey style lettering. Read our full review here
View item USA: Camden X KPP at the Camden Watch Company for $195.77
View item UK: Camden X KPP at the Camden Watch Company for £149
Olympic medallist Rob Hayles is the man behind Carbon Concepts. He makes custom items, including rings, keyrings and more. Each item is bespoke, and made in Hayles' Peak District workshop by hand, cycling inspiration is aplenty and carbon and titanium are key ingredients.
There are hundreds of glasses available for cyclists to choose from, but the Oakley Radar EV's still represent the most popular choice - they're large enough to provide enough protection, but the rimless lower half means they're not distracting and suit most face shapes/sizes.
Read our full review of the Oakley Radar EV sunglasses here
.
.
.
.
.
This unique, steampunk-esque cycling computer displays an analog presentation of your riding data, in either imperial (miles/feet) or metric (kilometres/metres) units.
It can connect with ANT+ sensors on power meters, heart rate monitors and cadence sensors, and displays data for speed, distance, ascent, time and battery level.
This is for those who want to free themselves from the barrage of data flashed up by our screens, but still want to keep track of some metrics.
View item international: Omata One at Omata for $700
The 1030 Plus is Garmin's flagship cycling computer, with an easy setup process, turn-by-turn navigation and so much more that is impossible to cover here. For the full details, check out our review in which it scored a full five stars.
.
.
.
.
.
.
.
These are Garmin's latest and greatest power meter pedals, which have been made significantly more user friendly than the previous iterations. It really is as simple as swapping out your pedals and pairing them with your head unit.
Just make sure to check whether that special someone uses Look, Shimano road, or Shimano MTB cleats, to save any compatibility issues.
.
.
.
.
Print out and present gifts
Running out of time? All of these gifts will come with email certification that you can slot into an envelope on the day...
Cycling Weekly subscription - from £24.99 for 12 weeks
A Cycling Weekly subscription can provide a rider with news, fitness and training advice as well as insightful features and interviews, every single week.
You can set up a 12 week subscription to the print mag for as little as £28.99, or get an iPad/iPhone subscription for the same time period for £24.99.
Check out the Cycling Weekly magazine subscription options for every country here
Strava subscription - £47.99 a year
Strava is the cyclist's social media platform - displaying rides and allowing riders to chase Strava segment success which is rewarded by Kudos from followers.
With Strava's subscription pack, the tool moves from being a social ride sharing app and to a evaluation tool and training aid, with advanced analytics and personalised coaching. As well as safety features, personal heatmaps and route planning capability.
View item UK: Strava Premium at Strava for £47.99
View item USA: Strava Premium at Strava for $59.99
British Cycling or CyclingUK membership - £22-£75
Memberships to British Cycling or Cycling UK carry a number of benefits for cyclists.
British Cycling Membership
British Cycling membership is available at a number of standards - from 'Fan' to 'Race'.
Race license membership - compulsory for all UK racers - starts at £26 and increases to £78 with liability and legal insurance.
'Ride membership' (£43) and 'Commute membership (£39) gets users legal and liability insurance when commuting or riding for leisure and the 'Fan' option (£25) unlocks a selection of discounts at major cycling retailers.
Cycling UK's Gift Membership
Cycling UK membership for an adult comes in at £4 a month and provides third party liability insurance cover with an indemnity limit of £10m, plus access to group rides, discounts, access to the Cycling UK 'incident line' - and you'll be supporting the organisations missions.
Find out more and purchase a membership here
We'll keep updating this page with new gifts