Christmas 2023 gifts for cyclists: thoughtful ideas for road, gravel, commuters and more
Here's our handy guide to the best Christmas gifts for the bike-obsessed, and where to buy them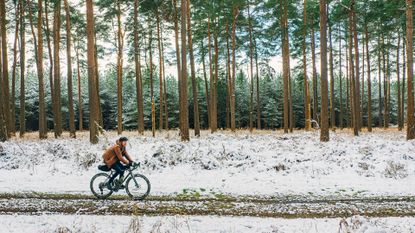 (Image credit: Getty / Justin Paget)
Get The Leadout Newsletter
The latest race content, interviews, features, reviews and expert buying guides, direct to your inbox!
Thank you for signing up to The Pick. You will receive a verification email shortly.
There was a problem. Please refresh the page and try again.
Christmas is now just round the corner, but there's still time to buy quality presents. If you're short of ideas for what to buy for the cyclist in your life this Christmas, you've come to the right place.
The great thing about finding a gift for a cyclist is that it really broadens out the range of gifts you could potentially give this Christmas. From practical gifts to more ornamental and luxury items, you can really show some thought and originality.
Any element of high-quality cycling kit will make a cyclist's rides more enjoyable, whether it's better bib shorts, jerseys or more breathable waterproof jackets. Or for cyclists whose purpose is utility rather than recreation, more functional and easier to use panniers, racks or more effective mudguards can make a whole world of difference.
With many of us still not feeling quite ready to return to the gyms just yet, indoor trainers and exercise bikes can help fit training into a busy lifestyle – making riding in better weather of the spring and summer more enjoyable once the seasons make their change.
To help you with your search, we've split this guide into categories including gifts for road riding, gifts to aid training and gifts for the home mechanic. We've included products across a wide range of price points, so it's easy to hone in on gifts that match your budget. You can use the navigation tab to hop around the page.
Best gifts for cyclists this Christmas
You can trust Cycling Weekly. Our team of experts put in hard miles testing cycling tech and will always share honest, unbiased advice to help you choose. Find out more about how we test.
Best Christmas gifts for cyclists: e-gifts - last minute present ideas
If you need a guaranteed gift and don't want to chance a delivery – or if you'd just prefer to let that special someone chose what's right for them – instantaneous e-gifts can make the perfect present.
USA
UK
Best Christmas gifts for cyclists: Our top picks
Lost Lanes backroads guide books
Jack Thurston's Lost Lanes books are a series of guides to some of the most beautiful bike rides in the UK. There are four books available covering the South East, the West Country, Wales and the border counties and Northern England. Each ride featured includes handy maps as well as recommended pubs and pit stops. .
Personalised Headset Top Cap
Sitting on top of the steerer tube, top caps are right there in almost every cyclist's line of sight – but generally they're just plain, boring and dull. On the other hand, this makes them ripe for an upgrade: whether that's just adding in an accent colour or inscribing a personal message they'll always see.
Gore Shakedry C5 1985 rain jacket
A lightweight, packable waterproof jacket is a godsend for a cyclist when the weather deteriorates and this is one of the best out there. It uses Gore's innovative Shakedry fabric, which is waterproof, highly breathable and doesn't wet out, so when it does dry up, the rain can just be shaken off and it can be stowed in a jersey pocket.
Muc-Off Essentials Pocket Case
Cyclists' pockets can be something of a Pandora's Box, a complete nightmare that, once filled, are best left untouched. With an internal divider to keep your phone and tools separate, as well as a zipped pocket for cards, a good case helps to keep things organised and in one manageable place.
There are more muted colours too, should bright purple be not quite to the taste of the rider.
Shokz OpenRun Bone Conduction Headphones
They might say 'run' in the name, but these headphones are great for cycling. Using bone conduction technology, the headphones don't block up your ears, leaving you better able to hear ambient sounds and traffic – vital for staying safe on the bike.
They're great indoors too. In-ear headphones can be quickly killed by sweat and don't feel particularly pleasant either. The Shokz OpenRun bypasses those issues and is IP67 Waterproof rated. (That's more than enough for sweat, just don't take these ones swimming.)
Vyconic Handmade Racing Bike Wheel Clock
Made using a shallow-section race wheel, the aluminium of the brake track matches nicely with the chrome of the hub and clockwork mechanism. Great for both cyclists and unique clock aficionados.
Best Christmas gifts for cyclists: Under $20 / £20
It might not be as flashy as a Campagnolo corkscrew – but it's no less useful and sure to get the evening off to a good start. There are any number of chain-based gifts to choose from though, from key rings to fidget toys. If a bottle opener doesn't strike the right note, there's still plenty you could go for.
Muc-Off Wet Bike Chain Lube
Muc-Off's wet lube formula is well-suited for winter riding conditions. It contains no harmful acids, CFCs or solvents, as well as being biodegradable. It also features the company's integral Extreme Pressure Additives coat for increased efficiency in the drive chain. As a gift for cyclists with perhaps questionable maintenance schedules, this adds a thoughtful touch.
Elite Fly lightweight water bottle
The Fly bottle is used by the majority of pro teams thanks to the soft cap that is easy to use while riding and its wide mouth making filling quick and easy. It's also BPA-free, dishwasher-safe and for any weight-weenies out there, it weighs about half as much as a standard water bottle, saving around 50 grams.
Clif Bar all-natural energy bars
For many cyclists, a Clif Bar is their go-to energy top-up as they ride. A bit more substantial than many energy bars, Clif Bars are all-natural and plant based. There's a wide range of different flavours, for plenty of variety, and all the ones we've tested (plenty of them!) taste great too. Another little gift for cyclists that's a great little sweetener.
The First Tour De France by Peter Cossins
Peter Cossins' account of the first Tour de France in 1903 is a remarkable tale full of larger-than-life characters and painfully long stages. Set against the backdrop of a rapidly-changing France at the turn of the century, it not only paints a vivid picture of bike racing as it once was but also helps to bring a fresh context to 'la Grande Boucle' that we know and love today.
Best Christmas gifts: for road cyclists
Topeak Race Rocket HP minipump
A quality minipump can really save a ride, making it a great gift for cyclists. The Race Rocket is built to last, with an alloy body and an in-built hose with a presta/schrader-compatible smarthead. There is a range of Race Rocket designs for MTB and road bikers, but this version is designed to pump road tyres to high pressures, while still being pocketable.
Colombia Es Pasión! by Matt Rendell
The influence of Colombian riders in today's pro peloton is certainly pronounced. In this wonderful book Matt Rendell tells their incredible stories - from Rigoberto Uran to Egan Bernal - detailing the often extraordinary road they've had to navigate to reach the pinnacle of the World Tour. It's an inspiring read and an ideal gift for cyclists looking to spend some time away from the screens.
dhb Merino Wool Arm-warmers
Cosy socks and jumpers always make a good present. But if you want to make things a little more cycling-specific for the bike-mad, merino arm warmers are a great gift to give.
A natural fibre, merino wool gives a luxuriously soft feel, is naturally odour resistant, and is great for a huge range of riding conditions. Even better, the sheep are guaranteed not to be subjected to mulesing, which is a painful and archaic practice.
Castelli Head Thingy neck buff
Castelli is being vague about its HeadThingy - it's a buff, one of the most useful pieces of kit for the cyclist, keeping their neck warm on cold starts or cold days and stopping airflow down their collar. If things warm up, it's got to be the most stashable accessory out there too.
Muc-Off tubeless valve set
Tubeless tech is rapidly taking over road cycling and many wheelsets are now tubeless ready. It needs a set of valves to screw into the wheel rim and Muc-Off's are high quality, available in a longer length to suit deeper wheelsets and come in an amazing range of colours to add a bit of razzle dazzle to any bike.
Castelli Gabba RoS jersey
The first, and many would say still the best, cycling jersey for poor weather riding, the Gabba RoS adds taped seams at the shoulders to keep more rain out, but still has the water resistant facing, breathable fabric, insulation and windproofing of the original, making it ideal for riding when the weather's not ideal.
Wahoo Speedplay Zero Pedals
Wahoo Speedplay Zero pedals are a beautifully constructed lightweight pedal, notable for their dual-sided entry and easy float adjustment. You have to know someone really quite well to buy pedals for them, but if you do have that bond, you'll know if they'll be grateful.
Fizik R4 Tempo Overcurve shoes
Gifting a cyclist a great pair of shoes makes a lot of sense. After all, comfy shoes help make for an enjoyable ride.
Fizik's range of Tempo Overcurve shoes is designed to be comfortable straight out of the box thanks to their curved profile. The R4 model features a carbon injected sole that's pretty stiff but not too rigid and a Boa dial for micro adjustment.
Oakley Sutro cycling glasses
The Oakley Sutro was originally launched as an urban style, but it's been taken up with gusto by the pros, with Egan Bernal a prominent wearer. It's still a good bet for the more casual cyclist and has spawned a Lite version with half frames. A gift for cyclists with a penchant for style.
Wahoo Elemnt Bolt cycling computer
Wahoo GPS units have some clever features that you don't see on rival units, making them some of the best cycling computers out there. That includes smart navigation features, a programmable LED array and really good connections to its smartphone app that up usability. Plus the Wahoo Elemnt Bolt has a slick mount that is designed to make it more aerodynamic. A recommended gift for cyclists looking to explore new roads in 2022 and beyond.
Best Christmas gifts: for cycle commuters
Lezyne Zecto Drive bike light
Bike lights make perfect gifts for cyclists. The Lezyne Zecto Drive light is a good option for both daytime and night use, with seven output settings, up to 250 lumens output and long runtimes, along with quick recharging. It attaches unobtrusively to the handlebars or seatpost, with quick rubber mounts.
Spurcycle Original Vintage bell
No commuter bike is complete without a bell. It's still the best way to let others know that you're heading in their direction - especially on shared access paths. The Spurcycle bell is beautifully made and has plenty of retro appeal. Proof that not all bells are created equal!
Endura Windchill II windproof jacket
Every commuter needs a warm and visible jacket to get them through the colder months. The Endura Windchill Jacket II is simple yet effective. For the price, it offers warmth, water resistance, and practical features, such as underarm venting.
This jacket is ideal for anyone looking for warmth, without a skin tight fit, making it a great option for just chucking over bulkier non-bike attire for a commute home.
Garmin Varia RTL515 radar tail light
The Garmin RTL515 isn't just a high quality tail light, it includes a radar that can spot a vehicle approaching up to 140 metres away. It flashes to make sure that the driver has seen you and sends an alert to your bike computer, telling you how many vehicles are approaching and their relative position. You get a green light once all's clear.
Best Christmas gifts for cyclists: for gravel riders and bikepackers
De Feet Woolie Boolie cycling socks
Receiving socks might be somewhat cliched but as a gift for cyclists it's likely to be well received. Their 48 per cent merino wool content adds warmth – wet or dry – and helps keep foot odour away, ideal for those multi-day bikepacking trips.
Crankbrothers Candy 1 pedals
Any gravel rider or bikepacker will appreciate a dual-sided pedal that's easy to clip in and out of. Crankbrothers' Candy 1 is just that, with a straightforward design that's a doddle to keep clean, they also come in a decent range of colours.
Restrap Bar Pack handlebar bag
We found the Restrap bar pack to be one of the best bar bags out there. It boasts a large capacity, an handy roll top entry and an easily accessible front pocket. There are also compression straps to keep everything in place, helpful when you're riding off-road. In short, it's a well-made, functional bar bag that makes an ideal gift for cyclists looking to enjoy a few bikepacking adventures.
Silca Seat Roll Asymmetrico seat pack
Silca make lovely 'bits' from tools to bottle cages, all of which make ideal gifts for cyclists. Its Seat Roll Asymmetrico is one such item, designed for those who appreciate an organized seat roll that doesn't shift or bop around while riding, thanks to a BOA L6 Closure System. It has four internal pockets and holds tubes up to 700c x 45mm, just what you need for today's high-volume gravel tyres.
Telos TR2 - 2-man bikepacking tent
If your bikepacking adventures take you to multiple overnights, you'll be more comfortable in a tent than a bivvy sack or under a hedge. The Sea To Summit Telos tent weighs just 1,657g, so divided between its two occupant capacity there's not a lot extra to carry, it packs down to 13x13x48cm and gives you plenty of room for all your cycling and camping clobber in its two vestibules.
Fizik Terra Bondcush bar tape
New bar tape can make a surprising difference to ride comfort. The Fizik Terra Bondcush tape is designed for grip and comfort on a gravel bike - but works just as well to add a bit of extra plush to the bars of a road bike. At 3mm thick and with a special vibration absorbing core, it will make any drop bar bike nicer to ride.
GoPro Hero10 Black action camera
An action camera is a great accessory to capture all the action on a big ride or just when out enjoying the countryside. The Hero10 is GoPro's top spec camera with super-high resolution and great image stabilisation for smooth quality riding shots. A great gift for cyclists who love to capture their gravel and bikepacking adventures.
Best Christmas gifts for cyclists: to aid training
To train successfully the body needs to recover. The Theragun Pro is a high-quality '"soft tissue weapon" that will improve recovery as well as warm muscles up before a training ride or Zwift session. It doesn't come cheap but comes highly recommended by the experts, including Dr Graham Theobold, Clinical Director at The Body Rehab, who put the Theragun Pro to the test for us.
Tacx Galaxia Cycling Rollers
There's something delightfully old-school about a set of rollers but they aren't just to be enjoyed for their retro-appeal alone. Like Bauke Mollema ditching his bike computer during the Tour de France, using some of the best bike rollers can help you to ride by feel while also improving your balance and general bike-handling skills.
Tacx's Galaxia rollers feature a patented swing system and fold up neatly too, making them ideal for use in the home as well as being portable enough to take along to races. The perfect gift for cyclists looking to keep in shape through the worst of the winter weather.
A smartwatch is a great gift for the cyclist. The best smartwatches for cycling do everything that a cycling computer will do, plus they'll keep track of all your off-bike activities, monitor how well you sleep and count your calories for you. The Suunto 9 is one of the best out there, with a touchscreen and profiles for over 80 activities.
Wahoo Kickr Core smart trainer
For many cyclists, indoor training is an essential part of their fitness regime, particularly during the winter. The Wahoo Kickr Core is designed to hook up to Zwift, Wahoo X and other indoor training apps, so that the terrain on the app determines the cycling effort required, making for an immersive ride experience. Its ride feel is realistic thanks to a large flywheel, it can handle efforts up to 1,800 watts and it's quiet too.
Garmin Rally power meter pedals
A power meter is a big ticket item, but many cyclists consider it essential to follow their performance and up their cycling game. The latest Garmin Rally power meter has all the advantages: it's easy to transfer between bikes, accurate and can be converted to work with different pedal systems. There's a single sided version, if the price of the full dual-sided power meter is too steep to stomach.
Best Christmas gifts for cyclists: for the home mechanic
Wera 7-piece Hex Plus Key Set
A good quality set of hex keys is a must-have, making them an ideal gift for cyclists. After all, there's nothing worse than getting ready to fit a nice new stem or seatpost only to find that all you have to work with is an Allen key that came free with a set of flat-pack shelves.
This seven-piece set from Wera features L-keys with ball ends so you can access those hard to reach bolts, while also ensuring that you don't round them off.
Ritchey Torque Key hex wrench
Bikes are fussy, with lots of bolts specifying precise torque values to which they should be tightened. Overtighten and you risk damaging expensive bike parts, so a torque key is a useful tool to make sure you've hit the correct value without the expense of a torque wrench. Ritchey's is one of the best, with a selection of heads to suit most bolt heads.
Effetto Mariposa Giustaforza wrench
The Effetto Mariposa Giustaforza 1-8Nm torque wrench is a lovely tool that makes a great gift for cyclists who love to tinker with their bikes. Designed specifically for use on bicycles, it feels great in the hand while its small head makes it a breeze to use in those tight spots. Calibrated for up to 8Nm it's ideal for tightening carbon stems, bars and seat posts and is compatible with standard 1/4" bits. Made in Italy it's lightweight (just 140 grams) but feels very solid too.
Lezyne CNC Digital Drive track pump
A quality track pump makes pre-ride tyre set-up so much easier. The Lezyne Digital Drive has a quality construction and will last for years. It comes with an extra-long hose, Lezyne's Pro head for easy valve attachment and a digital pressure gauge for dialling in tyre pressure down to the last psi.
Park Tool Deluxe Home Mechanic Workstand
You'd be hard-pushed to find a more practical gift for cyclists than this Park Tool workstand for the home mechanic. If bike maintenance is their thing, a sturdy, robust, easy to use workstand will make life a whole lot easier and the Park Tool stand includes easy-clamp jaws that won't damage a bike frame. It folds away when not in use.
Get The Leadout Newsletter
The latest race content, interviews, features, reviews and expert buying guides, direct to your inbox!
Paul started writing for Cycling Weekly in 2015, covering cycling tech, new bikes and product testing. Since then, he's reviewed hundreds of bikes and thousands of other pieces of cycling equipment for the magazine and the Cycling Weekly website.
He's been cycling for a lot longer than that though and his travels by bike have taken him all around Europe and to California. He's been riding gravel since before gravel bikes existed too, riding a cyclocross bike through the Chilterns and along the South Downs.