CW5000 April challenges
Sign up to our April challenges to be in with a chance of winning one of five exclusive CW5000 pin badges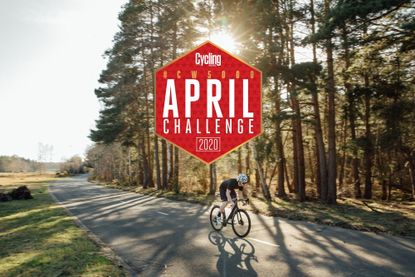 Our riding has changed beyond all recognition, but like us, the CW5000 riders are determined to keep turning the pedals. Big rides are mostly out, but with one form of exercise a day the recommendation from government, and cycling offering a self isolating commute, people are still out on their bikes. And then there's Zwift. The numbers on the interactive riding site have gone through the roof while Sufferfest has just announced a new four-week plan to help your fitness through this time. During the lockdown our advice is to keep any outdoor rides short and local so you're less likely to get in to trouble. This means our focus as shifted away from big miles for the time being so April challenges have therefore been adapted so you can do them on the turbo. Good luck!
Everyone who signs up to the April Challenge will go into the draw to win one of five exclusive #CW5000 pin badges, a prize that cannot be bought, only earned. When a winner is selected we will ask you for proof that you have completed both of the challenges. This can either be in the form of details from your Strava account, or a hand written/typed out record of your ride(s). We rely on your honesty!
1. Complete a two-hour ride
This would have been a fairly simple challenge one month ago, but now it seems a whole lot harder. So load up your preferred training software, or get a boxset on the laptop in front of you, have plenty of fluids to hand and settle in. No prizes for how far you get, but we'll be keen to know how you kept motivated. If you need some inspiration, just last week Jumbo Visma's Robert Gesink did a 250km ride on his turbo, while Astana's Laurens De Vreese somehow logged 370km in eleven hours riding around the Yorskhire circuit on Zwift.
2. Ride five days in a row
Easy for those of you who commute, not so easy of others. But remember, that one form of exercise a day that is recommended for physical and mental health can be a short ride before work. Use that time you would have used for your commute for a local loop, or mix it up with some indoor and outdoor sessions through the week. Each ride has to be a minimum of ten miles.
Share your rides
Upload your pictures and videos to the CW5000 Facebook group, and on Twitter and Instagram with the #CW5000.
Good luck!
Thank you for reading 20 articles this month* Join now for unlimited access
Enjoy your first month for just £1 / $1 / €1
*Read 5 free articles per month without a subscription
Join now for unlimited access
Try first month for just £1 / $1 / €1