Ed Clancy reveals sprint ambition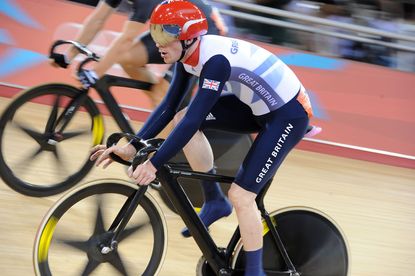 Double Olympic Team Pursuit Champion Ed Clancy is going to try his hand in the more explosive discipline of the team sprint - he will make his debut in it with Jason Kenny and Phillip Hindes as soon as the Glasgow round of the Track world cup later this month.
Clancy expressed his enthusiasm for experimenting with the sprint disciplines at British Cycling's Gala Dinner in Manchester at the end of October, which celebrated our nation's cyclists' various successes this year.
But it wasn't just the booze talking. The following evening at the opening event of this season's Revolution series, Clancy showed his sprint prowess by blitzing the flying lap.
He also took the 1km Madison time trial with Andy Tennant and won the scratch race with a lap and a half long finishing effort.
"It's a new challenge, a different focus," he asserted to Cycling Weekly. "A change is as good as a break.
"The main reason I want to try [the team sprint] is after 2008 it was harder to keep the same sort of enthusiasm for doing the same thing.
"Pete [Kennaugh] and G [Thomas] and Brad [Wiggins] go and ride the road between Games, and I just want a change of scene after London.
"Whether I can transfer my sprint to become a full on sprinter, I'm not sure but I'll give it a go.
"If it works out, that's great. And of it doesn't I've got plenty of time to get back into the team pursuit before the next Games."
Clancy during the 1km Time Trial in the London 2012 Omnium
Although he "won't touch the team pursuit until at least next year", he hopes he might ultimately be able to ride in both disciplines.
"I think you could be a good man one team pursuiter and a good man three team sprinter.
"If the man three doesn't work out in time for the worlds this year, I'll have a good go at the Kilo."
So where does this leave Clancy's road ambitions which he had previously been keen to pursue once the London Games were out the way?
"I changed my mind really," he admitted. "I've been alright on the road in the past but nothing really groundbreaking. I'm an awful lot closer to being a team sprinter than I am to being a good road rider.
"I enjoy what I do on the road at the minute. We've got a good crit scene and even if I did ride a Grand Tour all I'd be doing is carrying bottles."
This article originally appeared in Cycling Weekly, November 1 issue
Related links
Ed Clancy: Rider profile
Thank you for reading 20 articles this month* Join now for unlimited access
Enjoy your first month for just £1 / $1 / €1
*Read 5 free articles per month without a subscription
Join now for unlimited access
Try first month for just £1 / $1 / €1