Euro stars and juniors shine at Revolution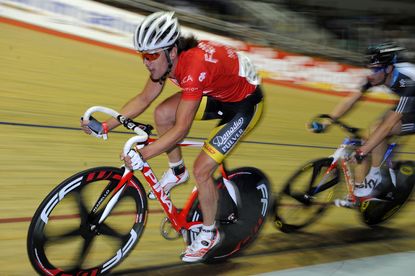 Revolution 30 photo gallery by Andy Jones>>
Europe's top six-day riders and Britain's best juniors stole the show at Revolution 30 in Manchester last night.
Team Sky set out to maintain their series leading position from the opening event. Geraint Thomas, Peter Kennaugh and Ben Swift rotated on the front in the Devil Scratch race as top riders Dean Downing (Rapha-Condor-Sharp), Leif Lampater (Maxgear) and Michael Morkov (Revolution) were all eliminated early, no doubt conserving energy for the later events. A brave late attack by Christian Grassman was snuffed out and Swift took victory ahead of Thomas.
European under-23 time trial champion Alex Dowsett paired up with Madison world champion Alex Rasmussen to post an impressive 58.515 for Chep in the 1km madison team event. But under-23 national champion Andy Fenn and Swiss six-day legend Franco Marvulli took victory for Le Col in 58.336.
Fresh from entertaining the crowd with a decent rendition of Robbie Williams' 'Angels', Argentinian six-day specialist Sebastian Donadio (Manchester City Council) won the points race. Donadio used his experience to outwit Ben Swift on the final sprint after the duo had battled throughout the race.
The three-man Madison proved to be the climax of the evening. Madisons are always fast and exciting but the additional rider meant the race was even more chaotic than usual. Maxgear's trio of Leif Lampater, Simon Yates and Adam Yates held the advantage in the early stages but when it came to the sharp end Revolution favourite Marvulli expertly directed his young Le Col teammates Andy Fenn and Jon Mould to victory on the final sprint.
In the DHL Future Stars category Chep's Harry Tanfield pipped Team Sky's Sam Lowe in the 5k scratch race. While fastest qualifier Matt Rotherham (Maxgear) sailed through the early rounds of the sprint before comfortably beating Alex Minting (Team Sky) in the final.
Maxgear's performances were strong enough to propel them to top of the series leaderboard and they will be looking to defend their position when Revolution returns on 11 December 2010.
Team Standings
Maxgear - 18
Team Sky - 16
Motorpoint-Marshalls Pasta - 14
Le Col - 14
Manchester City Council - 9
Revolution Allstars - 8
Chep - 7
Rapha-Condor-Sharp - 4
Sebastian Donadio Sings Robbie Williams' Angels at Revolution 30 from British Cycling on Vimeo.
Sebastian Donadio throws in Sam Harrison
Ben Swift and Geraint Thomas
Future Stars girls' race
Keirin action
Related links
Revolution 30 photo gallery by Andy Jones
Thank you for reading 20 articles this month* Join now for unlimited access
Enjoy your first month for just £1 / $1 / €1
*Read 5 free articles per month without a subscription
Join now for unlimited access
Try first month for just £1 / $1 / €1