How to be a hors-categorie climber from your own home
Top tips to get you climbing with the best of them...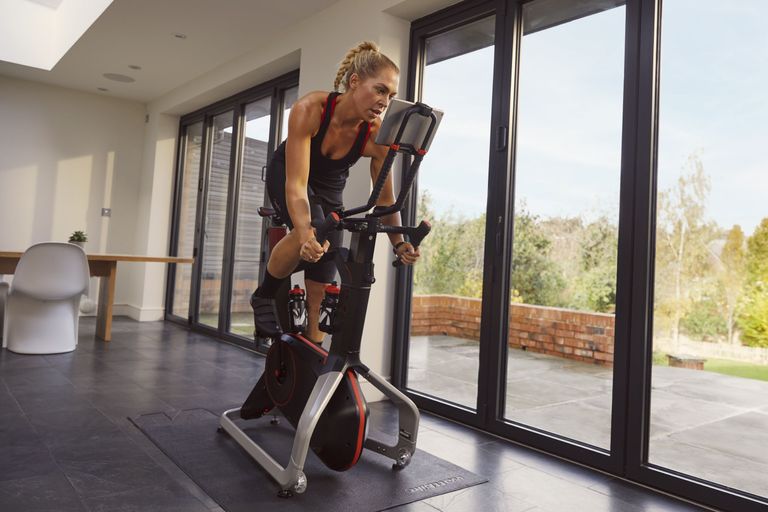 (Image credit: Wattbike)
With the first Grand Tour of the year heading for the mountains, who doesn't imagine themselves at the front of a fragmenting Giro peloton, attacking out of the saddle on the steepest slopes of the Mortirolo or the Marmolada and leaving our pink jersey rivals gasping in the thin, cold air of the Dolomites?
The reality for most of us is that we might settle for going under seven minutes for Box Hill and if the weather is looking a bit iffy we'll do an even more local loop.
All of which means that if we do ride some big climbs this summer now that foreign travel is possible again - or want to take on some of the best homegrown hills in sportives or gran fondos - we could be woefully underprepared.
Improve your power-to-weight ratio
Everybody knows climbing mountains is what cycling was made for, but to be good at it you've got to put the work in. That means improving your power to weight ratio, which is best done steadily and in a controlled way by upping your training and creating a calorie deficit.
Coach and elite rider Zach Nehr suggests cutting excess calories, such as fizzy drinks or processed sugars in pastries, candy bars, and chocolates. A deficit of 200-300 calories a day would see you lose around 0.5kg a week, whilst also having plenty of energy to train and increase your power output.
Train your climbing muscles
As well as being in the best condition possible for climbing, it's crucial to train your climbing muscles. As Nehr also points out, climbing recruits your muscles in a different way from riding on the flat: you're likely to be sitting more upright and further back in the saddle in order to press harder on the pedals at a lower cadence.
It would be nice to spin at the same RPM as you would on the flat, but you're likely to run out of gears on steeper hills and will need to get used to pedalling slowly but with more force. Low cadence and more force means more strength - and that's something that has to be trained.
So assuming you don't want to do multiple reps of Box Hill - which won't exactly replicate a big climb anyway - how are you going to train for the mountains before you go out to the Alps or the Dolomites?
Climb on your Wattbike
Indoor training has reached such a level of sophistication that it's possible to train on the very climbs you dream of dancing up.
Wattbike's Hub app - which is free to all Wattbike users - allows you to tackle Grand Tour climbs from Alpe d'Huez to Zoncolan, taking in icons such as Mont Ventoux, Col d'Izoard, Colle delle Finestre and Grand Colombier.
Hit 'play' on your paired device and you'll be able to follow your progress on the climb you've selected, with the Wattbike automatically adjusting the resistance according to the gradient you're on in real time. The distance to go is counted down, your speed and power displayed along with the gear you're in.
If you've got less than half an hour to spare and are reasonably fit, you could polish off the 5.71km La Planche des Belles Filles (average gradient 8.6%) in around 20 minutes - where Pogacar famously demolished Roglic in the 2020 Tour de France.
Or, can you take on Alpe d'Huez's legendary 21 hairpins? Better allow a bit more time for that.
Building these iconic climbs into your regular training is an effective way of improving your own climbing performance. Plus you get to find out what it's actually like to ride them!
Deep-dive into your ride data
You'll be able to see your improvement: since each activity is saved to the Wattbike Hub and to Strava if you've synced it, your previous time is there to be beaten.
Data from your ride such as left/right balance and pedalling effectiveness score (PES) is also saved so that you can improve your technique along with your fitness.
Nobody would ever suggest you don't need to go to the mountains in real life, but if you want to be sure to put in your best performance on any climb, training virtually on the world's best in the comfort - or discomfort - of your own home is the most effective way to get there.
Go to www.wattbike.com and discover how the Wattbike Atom could help you push your limits and become a better climber, and for a limited time only get a £100 Sigma Sports voucher plus free delivery with every Wattbike Atom.
Thank you for reading 5 articles this month* Join now for unlimited access
Enjoy your first month for just £1 / $1 / €1
*Read 5 free articles per month without a subscription
Join now for unlimited access
Try first month for just £1 / $1 / €1
Simon Smythe is Cycling Weekly's senior tech writer and has been in various roles at CW since 2003. His first job was as a sub editor on the magazine following an MA in online journalism (yes, it was just after the dot-com bubble burst).
In his cycling career Simon has mostly focused on time trialling with a national medal, a few open wins and his club's 30-mile record in his palmares. These days he spends a bit more time testing road bikes, or on a tandem doing the school run with his younger son.
What's in the stable? There's a Colnago Master Olympic, a Hotta TT700, an ex-Castorama lo-pro that was ridden in the 1993 Tour de France, a Pinarello Montello, an Independent Fabrication Club Racer, a Shorter fixed winter bike and a renovated Roberts with a modern Campag groupset.
And the vital statistics:
Age: 53
Height: 178cm
Weight: 69kg