How to use Whoop to optimise your training
WHOOP takes a holistic approach to monitoring your training and recovery for optimal outcomes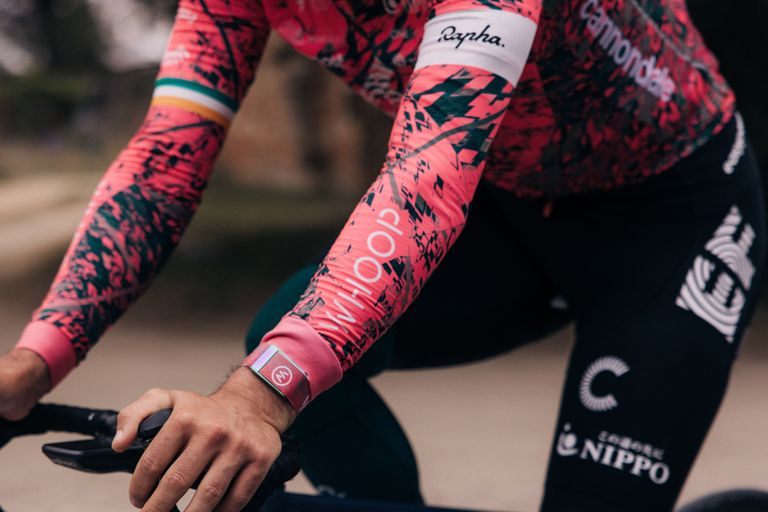 (Image credit: Whoop)
It's easy to think that more is better when you're training for an event or to improve your fitness. That's a view promoted by all the on-bike metrics that you can capture, especially power and heart rate measurement, and the tools available to analyse them.
But sometimes less is more and recovery and quality sleep can be more useful than pushing yourself. When you do ride, a mix of hard routines and gentler recovery rides has been shown to be better than constantly pushing yourself.
That's where WHOOP comes in. The WHOOP 4.0 wearable is a wrist-worn monitor that hosts a set of optical sensors that record vital health and fitness metrics 24/7, not just when you're exercising. It uses these as inputs to its AI coach, which gives you personalised feedback via the WHOOP app to help you reach your fitness goals.
Each morning, WHOOP provides you with a Recovery score based on a number of key metrics like Heart Rate Variability, Resting Heart Rate and Respiration Rate. Your Recovery score lets you know how ready you are to train on a given day - whether it is a strenuous workout, active recovery or complete rest.
WHOOP surveys its members regularly for their feedback and in one recent study found that, relative to a control group, individuals who trained in accordance with their WHOOP Recovery scores were achieving the same level of fitness gains while suffering fewer injuries and having fewer layoffs.
Recovery is one of WHOOP's three pillars, along with Strain and Sleep and its new Health Monitor keeps track of your normal baseline fitness values.
What does WHOOP 4.0 do?
WHOOP 4.0 measures your heart rate, blood oxygenation, skin temperature, breathing and heart rate variability (HRV). HRV in particular has been shown to be a really important metric to determine your readiness for exercise and when you're overtraining.
WHOOP 4.0 uses five LEDs and four photodiodes that capture data more frequently than other devices and it has a comfortable, flexible woven strap. It has its own waterproof portable battery pack, so you don't even need to take it off to recharge it. If you don't like wearing a wrist strap, WHOOP has a range of WHOOP Body apparel that lets you wear your WHOOP 4.0 elsewhere on your body and still get an accurate reading.
WHOOP stresses that it's not trying to take over though, so unlike many fitness trackers it's not going to send you alerts to move more. It takes a more holistic approach to your fitness, powered by its 24/7 monitoring, and acts as a digital coach - providing you with the information that you need to sleep better, recover faster and train smarter.
Everyone's experience with WHOOP is different – for some individuals they use it as a tool to motivate them to exercise more, for others it prompts them to get to bed earlier so that they can get better sleep and feel fresher the next day.
How do WHOOP's other two pillars relate to Recovery?
During the day, WHOOP automatically monitors your exercise and also takes account of off-bike activity and even mental stress at work or from parenting to provide a Strain score that accumulates over your day. That gives you a view of how hard you've worked and feeds into WHOOP's Sleep and Recovery assessments. WHOOP also includes a Strain coach that recommends how much you should train each day, based on your Recovery score.
Sleep is another vital element of your ability to perform and improves your recovery, fitness and wellbeing. WHOOP 4.0 tracks your sleep duration and performance, along with metrics like sleep consistency, cycles and disturbances.
WHOOP also assesses your sleep quality, comparing this to its assessment of what your body needs. It will recommend at what time you should get to bed and wake up based on your exercise load that day and past sleep patterns. It even helps make sure that you wake up at the right time in your sleep cycle, via the smart alarm which gently vibrates to wake you up at the optimal time.
WHOOP keeps a constant eye on your health stats too with its new Health Monitor. Although WHOOP emphasises that it's not a medical device, it establishes a baseline for your typical values for its metrics and lets you see how they're changing over time. You can even set it to provide alerts when things don't look right and export trend data to share with a coach, trainer or doctor.
The WHOOP app includes a journal where you can keep a daily record of events and behaviour to help track your exercise and events that impact Sleep and Recovery.
Practical outcomes
WHOOP isn't just about theory. Its members have found real benefits from using its technology. It's used by the EF Easypost pro cycling team to monitor and periodise their training and its effect. There's a recent post on the team's site where the team doctor, David Castol, has explained how they used WHOOP during week one of the Giro d'Italia to ensure that Ecuadorean climber Jonathan Caicedo was at peak form for the final week.
WHOOP isn't just for the pros though; its members have found that, prompted by their WHOOP feedback, they've made lifestyle changes that have improved their fitness. 46% of WHOOP members report drinking less alcohol, for instance, while 31% say that they reduced the number of times when they ate late. Overall 81% of members say that they've made positive behavioural changes as a result of the insights provided by WHOOP.
WHOOP is a subscription service with membership, including the WHOOP 4.0 and use of the WHOOP app, available for a minimum period of a year. You can pay £27 monthly, or pay in advance, with a one year subscription working out at £22 a month. Pay for two years in advance and the equivalent monthly payment comes to £18, a 33% discount.
You can read more and sign up for membership on WHOOP's site.
Thank you for reading 5 articles this month* Join now for unlimited access
Enjoy your first month for just £1 / $1 / €1
*Read 5 free articles per month without a subscription
Join now for unlimited access
Try first month for just £1 / $1 / €1
Founded in 1891, Cycling Weekly and its team of expert journalists brings cyclists in-depth reviews, extensive coverage of both professional and domestic racing, as well as fitness advice and 'brew a cuppa and put your feet up' features. Cycling Weekly serves its audience across a range of platforms, from good old-fashioned print to online journalism, and video.