Boonen disappointed by Paris-Roubaix defeat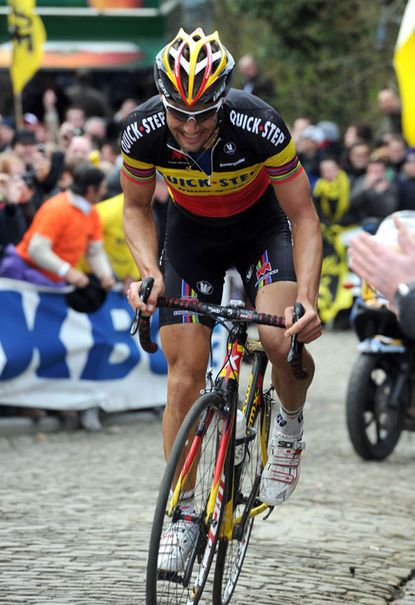 Belgium's poor Classics campaign continued apace in Paris-Roubaix, with just one Belgian rider - Tom Boonen (Quick Step) - making into the top five and still no sign of a major victory.
Fifth in Roubaix and soundly beaten for a second time in a week by Fabian Cancellara after a similar defeat in the Tour of Flanders, Boonen laid the blame on the other riders in the chasing move for their collective failure to reel the Swiss rider back in.
"If no-one cooperates, you can't do anything," Boonen said later to the Belgian media, "and that's frustrating."
"I had to chase so hard without any real help, although once the gap reached 20 seconds there wasn't anything we could do."
He also explained that he had missed Cancellara's move because he was getting something to eat and looking at the rest of the front group when the Swiss rider attacked.
"I was always on the front, except that one time, and when I got back there, he had gone. But the most frustrating thing was the lack of collaboration to close the gap."
"We also had some crashes in my team, [Wouter] Weylandts and Stijn [Devolder] [both Quick Step], and that left me more isolated than I should have been."
Britain's Roger Hammond, part of the lead group, dismissed Boonen's claims, saying "Four of the seven riders there were exhausted, going flat out and you can't have expected them to ride any faster."
"The collaboration was there, just not at his [Boonen's] level. You could say he didn't collaborate after Carrefour D'Arbre, either, when he was dropped."
Related links
Hammond blasts to fourth in Paris-Roubaix
Unstoppable Cancellara wins Paris-Roubaix
Thank you for reading 20 articles this month* Join now for unlimited access
Enjoy your first month for just £1 / $1 / €1
*Read 5 free articles per month without a subscription
Join now for unlimited access
Try first month for just £1 / $1 / €1