Candi TV's Briggs wins first round of Tour Series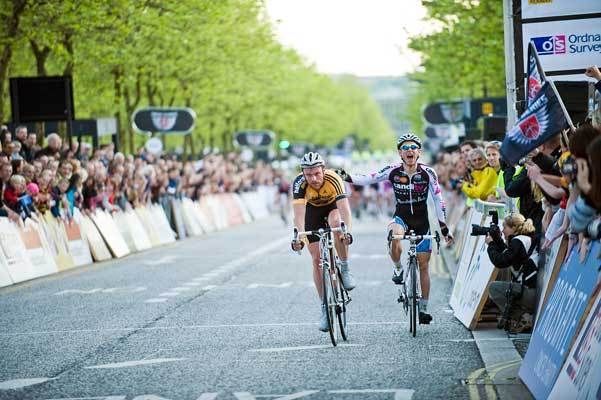 Candi TV?s Graham Briggs won the first round of the inaugural Tour Series in Milton Keynes on Thursday evening, with his team taking the blue jersey of the race leaders after a controversial end to the one hour team criterium.
Halford Bikehut?s Rob Hayles crossed the line ahead of Briggs, but was demoted to second place after footage showed him drifting across Briggs? line.
Hayles? demotion compounded a miserable debut for Halfords, whose Ed Clancy snapped a chain in the early stages of the 1.3km city centre course, and rejoined the action four laps down, finishing in last place. With points allocated for the placings of the top three riders, and Halfords had chosen only to start with three, they finished the day second from last in the overall standings.
Candi TV finished with three riders in the top ten to take Round 1, but it was Briggs? win which caught the eye. ?I am still recovering from a heavy fall two weeks ago?, he told Cycling Weekly afterwards. ?And this has to be right up there alongside anything I?ve achieved so far in my senior career?.
Rapha-Condor?s Dean Downing, who worked hard at the front throughout, was powerless to coordinate his team in the closing stages. ?It was a lot harder than I was expecting. You have to think so hard about your own race, as well as your teammates?, said Downing. Rapha-Condor lie in third place behind leaders Candi TV and Plowman Craven.
Highlights of round one will be shown on Friday night at 7.00pm on ITV4.
RESULTS
Tour Series round 1: Team placings
1. Candi TV?Marshalls Pasta
2. Plowman Craven?Madison
3. Rapha?Condor
4. BMC UK Racing Team
5. Sports Beans?Wilier
6. Sigma Sport
7. Cyclingbargains.com
8. Corley Cycles
9. Halfords Bikehut
10. Endura Racing
Tour Series round 1: Individual placings
1. Graham Briggs (Candi TV-Marshalls Pasta)
2. Rob Hayles (Halfords Bikehut)
3. Simon Gaywood (Corley Cycles)
4. Stephen Adams (Plowman Craven-Madison)
5. Malcolm Elliott (Candi TV-Marshalls Pasta)
6. Dean Downing (Rapha-Condor)
7. Jason White (Cyclingbargains.com)
8. Simon Holt (Candi TV-Marshalls Pasta)
9. Andy Tennant (Halfords Bikehut)
10. Joe Skipper (BMC UK Racing Team)
The Tour Series 2009: Remaining events
May 28, Exeter
June 2, Woking
June 4, Peterborough
June 9, Blackpool
June 11, Southport
June 16, Stoke-on-Trent
June 18, Colchester
June 23, Chester
June 25, Southend-on-Sea
RELATED LINKS
Tour Series comment: Opening night in Milton Keynes
The Year of the Criterium: Circuit race preview
Tour of Britain and Tour Series on ITV
Tour Series to kick off in Milton Keynes
EXTERNAL LINK
Tour Series: www.tourseries.co.uk