Cooke auctions jersey for earthquake victims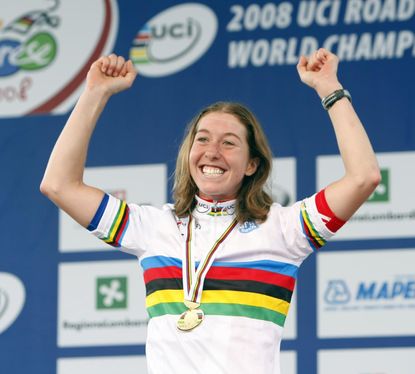 On Easter Monday Nicole Cooke took the opportunity donate her World Champion?s jersey to a special auction in aid of the victims of the L?Aquila earthquake which hit central Italy last week.
The auction is organised in conjunction with the Granfondo Liotto, an event Cooke rode as a guest in Valdagno.
"Seeing the devastation and destruction following the L?Aquila earthquake I really wanted to do something to help the victims," said the World Champion.
"Even a small gesture in some way to try and help the people hit by this natural disaster. It seemed like a great opportunity, especially at Easter time together with fellow cyclists, which is why we decided to hold a special auction with the cyclists of the Granfondo Liotto.
"This is our way of using our passion for cycling to help others and I am really proud of what we are doing together to help the victims of the earthquake in L?Aquila.?
Above: Nicole Cooke with her rainbow jersey
Thank you for reading 20 articles this month* Join now for unlimited access
Enjoy your first month for just £1 / $1 / €1
*Read 5 free articles per month without a subscription
Join now for unlimited access
Try first month for just £1 / $1 / €1