Cyclist left fighting for his life as car drives into bike race in Germany
Two other riders and a marshal were also injured as riders hit the back of the car that had stopped in the racing carriageway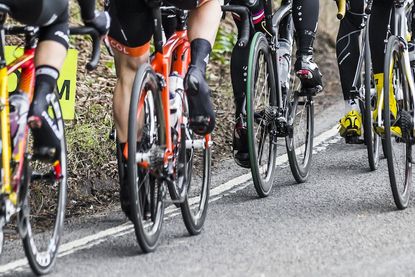 (Image credit: chris catchpole)
A rider has been left fighting for his life with head injuries on Sunday after a car drove into the middle of bike race in Germany.
Two other riders have been left with injuries, one in a critical condition, along with a race marshal after riders collided with the vehicle at around 12.45pm on Sunday.
The two riders left critically injured were immediately rushed to a hospital in Berlin, with the incident taking place in the Wannsee area south of the city.
A fire engine, four rescue vehicles and two medics were rushed to the scene, which happened during the annual Radsport Club Charlottenburg (RCC)
It is still unclear how the incident took place. The race is held on open roads with one rolling closure on the single carriageway used by the race.
The vehicle, identified as a white Audi SUV, is though to have turned into the lane used by the race before stopping. Riders then collided with the car as they came around a bend.
The International Business Times reported eye witness, Matthias Roeder as saying: "I saw a white car, the rear window was broken, there were bicycles behind the vehicle."
A picture in the German newspaper Bild showed the car in the middle of the road with bikes sprawled behind it and blood splatters on the tarmac. Reports suggest none of the four occupants of the vehicle, who were in the local forest for a day trip, were injured.
Thank you for reading 5 articles this month* Join now for unlimited access
Enjoy your first month for just £1 / $1 / €1
*Read 5 free articles per month without a subscription
Join now for unlimited access
Try first month for just £1 / $1 / €1