London bike hire scheme taking shape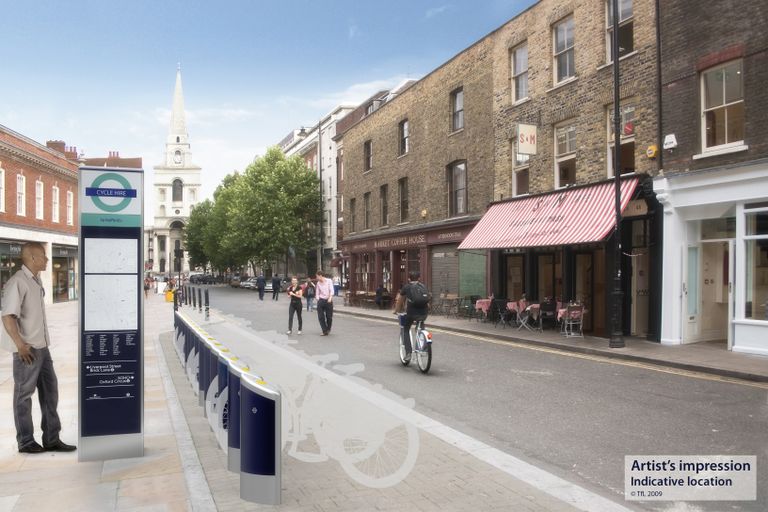 The Mayor of London?s Cycle Hire scheme is on track for a May 2010 launch, as Transport for London (TfL) gets the planning application process underway.
Plans for the Cycle Hire scheme, inspired by Paris? Vélib scheme, moved a step closer today as TfL began submitting planning applications for around 400 cycle docking stations ? the locations where people will be able to pick-up and drop-off hire bikes in central London.
TfL has been working with its borough partners and The Royal Parks to identify the most suitable locations for the network of cycle hire docking stations, which will be based in London?s zone one travel area.
The 400 cycle stations will be situated approximately every 300 metres, meaning that docking stations will never be more than a couple of minutes? walk away.
The first four planning applications for the docking stations are being submitted to Camden Council, and the remaining applications will be submitted throughout the spring and summer.
The Mayor of London, Boris Johnson, said: ?I pledged to deliver a cycling revolution across the city, and there is now a growing excitement about our cycle hire scheme, which will give all Londoners the opportunity to hop on a bike and experience the joys of cycling.
?Much like hailing a cab, people will be able to pick up one of 6,000 bikes, and zip around town to their heart?s content; not only a quick, easy, and healthy option, but one that will also make London a more liveable city?.
Available 24 hours a day, the scheme will help to alleviate congestion hotspots on the Tubes and buses in central London, as well as build on the enormous growth London has already seen in cycle journeys in recent years.
It forms a key part of the £111 million the Mayor and TfL are investing in cycling in 2009, helping to revolutionise conditions for people who want to cycle in the Capital.
When it launches in May of next year, the scheme is expected to generate an additional 40,000 cycle journeys every day in central London.
While Paris expands Velib system...London allows motorbikes in bus lanes
Paris is to expand their Velib system to the suburbs, adding another 3300 bikes and 300 docking stations, writes Keith Bingham.
It is said the stories of vandalism of the Velib system were greatly exaggerated during talks between the Paris authorities and the Velib management team.
Some say that Transport for London?s claims to be a cycling friendly city are also prone to exaggeration, not only because of the appalling state of the Capital's roads, but also because motorbikes are now allowed to use bus lanes!
The introduction of motorcycles into bus, cycle and taxi lanes, for an 18-month trial period, is considered by cycling organisations to put cyclists at risk.
London Cycling Campaign say that despite thousands signing a petition opposing the trial ? cycling and pedestrian organisations alike - Mayor Boris Johnson went ahead with the experiment.
For a trial period, motorcycles are now allowed to use red-route bus lanes, and some bus lanes off the red route, in Westminster and Barking.
The Mayor wants everyone?s views.
http://www.tfl.gov.uk/tfl/roadusers/finesandregulations/motorcycleinbuslanes/default.aspx
Above: an artist's impression of how the docking stations may look
RELATED LINKS:
London Mayor pledges 6,000 hire bikes for Capital
Are the wheels falling off the Vélib scheme?
London ready to deliver bike hire scheme