Matt Goss aiming to solidify Orica-GreenEdge lead-out
Versatile sprinter motivated to win an individual Tour de France stage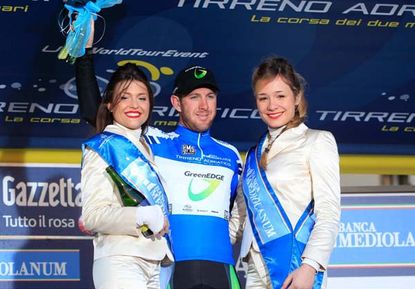 Former Milan-San Remo champion Matt Goss still recoils when he recounts the 2013 edition of the race that was neutralised in near freezing conditions.
The peloton, helmets iced over and emotions high, boarded team buses after 117km when snow made the Turchino impassable. The race resumed at Cogoleto and was one of several, which Goss started, to be interrupted by unseasonal weather that spring.
You'd think it was a welcome reprieve re-entering the confines of a warm Orica-GreenEdge coach, but that wasn't the case for the 2011 winner who is hopeful of returning to top form this season.
"I was screaming," Goss told Cycling Weekly. "They had to get me a bucket because I was dry retching the pain in my fingers was so horrible. I'll never get that cold again. That was unbelievable. Unbelievable.
"I remember coming to the bus and I said, 'I don't give a f--k what race this is, there is no way I'm getting back out of this bus!' I did get back out though."
The cold and a crash, in which a brake lever hit the back of his knee, ultimately saw Goss abandon the race, which he is eyeing this year despite a course revision that may make the event even more selective.
The 27 year old began his season at last month's Tour Down Under where he helped teammate Simon Gerrans to overall honours, and will line-up tomorrow at the Herald Sun Tour in Melbourne, Australia.
Paris-Nice is set to serve as a litmus test for the 2011 road world champion silver medalist ahead of the, hopefully warm, spring classics.
"Paris-Nice is an important race to try and get a win there," he said.
"San Remo is going to be a bit of an unknown. It is a race I'd like to target again but it's a lot harder. I think the bunch that comes to the finish is going to be a lot more select. But I'm not going to say I'm beaten before we get to the climbs. I want to give that a real go. San Remo and Gent-Wevelgem will be two big targets for the first part of the year."
Taking time to recover
Goss turned professional with CSC in 2007 and has never had a winless season. Former teammate and friend Baden Cooke describes the off-contract Australian as a born professional.
However, last year was comparatively quite for the versatile sprinter that could not crack an individual stage victory at the Tour de France despite a string of consistent podium finishes the year prior when he was the marquee signing for the then new Orica-GreenEdge squad.
"I don't win a lot races anyway, six races is the most I've ever won in a year, but I usually win bigger races. In 2012 I won one or two but there was eight Grand Tour podiums so it wasn't that bad it's just that people only register the wins," said Goss, who that year claimed the team's first Grand Tour stage at the Giro d'Italia.
"I've seen that and I thought if I just do a little bit more again then maybe I'll be that bit better. I did too much.
"At the end of the 2013 season I weighed three kilos less than I've ever weighed in my whole career but I didn't have the power, I didn't have the energy because I was just really fatigued a lot of the time. I tried to push it a bit too far. I never took the time to try and freshen up and recover properly before going into races."
The two-time Giro stage winner has returned to a similar training programme that helped deliver him to what was a career-defining 2011. Goss is hopeful a string of early season results will help him earn more team support at the Tour and convert podiums to a maiden individual stage victory this year.
Unlike rival sprint outfits that take the same, or very similar, tested lead-out trains to big races, Goss has ridden with consistently different combinations the past two seasons, which he hopes will change.
"The first year with Orica-GreenEdge it was always going to be difficult having a good lead-out but I think we worked quite well together," Goss said. "Last year it was difficult to have a proper lead-out because we went to the Tour with a more opportunistic kind of group, and that involves the Simons and everyone.
"I fully understand I didn't have the results on the board at the start to demand so many riders. It is difficult because there's probably three teams now that have got 90 per cent of their team that go to the Tour purely for the lead-out, and they're always the same guys. If you've got two or three guys it's really difficult to compete or mix.
"In 2013 I found that I was in that position where I was behind the bigger trains and I got caught in three crashes," he continued. "When you've only got five or six chances, three of them are gone because I was in that position where the crashes happened. The year before and the year before that I've never been in that position – we've always been in front of that fighting for the first couple of spots.
"Hopefully I can have some good results and try and get a couple more guys back into races with me."
Finding the right support
Daryl Impey originally signed on as a lieutenant for Goss but has since emerged as both a winner in his own right and an integral support for Gerrans.
Goss can fend for himself in more undulating terrain but Mitch Docker and Brett Lancaster, plus Mathew Hayman, who transferred from Sky at the end of last season, may provide the experience and support he is looking for in the bunch sprint finishes.
"Mathew Hayman is one of the guys that I really spoke to a few years ago and wanted him to come to the team when it first started. He's going to be a very valuable," said Goss.
"With the other guys they haven't really done a lot of it before, or are new at it. When you've got someone like Hayman and Lancaster that are really quite experienced it takes the pressure off me. It puts my mind at ease that I can sit back behind them, and let them do their thing and I know that I'll be in the right position.
"Hopefully with those guys, Mitch is going to work a bit more with us, I think we'll have a good group."
Orica-GreenEdge recorded 30 individual wins last seaons. Those were spread between 15 riders but Gerrans has, like last month at the Tour Down Under, emerged as a consistent performer the team often selects for big events. He too could also start Milan-San Remo, and will be at the Tour. However, Goss doesn't see a conflict of interests between the pair that will otherwise have separate race schedules.
"I still see myself as one of the leaders in the team but that's also in respect of the amount of years I've been professional. We've got a super, super young team in comparison to everyone else," he said. "I still get my own opportunities."
Twitter: @SophieSmith86
Thank you for reading 20 articles this month* Join now for unlimited access
Enjoy your first month for just £1 / $1 / €1
*Read 5 free articles per month without a subscription
Join now for unlimited access
Try first month for just £1 / $1 / €1