Nibali ready to take on Schleck and Contador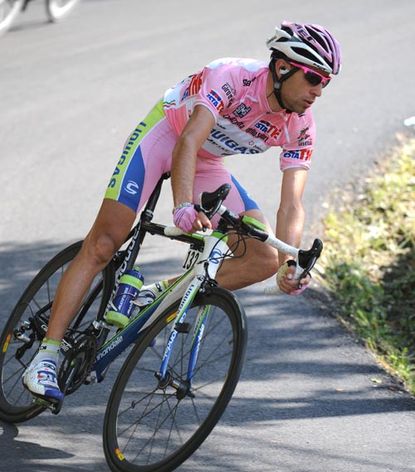 Italian Vincenzo Nibali believes he is ready to take on Tour de France champion Alberto Contador and Andy Schleck. He said he would have done so at this year's Tour de France had he been allowed to race.
Nibali told La Gazzetta dello Sport, "Why should I not believe I am not at the same level as Contador and Schleck after the Giro d'Italia that I raced?"
He stepped in for Pellizotti at the Giro d'Italia despite being on vacation after a hard early season. The UCI accused Pellizotti of doping via its biological passport one week prior to the Giro.
Nibali helped the team win the time trial, held the pink jersey, won the stage to Asolo and saw to Basso's second overall win. However, the 25-year-old had already proven his worth at the Tour de France the year before, finishing seventh behind Contador.
"When I raced the Tour de France in 2009 and finished seventh, I grew up quickly," said Nibali. "This year I saw Andy Schleck take a huge step up. I would have liked to face him. I will see him in 2011."
Nibali will also see Schleck and his brother Fränk when they head team Saxo Bank at the Vuelta a España. He will lead Liquigas with co-captain Roman Kreuziger, who finished ninth at this year's Tour de France.
"I want to go as strong as I did at the Giro d'Italia at the Vuelta. I can't say more because I am superstitions," added Nibali.
"I will race as captain, with the same attitude, but with more responsibility. I would like to give a good sign in Spain and in the races I participate in before the Vuelta: Coppa Agostoni, Tre Valli Varesine and Melinda."
If Nibali fails to win his first Grand Tour at the Vuelta a España, he will have more chances in the coming years to win one and better Contador and Schleck. During the Giro d'Italia, Liquigas confirmed him and Basso for two more years, 2011 and 2012.
Kreuziger has a contract through 2011, but is trying to leave the team one year early.
"Representatives of team Astana have recently made contact with my manager. The developments depend on negotiations of both parties involved. It is not only about me but also about the option to renew my current contract in Liquigas," he said on Friday on his website.
"Personally, I am not afraid of a change. After all, it is not a bad idea to work with different people and find a new motivation after all those years. The negotiations are in progress."
Kreuziger joined Liquigas in 2006, the same year as Nibali.
Thank you for reading 20 articles this month* Join now for unlimited access
Enjoy your first month for just £1 / $1 / €1
*Read 5 free articles per month without a subscription
Join now for unlimited access
Try first month for just £1 / $1 / €1