Pendleton and Burke grab first national track titles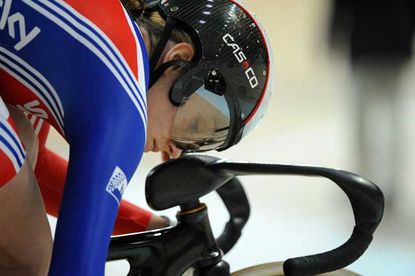 Cycling Weekly's gallery from day three at the national track championships>>>
World and Olympic champion Victoria Pendleton underlined her class in the 500 metre time trial by scooping the national track title in Manchester velodrome on Tuesday night.
Pendleton (Team Sky+ HD) clocked a time of 34.262 seconds to take the win from Jess Varnish (Halesowen A & CC), who herself achieved a very respectable time of 35.154. Young talent Rebecca James (Abergavenny RC) took the bronze with 36.012.
Pendleton has made the 500m TT her own and last night's victory was her eighth consecutive win in the event, bringing her national title tally to a staggering 25. An impressive showing from 18-year-old Varnish meant that she was the only one of Pendleton's rivals to come within a second of the Olympic champion.
Paralympian Sarah Storey also performed strongly, clocking a time of 38.074 putting her comfortably within the top ten.
In the men's 'kilo', Steven Burke (100% ME), third in last year's event, came away with gold taking his first national title in a sprint event. Burke, already a three-time national champion in endurance disciplines, set an impressive time of 1.02.604 ahead of Ed Clancy (Halfords Bikehut) and David Daniell (Cleveland Wheelers CC).
Burke, the Olympic bronze-medallist in the individual pursuit, set off last of all to snatch the win from Clancy's grasp by just one tenth of a second.
Clancy, who was narrowly beaten by Burke was philosophical in defeat. "It was close, but I did a better ride than I'd expected."
"I've been struggling for the past two days in team pursuit efforts, but we're here to train in preparation for the World Cup next week. It's always tough losing when it's so close, but there's no shame in losing to [Steven] Burke, he's a great guy and still only 21."
"My legs aren't feeling particularly good," Clancy added, "we've had a very heavy training week so it's good that we can still knock in some good times".
Very few sprinters contested the kilometre as the event is moving back in to the realms of endurance riders. The shift in participants comes now the omnium is set to be included in the Olympic program come 2012. The omnium, that will be contested by endurance riders, features a kilometre time trial, meaning the riders in line for the Olympic omnium spot will want to get practice at the event.
David Daniell was the highest placed of the sprinters, while Paralympic sprinter Jody Cundy finished seventh.
As well as fighting for the right to wear the national champion's jersey, the riders are using the nationals as a warm-up for next weekend's opening round of the UCI Track World Cup in Manchester.
Results

British Track National Championships 2009: Women's 500m time trial

1. Victoria Pendleton (Sky+ HD) 34.262
2. Jess Varnish (Halesowen A & CC) 35.154
3. Rebecca James (Abergavenny Road Club) 36.012
4. Helen Scott (Halesowen A & CC) 36.294
5. Charline Joiner (City of Edinburgh RC) 37.116
6. Alison Chisholm (Edinburgh RC) 37.646
7. Jenny Davis (City of Edinburgh RC) 37.857
8. Sarah Storey (VC St Raphael) 38.074
9. Emma Baird (BC PM) 38.503
10. Janet Birkmyre (XRT-elmycycles.co.uk) 38.537
11. Rachel Turner (VC St Raphael) 39.407
12. Cassie Gledhill (XRT-elmycycles.co.uk) 39.476
13. Cheryl Owens (GS Metro) 41.78914. Ruth Middleton (East London Vélo) 43.485
15. Louise Satherley (Yasumitsu Schlapp) DQ
Men's kilometre time trial

1. Steven Burke (100% ME) 1.02.604
2. Edward Clancy (Halfords Bikehut) 1.02.713
3. David Daniell (Cleveland Wheelers CC) 1.03.235
4. Andrew Tennant (Halfords Bikehut) 1.04.741
5. Andrew Fenn (100% ME) 1.05.812
6. Bruce Croall (City of Edinburgh RC) 1.06.167
7. Jody Cundy (scienceinsport.com) 1.06.414
8. Alex Dowsett (100% ME) 1.06.498
9. Ben Elliot (VC St Raphael) 1.06.850
10. Mark Christian (100% ME) 1.07.133
11. Richard Lambert (Cottingham Coureurs RT) 1.11.167
12. Thomas Powell (Newcastle RC) 1.11.187
13. Rowan Elliot (VC St Raphael) 1.12.204
14. Joseph Wood (BC PM) 1.12.284
15. Joseph Allen (BC PM) 1.12.336
16. Ben McCullough Young (City of Edinburgh RC) 1.12.247
17. Simon Warren (Norwood Paragon CC) 1.12.845
18. Terry Byrne (BC Paracycling Development Programme) 1.13.759
19. Jon-Allen Butterworth (BC Paracycling Development Programme) 1.14.346
20. Oliver Lougheed (Manchester Wheelers) 1.15.574
Schedule of events

Tuesday 20 October: Men's kilo, women's 500m time trial
Wednesday 21 October: Men's scratch race, women's sprint, women's 3,000m individual pursuit
Thursday 22 October: Men's sprint, men's 4,000m individual pursuit, women's scratch race
Friday 23 October: Men's points race, men's team sprint, women's points race, women's team sprint
Saturday 24 October: Men's keirin, men's team pursuit, women's keirin, women's team pursuit, junior and paracycling events
The National Track Championships are now free to attend, so why not go along and give the riders some vocal encouragement.
Related links
Olympic stars ready for track national championships
Team GB unveil Manchester World Cup squadIndividual pursuit to be cut from Olympics
Thank you for reading 20 articles this month* Join now for unlimited access
Enjoy your first month for just £1 / $1 / €1
*Read 5 free articles per month without a subscription
Join now for unlimited access
Try first month for just £1 / $1 / €1