Schleck brothers ready to face Tour rivals in Ardennes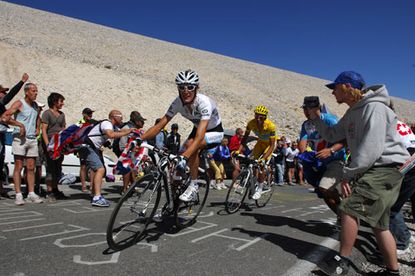 Andy and Fränk Schleck look forward racing side-by-side with their Tour de France rivals this week in the Ardennes Classics.
"These races are definitely different than the Tour de France. I am excited to see Alberto [Contador] come up for Flèche Wallonne and Liège-Bastogne-Liège, but to beat him here doesn't mean that we can then beat him at the Tour," Andy said at a press conference in Lanaken, Belgium.
"The Tour is all about recovering and racing each stage," added Fränk, "here you have to be sharp for one day."
Wiggins (Sky), Contador (Astana), Cadel Evans (BMC Racing), Vincenzo Nibali and Roman Kreuziger (Liquigas-Doimo) have all finished in the top ten at the Tour de France and are down to race at least one, if not all, of the Ardennes Classics: Amstel Gold Sunday, Flèche Wallonne Wednesday and Liège-Bastogne-Liège next Sunday.
The Schleck brothers have the best results in the Ardennes: Fränk won Amstel in 2006 and Andy won Liège last year. Andy went on to finish second to Contador at the Tour de France by 4'11". Wiggins finished fourth at 6'01".
Andy and Fränk maintain it is worth coming to the Ardennes Classics despite their intensity and the chance of a crash. Fränk crashed last year in Amstel Gold along with Matthew Lloyd, and was able to come back to race Liège. Lloyd came off worse and was out of racing for two months and nearly missed his first the Tour de France.
"You can crash anywhere, I crashed this year in training," said Andy. "Here we at least know the roads."
Liquigas leaders Nibali and Kreuziger are favourites for Amstel Gold after they remained under the microscope at the Tour of the Basque Country. They both just came back from Altitude training in Tenerife, Spain.
"Another one is Oscar Freire," said Andy. "You look at a lot of the past years, when Michael Boogard was racing. Oscar was always there in the second group to give Rabobank another option. He will be dangerous."
Fränk will be racing for his daughter Leea, who was born on her dad's 30th birthday yesterday (Thursday).
Thank you for reading 20 articles this month* Join now for unlimited access
Enjoy your first month for just £1 / $1 / €1
*Read 5 free articles per month without a subscription
Join now for unlimited access
Try first month for just £1 / $1 / €1