The day Elliott was worked over by the Dutch at Amstel Gold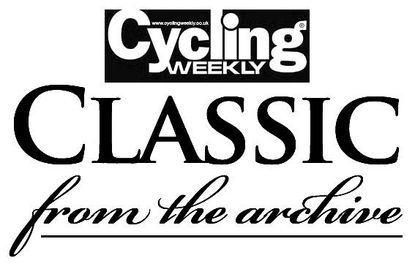 2009 Amstel Gold Race preview>>
Our look through the Cycling Weekly archive unearths the day three Dutch riders combined to ensure Britain?s Malcolm Elliott did not win their Classic.
The late 1980s saw British riders make an impact on the Classics for the first time since Barry Hoban more than a decade before.
In 1986 Joey McLoughlin from Merseyside was fourth in the Amstel Gold Race for the ANC-Halfords team. The following spring the team returned to the Classics a year old and a year wiser. Paul Watson from Milton Keynes was sixth in Flèche Wallonne in 1987.
Ten days later, it was the turn of Sheffield?s Malcolm Elliott to get stuck in. He made the decisive five-man break at the Amstel Gold Race only to find himself with three Dutch riders, plus a Frenchman.
Fearing Elliott?s sprint, there was no way they were going to tow him to the line and have to explain to their home media why they?d allowed an Englishman to win.
Here is how Cycling Weekly reported the race on April 30, 1987.
Martin Ayres? report started on page 3
ELLIOTT THIRD AS WORRIED DUTCH SQUEEZE HIM OUT
Three patriotic Dutchmen joined forces to defeat England?s Malcolm Elliott in the Amstel Gold Race on Saturday.
A British win would have rocked Holland?s cycling prestige, so Joop Zoetemelk (Superconfex), Steven Rooks (PDM) and Teun Van Vliet (Panasonic) buried their team differences for a day and combined to blunt the feared sprint of Elliott (ANC-Halfords).
The result was victory for 40-year-old Zoetemelk, second place for strongman Rooks and a battling third place for Elliott, who finished well clear of the other survivors of the decisive breakaway move, Van Vliet and Bruno Cornillet (Z-Peugeot).
All five were heroes in this 242-kilometre classic that twists back and forth through the ?Dutch Alps? in the picturesque Netherlands enclave between Belgium and Germany.
After 18 years as a professional, Zoetemelk gained his first Amstel win with a lone breakaway three kilometres from the finish in Meersen.
?It was a really soft move when Zoetemelk went away,? said Elliott. ?Nobody chased, and I couldn?t, I didn?t have the legs.
?They might not admit it by they were working together. They knew about my sprint and I?m certain if it had stayed together I would have won.?
Van Vliet confirmed that they had feared the Elliott sprint. ?We knew about him from the Nissan Classic, although we didn?t know how strong he?d be after a race of this distance,? Van Vliet said.
?So we all attacked in turn, and when Joop went we thought it better to let him go rather than see an Englishman win.?
The Dutch trio?s tactics were a great compliment to Elliott and sent the crowd home happy after seeing Zoetemelk repeat the move that brought him the 1985 world road title.
Zoetemelk also turned the tables on Rooks, who had narrowly beaten him for victory in the 1986 Amstel race.
A Panasonic win had looked certain for much of this day of blazing sun. The men in blue and white controlled every move and had men in every break. Their efforts centred on Phil Anderson, bidding to repeat his 1983 win. But the Australian missed the final selection and finished a frustrated sixth at the head of the 23-man second group.
The showdown that separated the strongmen from the rest came after 175 kilometres, when Gerard Veldscholten (PDM), Nico Verhoeven (Superconfex) and Eddy Planckaert (Panasonic) opened a 90-second lead. Verhoeven impressed in the hills and the carnival atmosphere as massed crowds applauded the sweat-soaked riders.
But Planckaert was just going along for the ride and the break was absorbed by a nine-man chasing group that included Anderson, his team-mate Allan Peiper and Zoetemelk.
More strongmen moved forward on the switchback road until there was a 25-strong leading group. It included one Briton, Elliott.
The Frenchman Cornillet attacked. The chasing group split. Elliott was in the front half with Anderson, Van Vliet, Zoetemelk and Ludo Peeters (Superconfex).
Another reshuffle brought Eric Van Lancker and Theo De Rooy of Panasonic to the front along with Adrie Van der Poel (PDM) until there were 13 in the front group.
Cornillet, having been caught, tried again. But he didn?t have the power to stay away.
Only 17 kilometres to go and Verhoeven made his last bid, only to be caught by Elliott and the rest of the group.
Then came the final split as they crested the summit of the Cauberg climb. Rooks, Van Vliet, Elliott and Zoetemelk went clear and only brave Cornillet could bridge the gap to join them.
Elliott had to call on all his reserves as Rooks wound up the speed on the climb. ?It was purgatory,? he said later. ?I knew the climbs from last year but had forgotten that one.?
But with six hours of racing in his legs he managed to stay in contact, only to see Van Vliet try his luck. Elliott countered but it only set the scene for Zoetemelk?s final lucky gamble.
Displaying the fire and enthusiasm of a rider half his age, Zoetemelk powered his way to the finish and a hero?s reception while the other four dithered.
Rooks went clear to finish second, 29 seconds down. Elliott took four seconds out of Het Volk winner Van Vliet on the run-in for third place.
It was a great moment, for once English was the language at a Continental race as the race commentator interviewed Elliott for the crowd and then the Press crowded round anxious for information on this ?unknown? who had performed with such distinction.
Elliott, 25, from Sheffield, agreed this was the best performance of his career. ?I just felt the form coming after Flèche Wallonne and really psyched myself up for this one.?
ANC-Halfords had three other finishers, Frenchman Bernard Chesneau, 12th, Adrian Timmis 40th after suffering with cramp and Chris Lillywhite 65th of the 70 survivors.
Joey McLoughlin, who made the ANC breakthrough with fourth place in this race last year, pulled out with tendon trouble after two hours. But Elliott provided ample compensation by becoming the first home-sponsored British pro to get into the first three in a classic
1987 AMSTEL GOLD RACE RESULTS
Joop Zoetemelk (Superconfex) 242km in 6-12-51
2 Rooks (PDM) at 29sec
3 Elliott (ANC-Halfords) at 31sec
4 Van Vliet (Panasonic) at 35sec
5 Cornillet (Z-Peugeot) at 40sec
6 Anderson (Panasonic) at 1-31
7 Planckaert (Panasonic) at 1-37
8 Verhoeven (Superconfex)
9 Van der Poel (PDM)
10 De Rooy (Panasonic) all same time
Swipe to scroll horizontally
Joop Zoetemelk?s first prize was £2,142, while Malcolm Elliott received £857. Adrian Timmis just scraped into the prizes with £28 for 40th place, but he has the consolation of knowing that 40th was Elliott?s placing in 1986.
ANC?s Flèche Wallonne hero Paul Watson was among the many retirements. ?Don?t forget there?s Milton Keynes tomorrow,? he said.
Birmingham Executive Airways fielded a six-man team, but troubled by punctures and illness failed to finish any.
North-eastern pro Peter Stevenson managed to get on the start sheet as riding for both Birmingham Executive and America?s 7-Eleven team.
Malcolm Elliott is the first Briton to achieve a place in the first three in Holland?s only classic since it began in 1966 when France?s Jean Stablinsky was the winner.
Joop Zoetemelk first figured in the results when he finished third to Walter Planckaert in 1972.
Swipe to scroll horizontally
? On the cover A spectacular sprint for fifth place in the Donnington Park professional race was won by Steve Poulter (nearest the camera, crazy guy, crazy bike) from Australian Glen Clark. Race winner was Clark?s team-mate Tony Doyle.
? Greg LeMond was reportedly recovering from the gunshot wounds suffered when he was shot in the lower back by his brother-in-law while out hunting near Sacramento, California.
? Unsponsored pro Russell Williams caused an upset in the Race to the Point at Milton Keynes. He outsprinted John Herety and Dave Mann.
? David Rayner took the Manchester-Rhyl-Manchester two-day. Rayner, riding for Yorkshire and Humberside Centre of Excellence, attacked his breakaway companions to win the first stage. Manchester Wheelers? Deno Davie (soon to turn pro with Italian squad Carrera) won stage two but Rayner took the overall.
? Sean Kelly led the Vuelta a Espana after three stages. The Vuelta was held in the spring back in those days. The Irishman won the first road stage in Albacete and then took the time trial at Valencia.
? Lisa Brambani won the Cheshire County Grand Prix, the first event in the Sealink women?s road race series.
? Chris Boardman, the junior Best All-Rounder, won the 37-mile Rhyl mountain time trial ? ahead of his father Keith, who was second, almost seven minutes slower. Chris caught his dad for five minutes.
? Italy?s world champion Moreno Argentin won the Liège-Bastogne-Liège classic after catching breakaways Stephen Roche and Claude Criquielion in sight of the line.
? Scotland?s Andrew Ferry won the Girvan three-day. He?s remains the last Scot to do so.
? And the BCF racing committee pointed out that the use of plastic wheel covers was not permitted under UCI regulations: ?any shields or windbreaks for the purpose of reducing wind resistance shall be prohibited? said the rule book.
? On the back page was this advertisement for Francesco Moser?s bicycles. Why is it we can only think about hair care products?
PREVIOUS CYCLING WEEKLY CLASSICS?.
How Barry Hoban won the 1974 Ghent-Wevelgem Classic
Thank you for reading 20 articles this month* Join now for unlimited access
Enjoy your first month for just £1 / $1 / €1
*Read 5 free articles per month without a subscription
Join now for unlimited access
Try first month for just £1 / $1 / €1