Magnus Backstedt announces retirement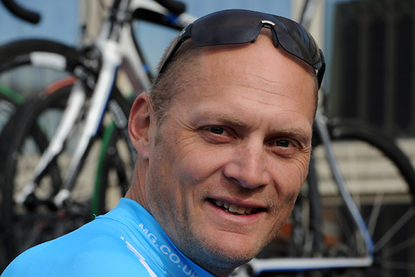 Magnus Backstedt, former winner of Paris-Roubaix and a stage in the Tour de France, has announced his retirement.
The 38 year-old Swede, nicknamed "Big Maggy", waved goodbye to cycling for the second time at the Canary Wharf round of the Tour Series on Thursday evening where, riding for his MG-Maxifuel team, he rode two laps at the head of the race.
"It's emotional, but it's about time," the Wales based rider told Cycling Weekly. "I made the decision on Monday morning and it had time to sink in, but the send off I got and the respect from the other riders to leave me sitting on the motorbike for two laps, it was special."
Backstedt's career defining victory came in 2004 where he outsprinted Tristan Hoffman, Roger Hammond and Fabian Cancellara to victory in the Hell of the North when riding for Alessio-Bianchi.
After retiring for the first time in 2009, Backstedt joined the British UK Youth team for two seasons between 2011 and 2012 before heading to MG-Maxifuel this season.
"If someone would have told me when I turned professional in 1996 that I was going to have the palmares I have then I would have called them crazy," he added. "But a lot of hard work, dedication and sacrifice have gone into it, and I'm very fortunte to have been able to get something out at the other end."
Related links
Chris Opie extends UK Youth leadat Canary Wharf Tour Series
Magnus Backstedt: Rider Profile
The Big Interview: Magnus Backstedt
Magnus Backstedt announces his retirement
Thank you for reading 20 articles this month* Join now for unlimited access
Enjoy your first month for just £1 / $1 / €1
*Read 5 free articles per month without a subscription
Join now for unlimited access
Try first month for just £1 / $1 / €1