New sportives, festivals and successes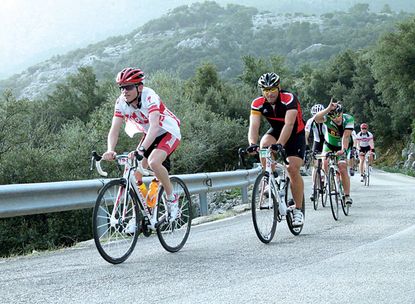 >>>Cycling Weekly's full 2012 cycle sportive calendar
New summer festival for the Lake District
A new initiative from the Lake District see's a 6.9 million pound investment called Drive less see more. The event will commence on Sunday July 22 and will run across the region until Sunday July 29. The week long initiative, which will include towns like; Coniston, Newby Bridge, Bowness, Ambleside and Grasmere, will kick off with the one day "Go cycle, Go Walk, Go Lakes festival in Staveley, Cumbria. The day will lead guided walks, rides, try outs, displays, cycle road show and circus entertainment. What more could you ask for? For further details check Go lakes travel website.
The Tour Ride Cycle Show Sportive
In conjunction with the Tour Ride Series, the Cycle Show, based at the NEC in Birmingham, will host the final round of the series, which plans to follow the routes of the pros during the Tour of Britain. The ride, held on Sunday September 30, during the show (September 28-30) will give entered riders two routes to choose from. Either 96km or a 150km that already has confirmed participation from the likes of Raleigh-GAC, Rapha, and UK Youth. The ride is set to tackle all that the Warwickshire countryside has to offer, including the Cotswolds, Kenilworth Castle and Warwick Castle. For more details check Tour Rides or Cycle Show
Liverpool-Chester-Liverpool a Success
Organisers, Pennine Events have hailed the 19 showing of the L-C-L a success following their sportive last weekend on Sunday July 8. The ride that included five different routes, which was said to have something for everyone, including three 25mile routes, a 50miler and a 90miler through the Birkenhead tunnel that is usually closed to cyclist. Over 3,200 riders road the event with the majority starting in Liverpool alongside Craig Mclean, Rik Waddon and Natasha Hamilton. All details of the event can be found on the L-C-L website.


Scotland's answers to the around the world challenge
Last week saw Scotland launch its first 24-hour around the world challenge in conjunction with the around the world cyclist Mark Beaumont. The ride that will take place on Friday October 5 and Saturday October 6 will be held at the Knockhill racing circuit, which is a 1.3mile circuit allowing entrants in teams of four or solo efforts to cover the 18,296miles (in total) that Mark did on his World record attempt. Entry to this event is £30 with a minimum sponsorship of £375. For more details or to register visit Cycle the world website
Cycle West Sportive
Cycle West is a 8.6 million euro project that was launched two years ago to promote cycle tourism. It is set to be the official partner for the Cycle West Sportive, which will be part of the three-day Festival of Sport happening this September in Cornwall. The festival organisers The Human Race also set to have a 40km women's only Cycletta event will allow entry into the festival itself also. The sportives will take palce on Saturday September 15 comprising of two distances, kicking off from Marazion, heading towards the famous Land's End. For more details check the official website Festival of Sport
Spotlight on..... Dorking Original Sportive
After a successful first sportive coming from Cycling Weekly in association with Uk Cycling Events, we are back for a second time. Part of an ever bigger series we go back to the birth place of our first in Dorking, Surrey. Kicking off with the same format of three routes; Epic 101miles, Standard 66miles and Fun 44miles starting at the bottom of Box hill, which will of course, played host to the Olympic road race this summer.
The Epic and Standard routes will look to take in hills such as Leith Hill, Pitch Hill and White Down, with all routes returning on more flat, rolling roads to help recovery before the end. The Epic will climb up to a peak of 300 meters and a total climbing of 2127 meters and will cost £30. The Standard will cost the same but with the shorter distance comes slightly less climbing and riders will come in at 1170 meters of climbing at the end of the day, finally the Fun route costing £20.
For more details check out our Cycle Shop or Uk Cycle Events webiste.
Upcoming events
Sunday July 22: Two Moors 100 - Devon
Sunday July 29: Manchester to Chester- Manchester
Sunday August 5: The Compact 50 - Altura Sportive Series - Surrey
Thank you for reading 10 articles this month* Join now for unlimited access
Enjoy your first month for just £1 / $1 / €1
*Read 5 free articles per month without a subscription
Join now for unlimited access
Try first month for just £1 / $1 / €1
Symon Lewis joined Cycling Weekly as an Editorial Assistant in 2010, he went on to become a Tech Writer in 2014 before being promoted to Tech Editor in 2015 before taking on a role managing Video and Tech in 2019. Lewis discovered cycling via Herne Hill Velodrome, where he was renowned for his prolific performances, and spent two years as a coach at the South London velodrome.