Iain Grant wins Scottish National 50-mile time trial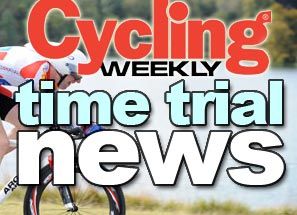 Iain Grant was again crowned Scottish National 50-mile Champion after successfully defending last year's win with a comfortable victory in the title race at Irvine on Sunday morning.
The Dooley's Cycles rider clocked 1-46-53 to take the win by around two and a half minutes from Silas Goldsworthy (Sandy Wallace Cycles). Sean Childs (RNRMCA) was third, 1-22 further off the pace, while Anda-Jay Burgess (Sandy Walace Cycles) was fastest woman with 2-04-51.
James Gilfillan secured victory in the Hampshire Road Club 50 on Sunday, clocking 1-42-24 for the fast P885 course based on Liss.
The Velo Refined Aerosmiths rider took victory by 35 seconds over Adam Topham (High Wycombe CC), while Seb Ader (a3crg) was around three minutes further back in third spot on a fast day.
There were more riders tackling 50-mile events over in Norfolk, where Godric CC staged their event on the B50/18 at Besthorpe.
Kings Lynn CC's Daniel Bloy took the victory in 1-47-34, almost a minute quicker than Barry Charlton (Lyme CC), while third spot went to Charlie Nurse (North Norfolk Wheelers), around five minutes further back.
There were also some impressive displays over shorter distances, none more so than in the Central District LCA 10 at Six Hills in Leicestershire, where newly-crowned National 50-mile champion Matt Bottrill secured victory with 19-30.
That time was almost a minute and a half quicker than his nearest rival, and was just five seconds shy of the course record.
Adam Gascoigne (Pedal Power) took second with 20-51, while Chris Pike (MG Décor) was third with 20-58.
Hopes of fast times in the San Fairy Ann CC 10 were dashed when roadworks turned up on the course at the last minute, forcing organisers to shorten the course at Harrietsham in Kent to 7.3 miles.
Pete Tadros (In Gear-Quickvit RT) proved quickest, clocking 15-50 to win by 38 seconds from Tim Bayley (Arctic SRAM), with Mike Piper (Abellio) third with 17-04.
Tadros was also the best veteran on age standard with a plus of 10:19, while Louise Mason (Velo Refined) was best woman with 18-58.
The C10/4 course at Great Limber in Lincolnshire once again provided riders with a testing course, but there were several who were up to the challenge and helped make a competitive event.
Team Swift's Robby Krygsman took the win with 21-21, just two seconds quicker than Cherry Valley RT veteran Ian Dalton with 21-23, while John Askew (Active Copiers) took third, another 13 seconds back.
And over in Kent, James Walsby (Catford CC) won the Thanet RC 25 at St Nicholas, covering the Q25/10 course in 54-22 to win by just one second from Jonathan Parker (PMR@Toachim House), while Andrew Meilak (Velo Refined Aerosmiths) was another minute off the pace in third.
Cadence Racing Team rider Robin Coomber proved fastest in Somerset RC's 10-mile event at Axbridge, clocking 20-44 to win by 25 seconds.
VC St Raphael's Andy Stuart took second, while 61-year-old veteran Rick Johnston (Northovers VT) was third, around a minute further back.
Thank you for reading 20 articles this month* Join now for unlimited access
Enjoy your first month for just £1 / $1 / €1
*Read 5 free articles per month without a subscription
Join now for unlimited access
Try first month for just £1 / $1 / €1