Kenny lights up a stuttering men's sprint competition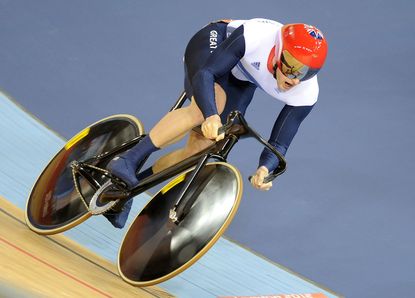 Jason Kenny set a new flying 200m Olympic record of 9.713 seconds to kick off the men's sprint competition that is sadly lacking in quality.
Current world champion Gregory Bauge (France) is here, as is Robert Forstemann (Germany) and Shane Perkins (Australia); but those four are the only genuine contenders for this competition.
The reason behind the lack of world class riders is a new rule brought in by the sports governing body the UCI. When they announced the new track schedule - that removed the individual pursuit, points race and madison, introduced the women's team sprint and keirin and the omnium for both men and women - they also changed the rules for the sprint competitions meaning each nation could only enter one rider.
So no Sir Chris Hoy, no Kevin Sireau (france), no Maximillian Levy (Australia). When the rule change came in, Hoy himself said that the Olympic gold would be easier to win than a world title.
18 riders were meant to ride the morning qualifying round, but the Netherlands pulled out their sprinter some weeks ago, meaning only 17 riders set a flying 200m qualifying time. All the riders went through to the following 1/16 finals, ranked by their times. It meant Jason Kenny, as the fastest rider received a bye in the first round.
Bauge also recieved a bye when 17th placed rider Zafeirios Volikakis of Greece left the velodrome believing only the first 16 riders went through to the 1/16 finals. His coaches pleaded with the judges to wait until they had brought him back, but they didn't allow it. His Olympics last just 10.663 seconds.
Both Kenny and Bauge still had to take to the start line and roll round half a lap of the track in order to go through, raising a bemused round of appluase from the crowd.
Defending champion Sir Chris Hoy was watching the sprint qualifying from the Athletes' Village, and before Kenny's ride tweeted: "Men's 200m tt on now. Ok.. I'm going to stick my neck out and say it'll be won in a new Olympic Record with 9.71. By Jason."
Having got it spot on, he then posted: "Next up: this week's lottery numbers..."
The sprint competition runs over three days, finishing on Monday.
In the first round of the men's omnium saw Ed Clancy come out on top, winning the flying lap with an impressive time of 12.556, half a second faster than Shane Archibold (New Zealand) in second place. GB sprint coach Iain Dyer later tweeted to say that over the 200m Ed's time was 10.04 seconds, which would have placed him fourth in sprint qualifying, ahead of Robert Forstemann.
London 2012: Live text coverage of cycling events
August 3: Track cycling day two
August 2: Track cycling day one
August 1: Men's and women's time trials
July 28: Men's road race
July 29: Women's road race
London 2012: Latest news
Comment: Hindes's purposeful crash - fair or foul?
New format for team pursuit explained
Pendleton and Varnish out of team sprint
'Hot pants' key to Pendleton and Hoy sprint
Britain's sprinters looking to continue GB medal haul
Wiggins: Tour was perfect Olympic TT preparation
Olympic time trial round-up
Pendleton warms up for London 2012
Cancellara in, Evans out of time trial
CW eyewitness: Remember the name
Cavendish finds solace in commitment of his team mates
London 2012: Team info
Men's road race start list
Women's road race start list
Men's time trial start list
Women's time trial start list
Team GB rider profiles
Great Britain track team confirmed
Bronzini leads Italian Olympic cycling team
British Olympic men's road race team announced
Armitstead and Cooke lead GB women's road cycling team
London 2012: Event guides
Olympic Games men's time trial: Who will win?
Olympic Games women's time trial: Who will win?
Olympic time trial routes announced
Olympic Games women's road race: Who will win?
Olympic Games men's road race: Who will win?
Download detailed Olympic road race route map
London 2012 cycling schedule
London 2012: Reports
Kenny lights up a stuttering men's sprint competition
Track day two: Pendleton and team pursuiters deliver more gold
Track cycling day one: Hoy leads team sprinters to gold
Wiggins wins gold in men's time trial, bronze for Froome
Armstrong defends Olympic title in women's time trial
Cycling events medal table
Women's road race: Armitstead wins silver as Vos strikes gold
Men's road race: Vinokourov wins as Cavendish misses out
London 2012: Photos
Track day two by Phil O'Connor
Track day two by Graham Watson
Track day one by Andy Jones
Track day one by Phil O'Connor
Track day one by Graham Watson
Men's time trial by Graham Watson
Women's time trial by Graham Watson
Pendleton track training
Women's road race by Andy Jones
Women's road race by Graham Watson
Men's road race by Andy Jones
Men's road race by Phil O'Connor
Men's road race by Graham Watson
Team GB road race training on Box Hill (July 26)
London 2012: Podcasts
Cycling Weekly podcasts on Soundcloud
London 2012: TV schedule
London 2012 BBC TV cycling coverage schedule
London 2012 Eurosport cycling coverage schedule
Related links
World's best BMXers in London 2012 test event
Olympic road race test event: Report card
Cavendish wins London-Surrey Cycle Classic
London-Surrey Cycle Classic photo gallery
Olympic road race route officially revealed
London 2012 tickets on sale from March
Thank you for reading 5 articles this month* Join now for unlimited access
Enjoy your first month for just £1 / $1 / €1
*Read 5 free articles per month without a subscription
Join now for unlimited access
Try first month for just £1 / $1 / €1